Free motion quilting is an art that almost every sewing enthusiast wants to master. And for learning free motion quilting, you'll need the Best Sewing Machine for free motion quilting that meets your needs. But most people don't even know; what is free motion quilting?
Well, for those people, free motion quilting or free arm quilting is a type of quilting that can be done on a domestic machine or a long arm quilting machine. A darning foot, also known as free motion foot or a freemotion quilting foot, is a unique foot designed to hover over the surface of your quilt and allow you to move the quilt in all directions.
7. Juki HZL-NX7 Long Arm Sewing and Free Motion Quilting Machine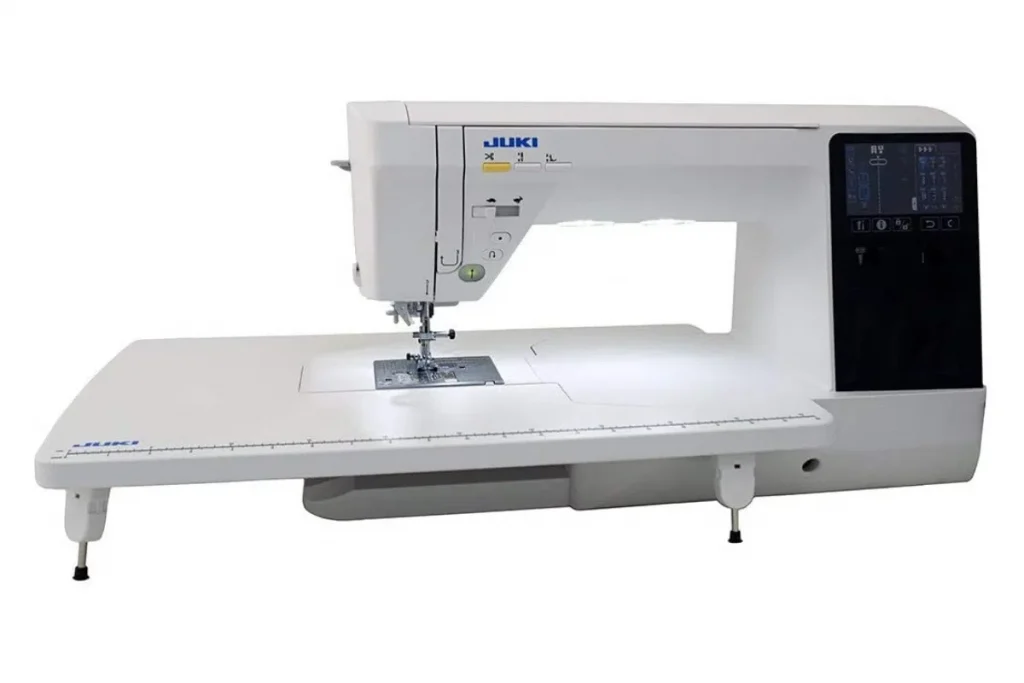 | | |
| --- | --- |
| Stitches per Minute | |
| Features | |
| Dimensions | |
| Weight | |
| Ideal for | |
JUKI's top-of-the-line home machine, The HZL-NX7, is a Long Arm Quilting Machine of the Next Generation. The automated HZL-NX7 is a professional-grade machine that can be used at home. It's a smart machine that lets you adjust the thread tension, drop feed system, presser foot pressure, pivot function, and thread trimming automatically through the touch panel.
One of the most common concerns among quilters is the inability to manage the tension on their machine. The digital tension control on the JUKI HZL-NX7 eliminates this worry. It also features a memory function that allows you to save your preferred settings for different projects.
The pivot mechanism on the presser foot makes the corner work easier. The needle automatically stops in the down position, so you don't screw up your stitch, and the presser foot lifts to allow you to move the fabric. The JUKI HZL-NX7 offers a push-button mechanism to lower the feed dogs for free-motion quilting, which is especially useful for free-motion quilters.
Pros
Spacious Throat size ( 12 inches)
Color touch screen display
More than enough stitch designs to complete any project
Built-in walking foot
longarm quilting frame
Cons
Expensive
A bit difficult to wind the bobbin
6. Janome Memory-Craft 6650 Sewing and Quilting Machine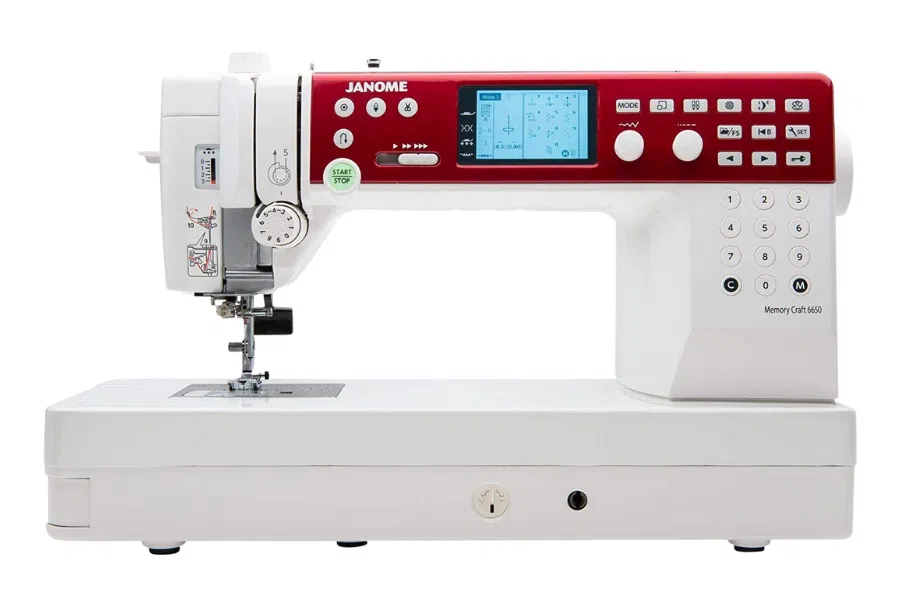 | | |
| --- | --- |
| Stitches per Minute | |
| Features | |
| Dimensions | |
| Weight | |
| Ideal for | |
Despite its small size and low weight, the Janome MC6650 sewing and quilting duo is a fully functional sewing and quilting machine. The LCD was designed with the users in mind who would use this machine for professional, everyday sewing and quilting tasks.
The Janome MC6650 Memory Craft sewing and quilting machine is a top-of-the-line sewing and quilting machine that will help you finish your projects faster, whether they are simple or complex.
The MC6650 is precise even at high speeds, and the 10-inch metal flatbed supports any size project. The start/stop button allows you to control your stitches with just one finger. You can save your favorite stitches using the memory stitch setting.
Pros
Push button for a start and stop
10-inch wide throat
Sews heavy materials like leather with easy
6 LED lights illuminate your working area
Cons
Bobbin winding takes some practice to master
No free arm
5. Juki HZL-F600 Sewing and Free Motion Quilting Machine
Budget Friendly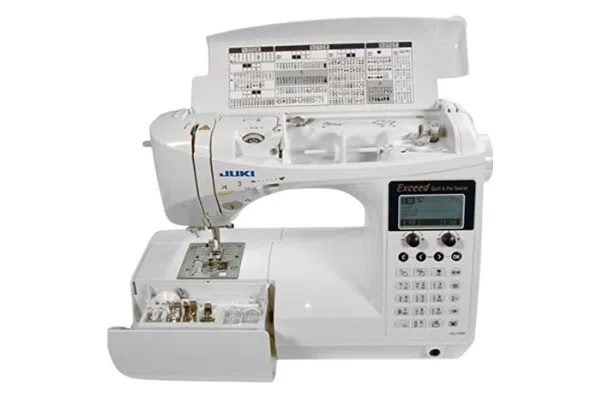 | | |
| --- | --- |
| Stitches per Minute | |
| Features | |
| Dimensions | |
| Weight | |
| Ideal for | |
Look no farther than the Juki HZL F600 if you're looking for a high-tech sewing machine that's packed with functions and ideal for free motion sewing. This machine is well worth the money for anyone looking to advance their sewing skills. The big throat space, extended work table, and straightforward controls will delight the quilters.
The huge variety of stitches, buttonhole styles, and typefaces are perfect for decorations and can work with almost any material. The Juki HZL F600's main aspect is its versatility. It's quick, precise, and capable of taking on almost any project, making it ideal for everyday sewing and quilting. If you're a quilter, the random stitch option will be a dream come true.
It can pick a stitch and adjust the width at random so that no two projects are alike, thus providing interest and variation to your end product.
Pros
225 built-in stitches
Box feed technology
It comes with tons of accessories
Automatic thread cutter
Large throat size
Cons
It can be overwhelming for beginners.
4. Elna Elnita EF72 Sewing and Quilting Machine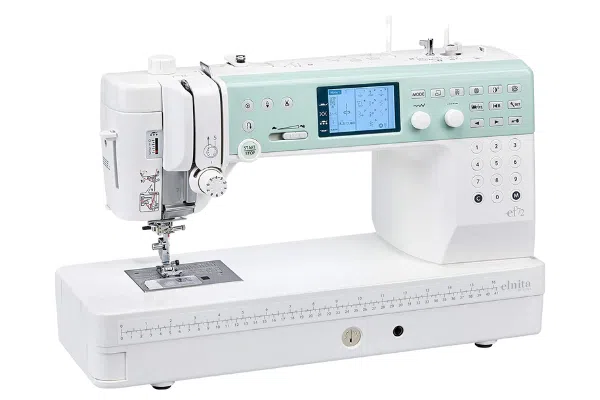 | | |
| --- | --- |
| Stitches per Minute | |
| Features | |
| Dimensions | |
| Weight | |
| Ideal for | |
The Elna Elnita ef72 is a computerized sewing and quilting machine with enough functions to handle any quilting project. No matter what fabric you're sewing, the 7-piece feed dog system will provide a smooth feed. The Elna Elnita EF72 is a sewing machine designed for quilters who wish to increase their abilities and knowledge of the most cutting-edge technology on the market.
It includes a lot of features that only expert sewers will understand; thus, it's not recommended for beginners. The bobbin winder will fascinate you by automatically stopping when the bobbin is full, and the unique needle plates will ensure accurate seams.
The thread tension control on the Elnita ef72 allows you to easily modify the tension depending on the fabric you're using. It includes an extra high presser foot lift for when you're working with bulky and heavy materials like denim.
Pros
Spacious throat size
Excellent lighting
Works with a variety of fabrics
Cons
Not made for beginners
It takes some time to master its functions and features
3. Brother CS7000X Computerized Quilting Sewing Machine
Budget Pick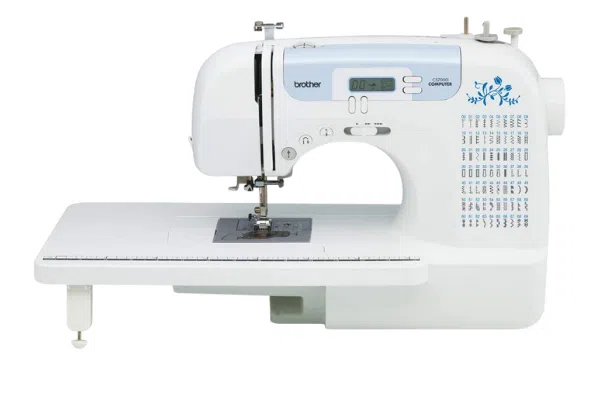 | | |
| --- | --- |
| Stitches per Minute | |
| Features | |
| Dimensions | |
| Weight | |
| Ideal for | |
Do you want to quilt but have a tight budget? No problem! Because Brother CS7000X is the best sewing machine for free motion quilting. The Brother CS7000X is a wonderful 2 in 1 machine, providing options to not only quilt but also sew clothes as well.
The thing that we love most about CS7000X is its fixed needle bar feature. It provides the necessary needle stability required to quilt on heavy fabrics. That's in addition to the machine's 70 decorative stitches, drop feeds, automated threader, speed slider, and other great features, all of which are reasonably priced.
If you're a beginner and learning free motion quilting, then Brother CS7000X Computerized Free Motion Quilting and Sewing Machine is the best choice for you. It's also a great choice if you only need a backup quilting machine and don't want to invest much money.
Pros
Budget-Friendly
Fixed needle bar maintains stability
Relatively light-weighted
70 decorative stitches
Cons
The throat space is small
Not meant for big projects
2. Juki 2010Q Free Motion Sewing Machine
Staff Pick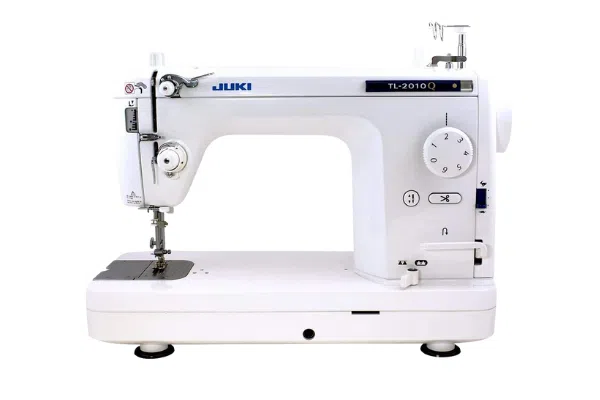 | | |
| --- | --- |
| Stitches per Minute | |
| Features | |
| Dimensions | |
| Weight | |
| Ideal for | |
If you want the durability of an industrial sewing machine with the convenience of a home machine, the Juki TL-2010Q Long Arm Quilting Machine is a good option. The Juki 2010Q is truly a workhorse, having a powerful motor capable of delivering up to 1500 stitches per minute!
Because this machine is so strong, you'll feel pretty confident trying free arm quilting for the first time. Just a week or two of practice on this beast will take you from a beginner level to an intermediate one. With a price tag like this, you'd expect the Juki Long arm quilting machine to come with plenty of extras. And so it does!
It comes with an extension table, additional needles, 20 bobbins, and a fantastic selection of detachable presser feet. All of these make it probably the best sewing machine for free motion quilting.
Pros
Decent throat space
Uses standard home sewing needles
Sews thick and heavy fabrics with ease
Smooth experience with several layers of batting
Longarm quilting frame
Cons
Although the needle threader is handy, using it may be challenging for beginners
Heavy and hence not portable
You'll need to oil it every time you use it if you want it to last longer
1. Singer Quantum Stylist 7258 Sewing Machine
Best Pick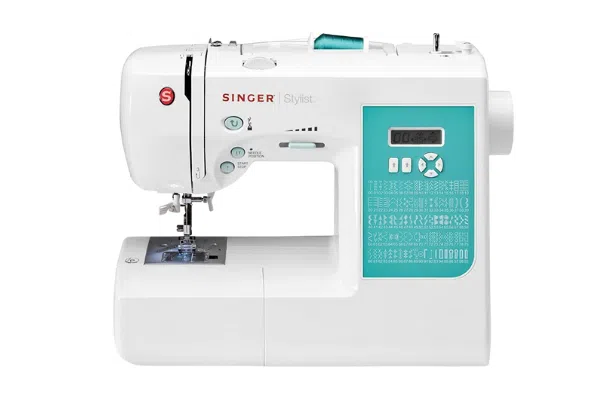 | | |
| --- | --- |
| Stitches per Minute | |
| Features | |
| Dimensions | |
| Weight | |
| Ideal for | |
Sewing and quilting are both possible with the Singer Quantum Stylist 7258 sewing machine. When you stop the machine, the programmable needle up/down feature ensures that the stitch you're working on isn't ruined. The Singer 7258 creates high-quality, consistent stitches, and the drop-in bobbin is simple to thread.
It's top-loading and clear so you can see what you're doing. The machine chooses the most appropriate stitch length and width for you, resulting in consistent quality and time savings. If you need to connect quilt parts, you can access the free arm by removing the storage compartment.
To access the Free Arm, remove the Removable Storage Compartment, which makes sewing around trouser hems and cuffs, children's clothing, and other little jobs easier.
Pros
Enough built-in stitches ( 100 ) for any of your projects
Sturdy interior
Budget-friendly
7 automatic buttonholes
Cons
The thread cutter is not automatic
Not quite good with bulky fabrics
| Award | Design | Experts | Retailer |
| --- | --- | --- | --- |
| Best Quilting Machine | | | Check Price |
| Cheap Sewing Machine | | | Check Price |
| Budget Friendly | | | Check Price |
| | | | Check Price |
| | Budget Pick | | Check Price |
| | Staff Pick | | Check Price |
| | Best Pick | | Check Price |
Conclusion
When you first begin, free motion sewing is a challenging task. It's also not like you need to spend a lot of money to make the task easier. However, if you are committed enough, you will eventually require a machine. So, before you buy, make sure it's the best sewing machine for free motion quilting.
Make a list of your requirements and preferences, and make a decision based on them. These reviews should surely assist you in this regard because you don't come across a free motion quilting machine very frequently. And you should also know, The stitch quality doesn't only depend on the machine but the threads as well. Yup, you heard that right. So, always use the best thread for free motion quilting.
Oh, and one last thing. If you are wondering which machine will perform best at big stitch quilting, Let me just tell you that big stitch quilting is done by hand. And doing big stitch quilting isn't a big deal either. You can search on youtube for free motion quilting, and it'll pop up.