Halloween is one of the events in which you can express your creativity in many ways as a sewing aspirant, or even if you are an expert. From small house decorations to costumes, you have tons of options with easy Halloween sewing projects to enjoy your sewing experience!
I have always made at least three to five projects for such holidays to make it even special for my friends and family, and trust me, handmade things are the best gifts you can give to someone. They are never going to forget the effort and creativity you have expressed through your sewing. As now a days it has become rate to see someone engaged in DIY projects just to gift someone special on an occasion.
So here are some of the cool, yet easy Halloween projects that you can make for your home, friends, family, or even for yourself. Let's get started further wasting any time.
1. Halloween Sewing Project: Trick or Treat Tote Bag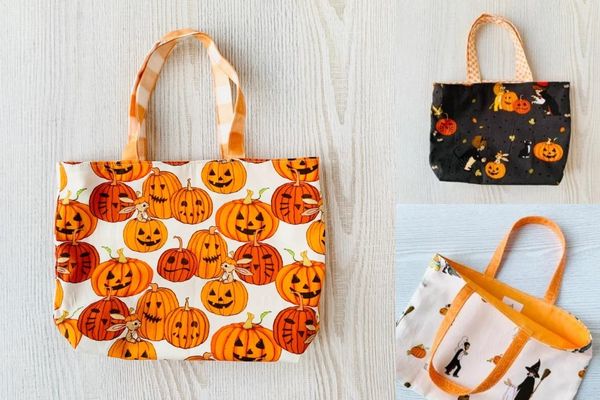 Believe me or not, these Trick or Treat Tote bags are so fun, yet easiest to make. And just look at them, how beautiful they appear! They just go right with the Halloween theme. All you need is to arrange a fabric that matches Halloween theme colors, or just grab a few yards from Amazon. As you would find a lot of colorful, graphic, and amazing variety to create a bag for yourself, friends, or family.
However, if you are an eco-friendly person and love to up-cycle material at home, then it wouldn't even cost you a penny! Just find black and orange fabric, and start creating your tote bag within no time!
Moreover, if you are looking forward to gift one of these bags, don't forget to be a little more creative by adding name of the person. Because it's going to make it look even more special. 😉
2. Halloween Themed Table Runner Sewing Project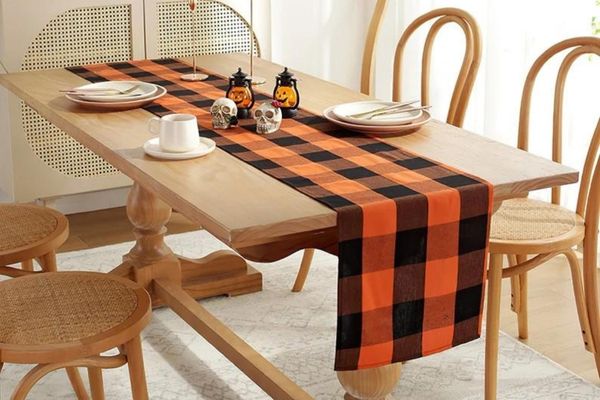 Each Halloween I try my best to do different with the decoration and arrangements when it comes to sewing themed projects. You can create a small to medium sized table runner easily using simple black and orange colored fabric. Just like the one in the image, this check design looks so elegant and simple, yet you can also use it for later dinners.
But if you wish to be a little more creative, you can cut different colored (of your theme choice) patches in same sizes and stitch them up to give it a quilting effect. Also, if you do not have graphic animation fabric panels, may be you can create simple ones using fabric paint.
You can buy these Halloween themed fabric in yards on any online store such as Amazon.
As for beginners it can be hard to make applique designs, so fabric pain comes in handy if you can draw a skull, a bat, or a witch hat to give a spooky effect.
3. Scary Couch Cushion Cover: Halloween Sewi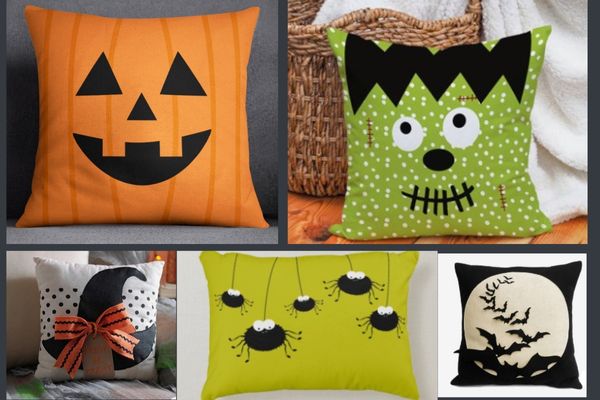 Hey, these spooky couch cushions can be made even in one color and then you can be creative by using fabric paint, fabric heat stickers, or can use fabric on top using a fabric glue. Just look at them how easy these are to make. Just cut the size you want in two folds. Take one fold, and do whatever you prefer to design for the theme. And then sew them together with a button enclosure or a zip as per your preference.
You can also use black felt fabric to design the characters without worrying about the fabric fray. Just get a template printed and cut it into your desired shape. Now draw the exact template on the felt fabric, and cut it with sharp scissors for a fine look.
In the end, use fabric glue to stick it, and let it dry before you sew the both parts together. And here you go, you spooky and scary cushion cover is ready to use!
4. Fabric Pumpkin Decoration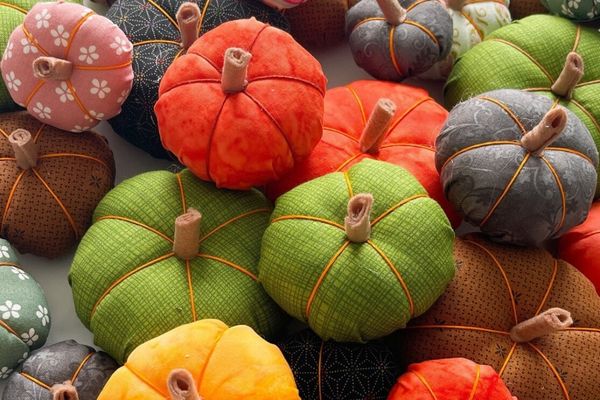 These cute little cotton filled fabric pumpkins are one of my favorites! As these can be made in any color, and even in printed fabric, yet they still look so cool for your Halloween decoration. Place them on the dining table, or a side table, they will definitely steal the limelight.
You can make them in any fabric type as long as you are comfortable handling it. These fabric pumpkin look so great in velvet, I tried creating one on orange color. Believe me, they looked so stunning! The texture seemed luxurious, and the touch was marvelous.
Hey, if you are clueless on how you can make this, here is a tutorial that will help you on how to make fabric pumpkins following easy guide instrucitons.
5. Halloween Pattern Floor Rug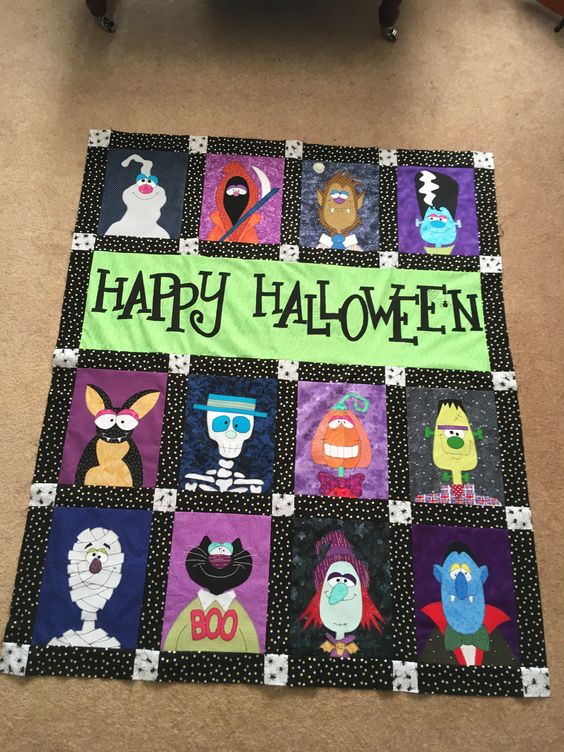 If you love floor rugs, then trust me this idea will give your sewing talent a whole new meaning! Floor rug necessarily doesn't have to have really thick and soft texture. You can create all the design on fabric, and later on attach it to an old (but clean rug) using a fabric glue to keep it intact. That way you can recycle your old rugs, and also create new ones to match your theme as per event.
Now look at this Halloween floor rug, it is a simple patch work connecting each character on its top giving an effect of framed characters. If you don't want to try these character, you can create your own shapes using felt to cut the templates as per your desire. Now attach them over your rug fabric, and you can give a patchwork effect by creating boxes with the use of ribbon or fabric piping.
6. Halloween Ghost Wreath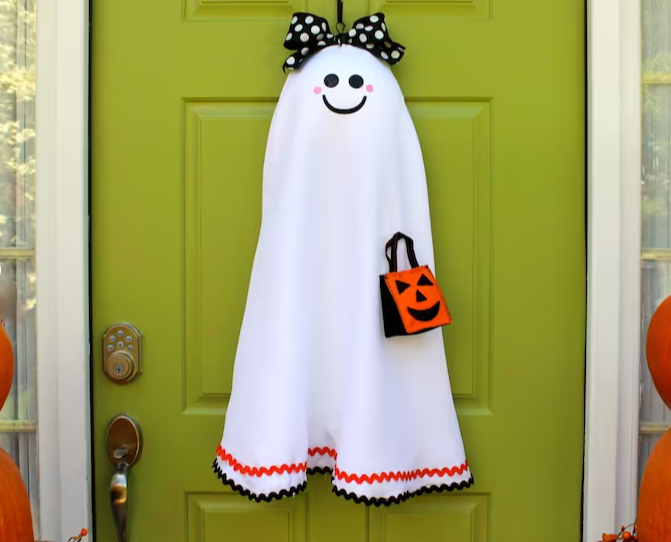 This Halloween Ghost wreath looks so cute! In fact it is so simple to sew. You can many unique designs like witch hat wreath, witch legs wreath, bat, skeleton, candy corn, or pumpkin wreath using fabric and accessories.
7. Boo Pillow Cover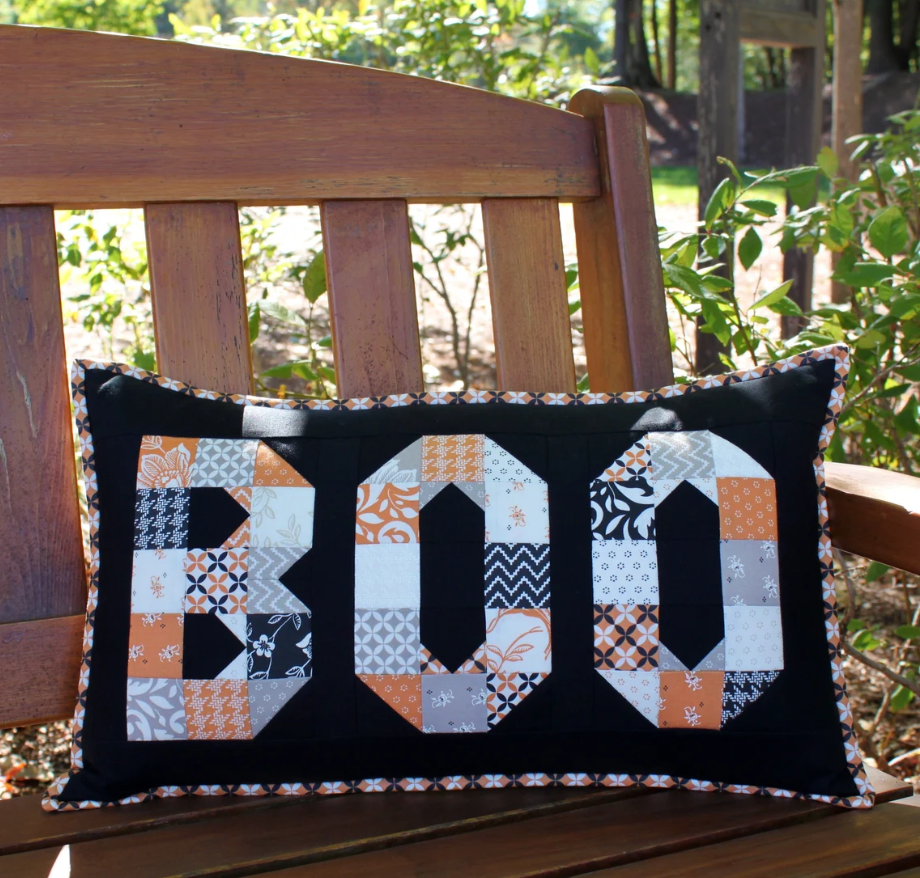 If you are one of those who love to decorate each part of your home with the themed stuff, then forget to make one of these Boo Pillow Covers. It depends on your experience how advance of sewing you can perform. If you are an expert in sewing and creating applique designs, then making one of these would not be much of a deal for you.
However, if you are a beginner and want to try something easier, then need not to worry. Print alphabet templates on a paper from the internet. Then cut those templates as per the design. Now draw them on felt fabric using a fabric chalk. Once done, cut it just as the alphabet looks and stick it on the front side of the pillow cover using a fabric glue, and Ta Da! Your Boo pillow cover is ready to use.
8. Witch Legs Hanging Decoration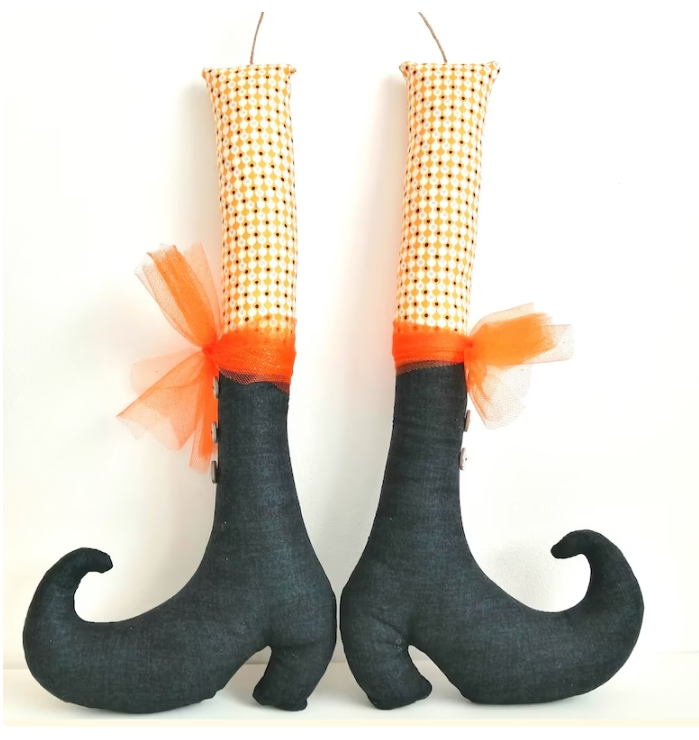 Just look at these beautiful witch legs hanging decoration! Aren't these a master piece? If you want your Halloween decoration to make your guest awe, then do try making these to hang them anywhere they can stand out.
These are simple to make, just follow the template cutting over the fabric, and turn the fabric inside out to fill in cotton. Meanwhile make sure not to miss the wire part, and check carefully if it's intact to hang. Now add accessories such as buttons and ribbon to give them a fancier look. Voila! Your witchy leg decoration is all set to hang!
9. Pumpkin Mug Mats
Just look at these beautiful pumpkin mug mats! And that's not it, you can make any shape, any color, and any print as per your theme. All you have to do is print a shape template of your choice, cut the fabric along the template. Now add felt or fabric (with applique) with glue to fix the accessorized features.
This projects requires very simple sewing, moreover to give it a softer texture you can add foaming sheet between the two fabric (front and back).
10. Halloween Coin Purse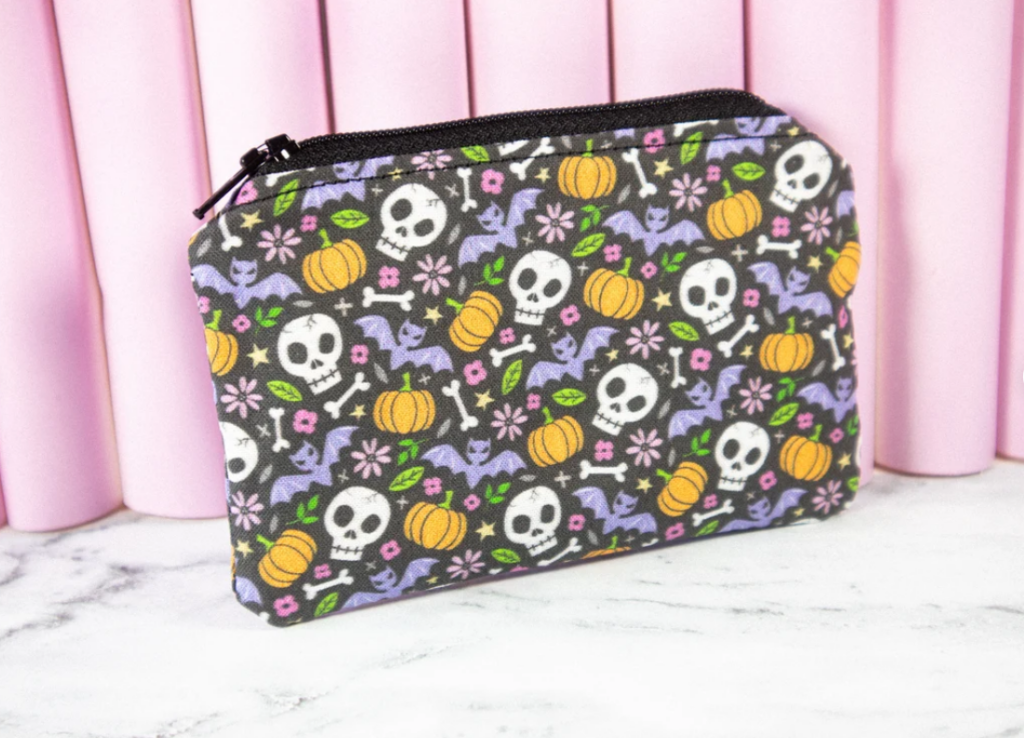 If you have less than a yard fabric that matches your Halloween theme, then this is one of the easiest and smallest sewing project for Halloween. You can create any shape out of it, round, square, half circle, or even triangle or rectangular. Just make sure it doesn't get too big. Because you will be needing this for coins.
You can use this later to carry change in your bag, as usually it gets a little challenging to handle coins in the wallet. So having one of these coin purse makes your life easier.
By the way, I have made multiple small purses like these, and used them for keeping my ear phones back in college to avoid tangling. Now I use them to keep small sewing accessories such as buttons and beads. They never go unused. 🙂
11. Laced Witch Hat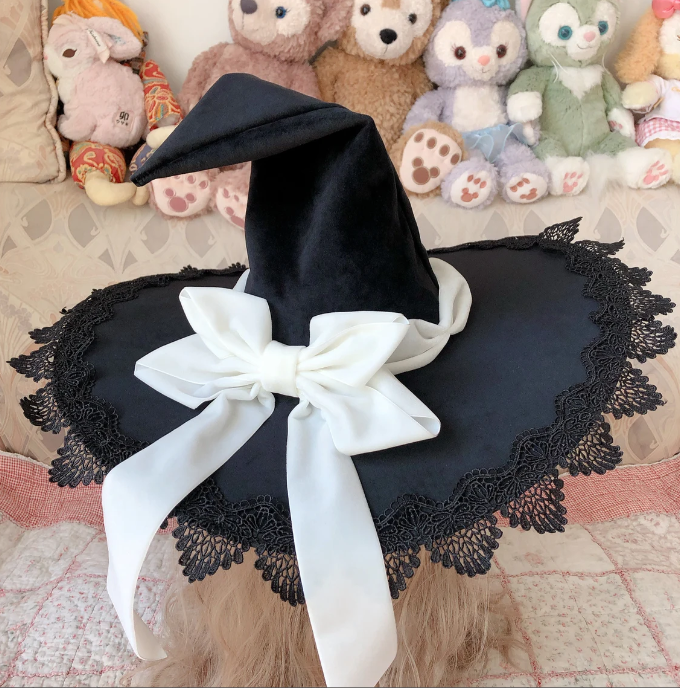 Hey, I know you can find one of these handmade Witch Hats online. But why would you buy one when you can create one yourself?
It is not so technical to make as it seems. But the best part of making a Halloween witch hat yourself is that you can choose the color, fabric, and accessorize it as per your preferred style. No one's going to stop you.
These look so sexy if you want to vibe with your Halloween outfit. Oh and yes, here's a detailed tutorial on how to make a witch hat.
Conclusion
Halloween is a special occasion just like any other holiday where adults and kids love to dress and play trick or treat. To make the event special, you can utilize your sewing skills, yet learn new projects to try while creating something handmade that you can show proudly to your friends or family.
In fact, you can create these projects and gift them to your loved ones to show how much special they are to you. This is a way of expression that possesses your time, creativity and dedication of creating something unique with your hands. So do try these easy Halloween Sewing Projects to impress your loved ones.