Sewing using a machine is a fantastic and efficient method to finish your task. This may be the most efficient method to complete your sewing project when your device is at its finest. However, just because a sewing machine is a helpful tool does not imply that it is error-free. You could encounter frequent sewing machine thread breakage when using your sewing machine.
The most accessible approach to coping with any possible difficulties is to deal with them as soon as you discover them. If you don't deal with a problem right away, it might escalate and harm your machine. Diagnosing the problem might be difficult, but you must do it. If you cannot diagnose the problem yourself, you may always take your machine to a specialist for evaluation.
Just though sewing machines can be quite useful does not imply that they are immune to potential issues, one very frustrating issue when sewing with a machine is when your thread breaks. A broken thread can disrupt the flow of your seam and make it look unprofessional.
A broken thread indicates that the sewing machine has failed to work correctly and is unable to stitch the fabrics properly. If you discover that the thread has broken, you can examine the machine to see if anything has happened and fix the problem.
1. Sewing Machine Thread Breaking Due to Bobbin Issues
There are many problems that you might have with your bobbin that will prevent your machine from sewing properly. If you don't use the right bobbin, you can experience thread difficulties as well as other complications.
Your sewing machine thread can break more often due to issues in the bobbin. Even if all bobbins appear to be identical, they could have various dimensions that cause them to not fit correctly in your machine.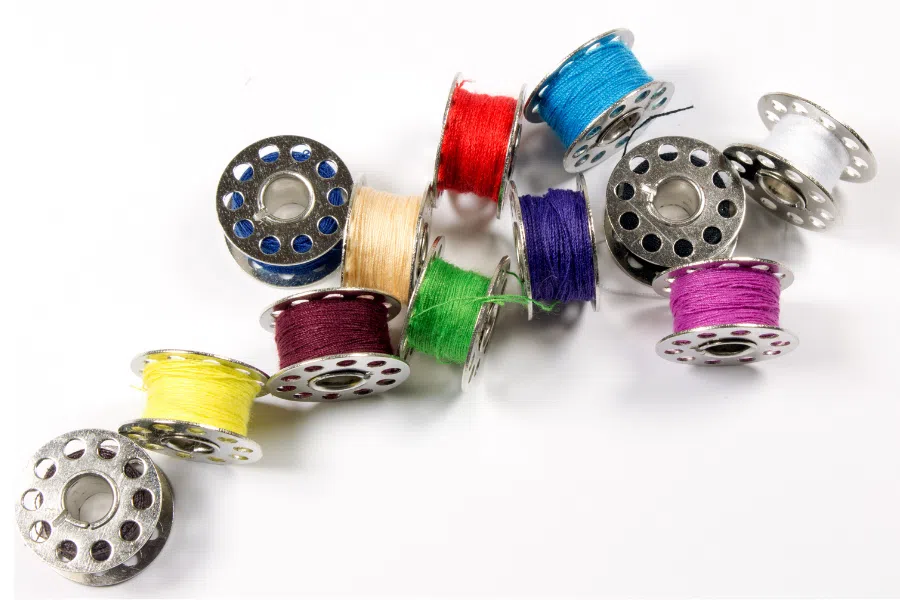 i) Wrong Bobbin
Bobbins are available in a variety of sizes. There is a distinction between front-loaded and top-loaded bobbins, as well as between a household sewing machine and industrial versions. Typically, an industrial sewing machine will have a larger bobbin, allowing you to insert a bobbin from a domestic sewing machine. Always use the right size.
ii) Lint in Bobbin Case
If the bobbin casing is loose, it is advisable to confirm it first because it may be causing the sewing machine thread to break. Examine the bobbin case carefully to see whether it has any flaws. This step is typically crucial since it is simple to make a mistake with a bobbin that isn't securely attached to a loose bottom plate. Because both of these circumstances have the same issues, they are easily misinterpreted.
If you notice that the bobbin casing is loose, check if the hinged latch locks are in place. You can accomplish this by turning the handwheel in your desired direction. Pull the hinged tap to release the bobbin casing. When you're through completing this procedure, replace the bobbin case. Make sure you hear a 'click' sound when you re-insert it.
This sound is important because it indicates that the bobbin is properly positioned. At the same time, as you replace the bobbin, be sure the needle does not get in your way. If the problem persists, refit the bobbin and test again.
iii) Dirty Machine
A dirty machine might be the source of your bobbin thread problems. Underneath the needle, the plate is one of the dirtiest locations on your machine. Dust, dirt, broken thread, fabric, and other dirt can gather behind your needle plate in the bobbin space. If you do not clear it out on a regular basis, it might cause problems with your machine. Some bobbin covers contain a spring that will grab your bobbin if there is too much dirt below it. These problems can potentially cause your sewing machine thread to break.
iv) Incorrect Bobbin Positioning
You can experience problems with how your bobbin is put in your machine, similar to how the thread is threaded incorrectly. If you do not correctly place your bobbin into your machine, you will have thread issues. When it comes to bobbin placement, each machine is unique. Some machines require your bobbin to unwind clockwise, while others require it to unravel counterclockwise. Make sure you know which way to wind your bobbin. If you insert your bobbin backward, it may work for a few stitches, but your thread will catch and break.
v) Incorrectly Wounded Bobbin
The majority of bobbins may be wound on your machine. When winding your bobbin, make sure the thread is uniformly coiled. If your bobbin is not winding correctly, you may have a problem with your bobbin winder's washer. You'll have to change it now and again. If this does not solve the problem, you may need to get your machine inspected by an expert.
vi) Bobbin Thread Loops
You can see that the threads are looping towards the back. This might prevent you from producing those beautiful patterns and stitching. This issue, however, might be caused by insufficient thread tension. The tension on the top thread must be correct.
The correct tension pulls the bobbin thread, allowing you to produce elegant stitches. As a result, whenever you encounter bobbin thread loops, the first thing you need to do is correct the top thread. At the same time, make sure to increase the tension. Although adjusting the top thread tension might be challenging, you can start with 4 and 5. Also, ensure the thread has no tangles and knots. Always use high-quality threads since low-quality threads might cause thread bunching.
It is also beneficial to maintain your machine, to ensure that all of the parts are operating properly, and to get your machine serviced on a regular basis. This will assist in extending the life of your sewing machine and keep it operating at speed.
vii) Bobbin Case Is Stuck
The bobbin being stuck is usually a common thing. If it occurs on a regular basis, the first thing you should do is open the bobbin casing and investigate the problem. The bobbin case frequently becomes coated with burrs, which causes it to become stuck.
You should open the sewing machine's bottom plate and take a careful look to see if anything is trapped or in the way. If you have the same problem, your only option is to have a professional repairer look at your sewing machine. They will assist you with the specific issue and fix your problem.
viii) Bobbin Thread Breaking
Check if you're using the same thread in your bobbin and upper thread. If it doesn't, you may fine-tune your bobbin tension by twisting the screw on your bobbin case. If your bobbin tension is excessively tight, it might pull and break your thread.
Sewing machine makers recommend that you don't mess with bobbin thread tension too much, but your thread should readily glide into a bobbin case. If it does not, you may make minor adjustments to your bobbin tension by twisting the screw on the bobbin case. If bobbin tension is excessively tight, it might yank your thread and break it.
2. Sewing Machine Thread Breaking Due to Sewing Machine Needle
One of the most common reasons for thread breakage is the wrong choice of the needle. It can result in needle breakage, thread breakage, difficulties working with the cloth, and poor stitch quality.
The first thing to understand is that the needles on sewing machines are standardized. Still there are plenty of sewing machine brands and models that are compatible with certain sizes.
While a needle can become rusty overtime, that too causes friction and allow the thread to break frequently.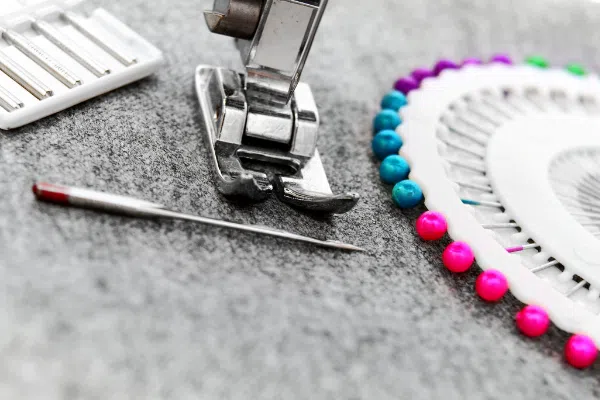 i) Thread forming Loops around the Needle
If you are not paying close attention during threading, the thread can create loops around the needle, resulting in the broken thread when stitching. You must re-thread the needle. Keep in mind that the thread should pass through the needle eye from front to rear. There should be no thread loops or knots around the needle.
ii) Incorrect Needle
Make sure you're using the proper needle. Knit materials require a ballpoint or jersey needle, whereas vinyl or denim requires sharp, strong needles. Stop stitching as soon as your needle breaks or bends. Carefully remove the broken needle and place it in a container to be properly disposed of.
Replace the needle with the correct type, being careful to install it according to your sewing machine's instructions. Re-thread your project and continue working on it. If you're using the right needle but still have problems with breaking or bending, you could have underlying mechanical difficulties with the timing mechanism that may require expert repair.
iii) Needle Positioning
If there is still space in the needle shaft or if the flat side of the needle is facing you, the thread will easily break. You can try to withdraw and re-insert the needle, with the flat side always towards the back and no gap left in the needle shaft.
Check the type of thread you use for the project. Delicate hand sewing threads should not be used in a sewing machine. The weight of your top and bottom threads should be the same. Rethread your top thread while keeping your presser foot up. If the problem persists, reduce the tension settings on your top thread.
iv) Needle touching Needle Plate
The bobbin is protected by the needle plate or throat plate. This is the detachable metal shield that is inserted into your sewing machine's work area. This plate has a smooth surface, so your cloth will move easily across it. It also functions as a guide to assist you while you sew.
A sewing machine that has been properly maintained should perform well. It should offer you a pleasant and trouble-free stitching experience. However, if you detect anything out of the ordinary in your machine, there is something problematic. One of the most typical errors is when your needle touches the needle plate. Another possibility is needle bending or breakage.
Before you start using the machine, always double-check that the parts are correctly attached. Any loose attachment might cause your machine's operations to fail. If you're going to use a twin needle, be sure it's properly placed. Make sure the twin needle hits the needle stopper when you insert it. Make careful to tighten the needle clamp screw.
v) Damaged, Dull, or Bent Needle
If you don't check your needle on a regular basis, you should start. If you're having problems with your machine, a smart place to start is by examining your needle. Your needle could be twisted or damaged, causing snagging or other problems. If your needle goes into your bobbin, if it is bent, or if there are other problems with your needle, you could be looking at a broken thread.
Most people do not change needles until truly required. This implies they do not check their needles as frequently as they should. It is a good idea to keep a check on your needle and its condition. Changing the needle is the most effective approach to resolve this issue. When changing your needle, be sure to use a needle designed particularly for your machine.
3. The Sewing Machine Thread or Spool itself a Major Cause
Thread absorbs the majority of the stress and strain from movement; therefore, it must be strong and long-lasting.
It must be resistant to breaking and match the rest of the clothing in terms of color, care instructions, and structure. Sewing thread should be free of flaws such as knots, frayed spools, thick and thin spots.
If your sewing machine is breaking thread, the thread itself can be the main cause of the issue.
Therefore, it is highly recommended to inspect your thread, it's quality, it's placement while threading, or the threaded flow may be incorrect.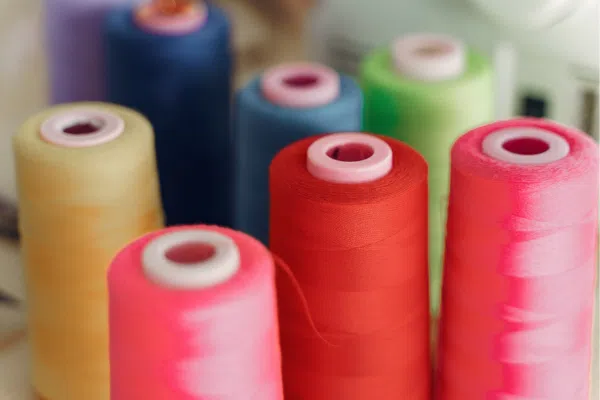 i) The Sewing Machine is not Threaded Correctly
When the thread is not properly threaded, it undergoes intense pressure or creates knots when sewn. Unthread and rethread the machine according to the instructions. While the threading procedure varies slightly across models, make sure you thread the machine with the presser foot lifter raised, the needle raised, and the needle at the highest position. The thread should go through all of the thread guide sections, the hook pin in front of the needle, and finally into the needle. The bobbin thread should be included as well.
ii) The Thread is too Thick
When the thread is too thick, it does not fit properly in the smaller needle. This creates a lot of friction between the thread and the needle, which eventually breaks the thread. If you need to utilize thick threads, choose a bigger needle size.
Ensure that your thread and needle sizes are suitable. The needle should be large enough for the thread you're using to pass through the eye without catching or tugging. If your needle and thread are incompatible, there's a high possibility one or the other isn't appropriate for your project anyhow, so start by making sure you've got the correct supplies.
iii) Thread Tension
When the tension is set too high, the thread is stretched significantly from the spool to the needle, producing considerable strain in the thread and, as a result, the upper thread breaks while sewing. You might try lowering the thread tension to see if it improves. A lower number implies a lower degree of stress.
To reduce tension, turn your tension dial counterclockwise. A sewing machine repair specialist can adjust your bobbin tension if you can't do it properly.
iv) Type of Fabric and Thread Compatibility
If your cloth is too heavy for the needle, you may have a problem with your needle or thread. If your cloth is too thick, your needle may bend or break. You might also have a problem with your thread knotting, puckering, snagging the cloth, or other issues.
This might cause your thread to break. To resolve this issue, you will need to replace your needle to match your cloth and thread. Testing your materials before stitching is a smart method to ensure that this does not happen during a task.
4. Sewing Speed Issue May Cause Thread to Break
Check that the thread is not jammed in any manner. You may also test this using the manual wheel. Examine the bobbin case and the thread from the spool to the needle carefully. Everything should go smoothly and without hiccups. If you move the manual sewing machine's wheel at a very fast speed, your thread will break or eventually damage.
The slow speed of the sewing machine can also cause thread breakage. When a sewing machine operates slowly because it may be stuck or needs to be lubricated. Aside from that, double-check the wire and foot pedal to ensure everything is correctly connected. Lint can also be an issue.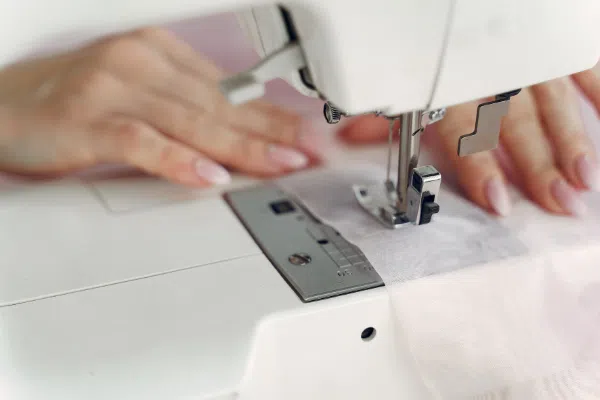 Tips to Prevent Thread Breakage
If your thread still keeps on breaking, then try to clean your sewing machine again pretty well. Ensure that every bit of fabric, hair, dirt, and lint is removed from the bobbin area. Also, ensure that the bobbin is clean and that nothing is trapped in it.
Lint, a fluffy item, tends to accumulate in the sewing machine as we continue to use it. This is why you should clean your sewing machine on a regular basis and remove any dirt, fabric, or anything that has been lodged in the machine. When there are materials or fabric trapped in the machine, it can often interfere with the needle and can also break or damage the needle.
Remove the bottom plate and bobbin so that you may clean all areas of the machine completely. After you've finished cleaning, brush a little oil into the bobbin. To keep the machine operating smoothly, it is usually a good idea to lubricate it with some oil.
If you can't reach every nook and cranny of the sewing machine with your hands, use a brush to apply oil to all of the machine's corners. Using a brush is preferable to using your hands since the brush can reach areas that your hand cannot. At the same time, the brush picks up more lint and distributes oil evenly in all directions.
Frequently Asked Questions
How to thread a sewing machine?
Every machine is threaded the same way, the only difference is for the flow that is meant to be followed while threading your machine. Here are a few steps to follow while threading your sewing machine:
1. Place the thread spool on the spool pin.
2. Now check the diagram on the manual to see where to start threading from.
3. Follow each step religiously and make sure no part is missed or the sequence is shifted. Because an incorrect threading can lead to needle damage or thread breaking frequently during sewing.
4. If you are a beginner, then use a needle threader to finally thread your sewing machine needle.
How to thread a Brother Sewing Machine?
Just like any other sewing machine, threading a Brother Sewing Machine can be no different than others. The flow and steps of threading may differ even due to the model you may be using. It is best to see the manual for guidance, or watch any YouTube Tutorial for the same sewing machine model for best practices.
How to thread a Singer Sewing Machine?
To thread your Singer Sewing Machine, you need to follow the instructions on the manual, or watch a YouTube Tutorial to thread your Singer Sewing Machine for the same model as yours.