You all know that kids want to try everything while growing up. Handling these kids and developing interests in them is quite a challenge for parents. All these experiences build their foundation strong and they emerge as a strong individual in the future.
Learning to sew and stitch the clothes of their favorite Barbie doll is one hell of a hobby for a lot of young girls. They want to explore different subjects such as sewing. We believe they should be given every opportunity to try out new things that make them professional and helpful for their personality.
But can you provide regular sewing machines for your kids to practice and learn? Of course, not! That is why we came up with the best kids sewing machine ideas. You will get to know everything regarding sewing machines for kids. Let's see what we have in store for you.
| Award | Design | Beginners | Retailer |
| --- | --- | --- | --- |
| Perfect beginner sewing kit for kids | | | Check Price |
| Best for built-in-needle threader | | | Check Price |
| Best known for portability | | | Check Price |
| Most affordable first sewing machine for children | Budget Pick | | Check Price |
| Best for beginners | | | Check Price |
| Lightweight for kids to handle | Staff Pick | | Check Price |
| Best for kids overall | Best Pick | | Check Price |
7. Sew Cool Children Sewing Machine
Perfect beginner sewing kit for kids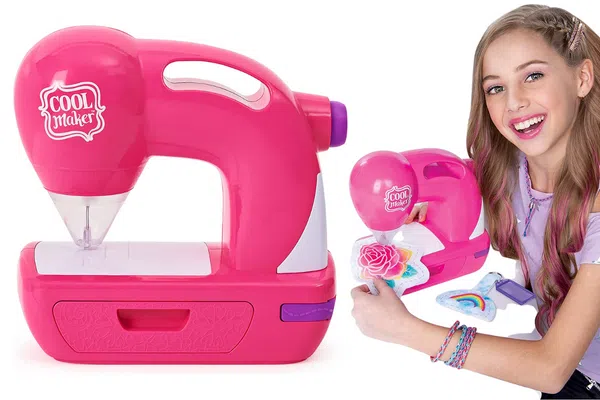 It sews without using any thread. Because the Sew Cool is meant to be utilized with no thread, pedals, bobbins, as well as needles so it is very safe, entertaining, and simple to use for youngsters. This arts and crafts package includes stuffing and 5 fashionable pre-cut creations.
A keychain, a multicolored marker holder, a gorgeous stuffed rose, a trendy bag, and an attractive furry cat are among some interesting designs. With the Sew Cool fabrics provided, your child can sew projects. The kids can see where to begin and finish sewing. As well as they know where to patch, stitch and fold, thanks to printed marks.
Pros
Automatic
Very safe option
Made for kids specifically
Colorful appearance
Cons
Does not stitch multiple fabrics
6. Singer Simple 3232 Kids Sewing Machine
Best for built-in-needle threader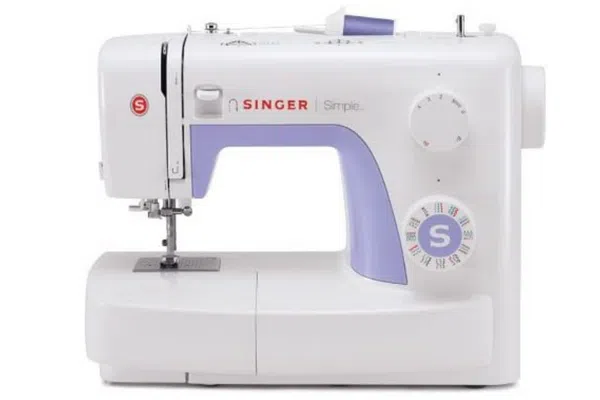 The Singer Simple 3232 is easy to operate and has a number of characteristics that make it hassle-free. There are 32 stitch varieties to choose from, as well as a one-step buttonhole. This has a heavy-duty steel frame along with a built-in needle threader.
Larger projects may be sewed swiftly using these Singer sewing machines for kids. They have a high stitch rate of 750 stitches every minute. The fabric gripping of this model of the Singer kids sewing machines is very impressive and hence convenient for the kids to sew.
Pros
The needle threader is automated
Automatic reverse
Quick setup
Works well with slippery fabrics
Appropriate for beginners and experienced both
Cons
Changing the bobbin is difficult sometimes
5. NEX Portable Sewing Machine for Children
Best known for portability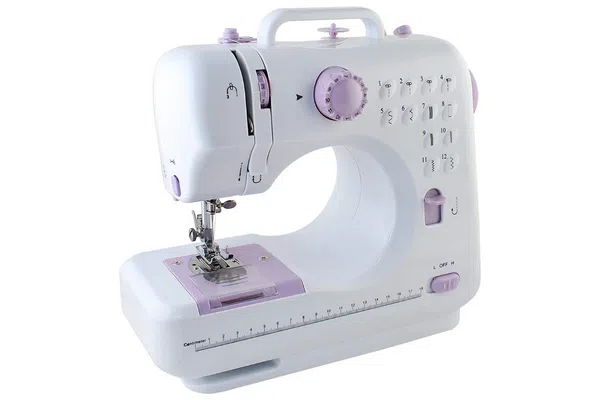 NEX has a sewing machine for kids that has a cute, kid-friendly appearance. The machine's art style incorporates white and pink elements, and its lightweight body makes it an excellent choice for portability. The machine is ideal for beginners to learn different designs as it offers 12 built-in stitch design options.
It has a size of 10.6'' x 4.7'' x 9''. Its forward and reverse options are easy to manage and very convenient for the children. For easy stitching and smooth running of the machine, a 6V battery comes with it which is also a plus point of the machine.
Pros
It has a carry handle
Comes with extra needles
Adjustable stitch length
Small and sleek
Excellent foot controller
Double threading
Cons
Sometimes bobbin issue
It jams at some point here thick fabric is used
4. Made By Me My Very Own Sewing Machine – Sewing Machine for Kids
Budget Pick
Most affordable first sewing machine for children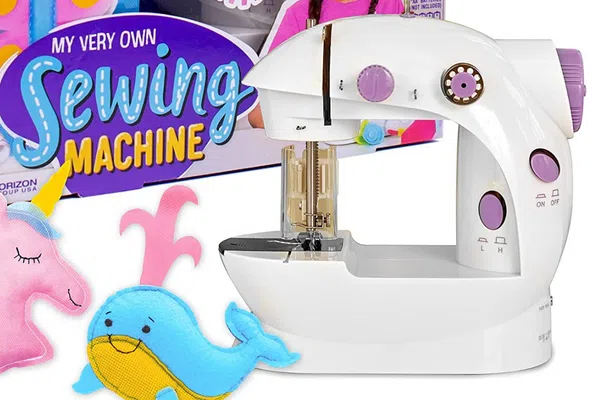 This battery-controlled, two-speed kids sewing machine is packed with user-friendly options including an on/off button, changeable stitches and widths, pre-threaded spool, and many more to make sewing simple for beginners.
Finger protection and safety lights are included in this sewing machine package, as well as variable speeds and a mechanized power switch. With 10 built-in design options, your kid can make her fantasy into reality. This can be the best Christmas gift for your little one.
Pros
Very simple and kids-friendly
Quite cool in appearance
Ideal for kids
Good with multiple fabrics
Cons
Thread comes out from the needle
3. SINGER Start 1304 Sewing Machine for Kids
Best for beginners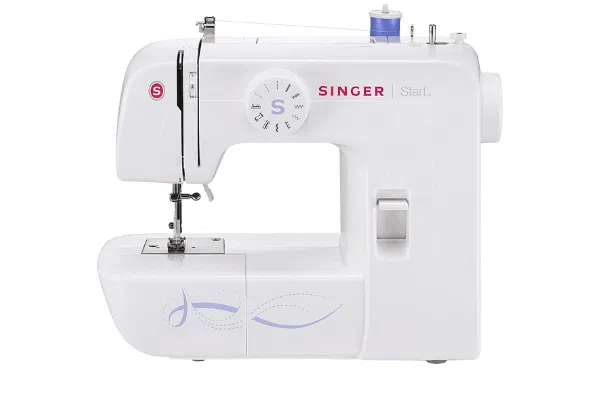 These kids sewing machines Singer are compact, stylish, and reasonably priced machines. These Singer sewing machines for kids have a white body with blue accents and are home sewing machines. It is ideal for teenagers or boys who aren't fond of the bright colors found in other children's sewing machines.
The measurements of this model are 13′′ x 7′′ x 11.5′′. This Singer sewing machine kids has 6 in-built stitching designs and has a free arm. The double spoon pins allow twin needle stitching, making this machine ideal for hemming and decorating. This model also features a heavy-duty base with three presser feet, making it simple to get started.
Pros
Easy to handle.
Brilliant for beginners.
Stitch length is preset.
The bobbin winder is automatic
Cons
Cannot sew heavier fabric
2. Brother XM2701 Lightweight Sewing Machine for Kids
Staff Pick
Lightweight for kids to handle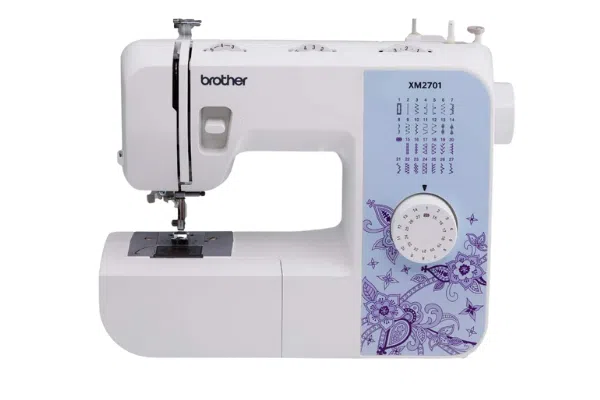 Between a child and a grownup, the Brother XM2701 sewing machines for kids bridge the gap. This is designed for teenage kids who are looking for a wonderful beginner sewing machine with a lot of functions. This is the greatest entry-level option for kids or beginners of any grade.
The led stitching light, one-step buttonhole, foot pedal, plus 59 stitch options and 27 designs are all wonderful options that aren't available on several of the sewing machines on the list. This undoubtedly is among the best sewing machines for kids available.
Pros
Inexpensive but reliable
Various stitch options
Free arms for different projects
Kids-friendly
Accessories available
Cons
Too many stitch options can be confusing to kids
1. Magicfly Mini Sewing Machine for Kids
Best Pick
Best for kids overall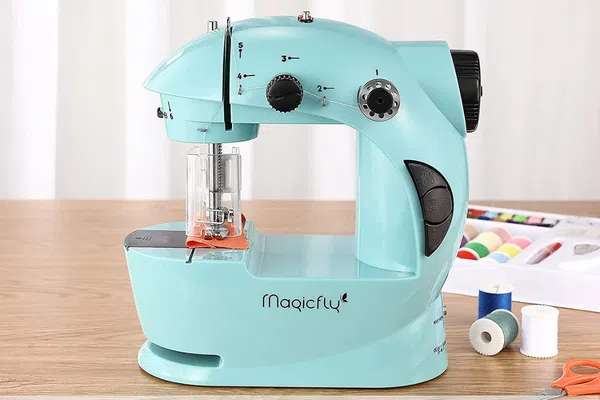 Magicfly sewing machine is incredibly lightweight, with only one simple stitch design. It accommodates in the dust-proof case provided. This significant sewing machine can meet your basic and everyday stitching needs and tends to be one of the most popular sewing machines for kids.
The kids sewing machine is more sturdy with an extension table, so it performs better on larger tasks. It also has a built-in light with a thread cutter, which provides enough light and ensures proper cutting during sewing.
Pros
Extra needles
Protection cover
Easily operated
Kids-friendly
Cons
Do not work on a lot of fabrics
Which Kids Sewing Machines are Safe?
Well, the kids need guidance and care all the time, but they need to feel independent too. Keeping in mind the same thing, buy cheap sewing machines for kids that are user-friendly and manageable. Then again, kids are a little too young to handle the automatic or computerized kids sewing machines. The reason is they are complex and hard to understand and get used to. For kids, safety is the priority. So, always consider buying a simple beginner machine. Once they become trained and reach a certain age, you can get them a computerized one. You also want the best sewing machines for kids since they will help your child to improve their skills without being overwhelmed.
For safer options, you can choose Singer sewing machines for kids, Janome sewing machines for kids, and other options from Brother.
What to Look for When Buying a Sewing Machine for Kids?
When you plan to buy something for yourself, you look for its advantages, features, pricing, and whatnot just to get the perfect one for you. The same is the case with the best kids sewing machines. Here we will tell you different factors that you must consider when you are investing in good quality, reliable, and the best sewing machines for kids. So, let's move to that!
Children (and many grownups) are very much drawn to a machine with a design highlighting their favorite color and character but this should not influence that much on your choice. Always remember, for the same price, a basic machine can have more functionality.
Mechanical or Computerized
You know the capabilities of your kid. So, it's always wise to buy a sewing machine that suits its abilities to handle it. If you think your child can handle the computerized one with dials and a control panel on the screen, go for it, if not, buying manual sewing machines for kids beginners is the best choice.
Since the price will be a huge deciding factor, it is crucial not to get the lowest unit available right once. Do your homework first, and then go shopping!
Plain stitch, zig-zag stitching, rapid stitch, button-hole sewing functionality are the essential stitches that you might require on every machine. The use of blinded hemstitching and border finishing stitching is optional. Children, including most adults, don't need machines with more than 50 stitches.
Consider your kid's age and ability to focus when choosing a sewing machine for kids. Complicated sewing machines are considered suitable for older kids or youngsters who have a keen passion for sewing and therefore will appreciate understanding about all of the options. A basic machine would be suitable for kids who simply want to jump in.
The heaviness of the device is a crucial factor based on the kid's age and size. A sewing machine having 15-pound will do significantly more injury to your kid's foot than a piece of 5-pound equipment. It is preferable to choose a lighter machine.
Several characteristics make a sewing machine safest for youngsters to use, such as the ability to change the machine's pace using a slider. Finger covers are another frequent feature on kid's sewing machines, although they're excellent for younger children; teenagers must be ready to do it without one.
What to Avoid When Buying a Sewing Machine for Your Kid?
There are several factors to look into when you are buying the best Christmas gift for your little one; a sewing machine. But, as far as what to avoid if concerned, there is one important thing. Do not buy "Toy" machines for children. Such kids sewing machines are found in the toy section of your local mall. They come in a variety of vibrant colors, including sky blue to neon pink. These are also frequently adorned with images of flowers, birds, or cartoon figures.
Toy kids sewing machines may be entertaining for a short time. However, because they are constructed inexpensively, they do not survive very long. And neither do the projects that are produced on them. One of the most common complaints regarding toy sewing machines would be that the stitching they create is weak and unreliable. To top it off, toy sewing machines for kids beginners are not the best when it comes to learning real skills.
Avoid investing too much in the Singer sewing machines kids edition if you are out of budget, instead buy cheap sewing machines for kids.
Conclusion
If you're seeking a genuine sewing machine for your child, you now have many possibilities. Just ensure you pick the appropriate one. The finest starting sewing machine for kids is simple and secure to use, attractive, has a foot pedal, is robust, and includes features that make crafting enjoyable. So, after reviewing our 15 best sewing machines kids edition, choose the ideal and cheap sewing machines for kids. You'll be able to make a confident purchase this way.