With new equipment on the market, sewing machine for leather have their own purpose. You can acquire them easily from the market or internet stores. These sewing machines are seen in leather manufacturers, textile factories, and even in homes where housewives use them as needed. We all know that leather is a difficult material to sew and handle. So, to make things easier, we have collected a list of the top leather sewing machines. Our honest assessment of these sewing machines for denim and leather will help you make the best choice. Let's start now!
Overview
10. TechSew 1660 Sewing Machine for Leather
| | |
| --- | --- |
| Stitches per Minute | |
| Features | |
| Dimensions | |
| Weight | |
| Ideal for | |
The TechSew 1660 is another gem manufactured by the brand. It has all the features of an ideal industrial leather sewing machine. It has numerous features such as a large capacity hook, a high presser foot lift, and a reverse stitching option. Just like TechSew 2700, it comes assembled with a table, an impactful servo motor, and an LED lamp.
This leather sewing machine has a compound feed mechanism that makes sewing smooth and effortless. The best thing is that it comes with a safety clutch system that conserves the inner parts of the sewing machine. All in all, the TechSew 1660 is a true workhorse based on its working abilities.
Pros
An incredible sewing speed of 2500 stitch/minute
Adjustable stitch length
Safety clutch mechanism 
Reverse stitch option
Extra high presser foot lift 
Walking foot feeding mechanism
An ideal tailoring machine to sew sturdy materials
Cons
The needle threader is manual.
9. TechSew 2700 Leather Sewing Machine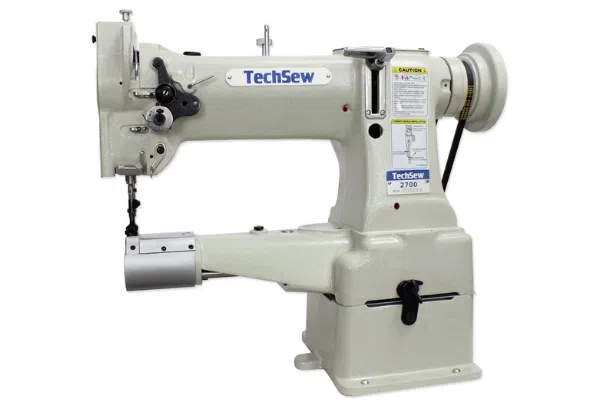 | | |
| --- | --- |
| Stitches per Minute | |
| Features | |
| Dimensions | |
| Weight | |
| Ideal for | |
Techsew 2700 is a marvelous sewing machine in terms of durability and efficiency. It has numerous features that rank it among the best industrial leather sewing machines to date. Its walking foot feed makes it an ideal option to sew heavy and rigid materials such as leather.
It has a 10.5″ long cylindrical bed that ensures you sew with ease. It has an excellent sewing speed of 2,200 stitches/minute, a stitch length of 5mm, and a Japanese rotary hook that enhances its working capacity to a large extent. This working piece comes assembled with a table, LED lamp, accessories, and instructional manual.
Pros
An excellent sewing speed of 2,200 stitches/minute
Quick-set drop-in bobbin mechanism
Variable speed servo motor
Reverse stitching mechanism
Adjustable stitch length
Long cylindrical arm
walking foot feeding mechanism
8. Toyota J34 Super Jeans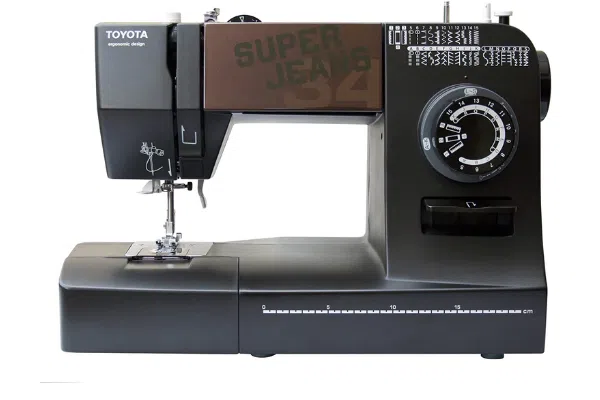 | | |
| --- | --- |
| Stitches per Minute | |
| Features | |
| Dimensions | |
| Weight | |
| Ideal for | |
Toyota super jeans j34 is one of the best sewing machines for leather. It is especially- built to assist the users in sewing leather. It is manufactured by the famous automobile brand Toyota, which promises excellent service and reliability. Toyota super jeans j34 lead the race of best leather sewing machines.
Because of its lasting built-in quality and efficiency. It comes with 34 built-in stitches, providing decorative and stretch stitches. This leather sewing machine also sews jeans, denim, and other fabrics conveniently. This famous sewing machine for leather has a unique feature named gliding foot. With the help of its gliding foot, you can effortlessly and professionally glide up to 12 layers of leather.
Its Adjustable Presser Foot Pressure Dial allows setting the machine's foot pressure to whatever exact setting you want. You can easily sew your sleeves, cuffs, and leggings with the assistance of its Free arm. If you are ever stuck with any of its functions, then its guidebook will surely assist you.
This sewing machine for leather comes with even more functions mentioned in the pros below. All these user-friendly functions of this machine make it the best leather sewing machine all around the globe.
Pros
Built-in Automatic Needle Threader
Come with needles and bobbins
With see-through cover
4-step single buttonhole stitch 
All accessories guide book
CD manual
Cons
Insufficient workspace
Low voltage(110 volts)
7. SINGER Sew Mate 5400 Leather Sewing Machine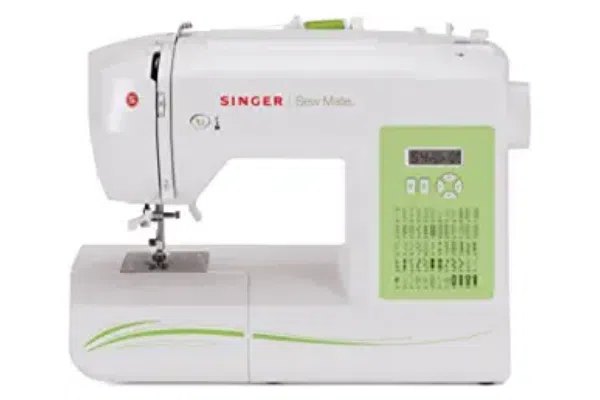 | | |
| --- | --- |
| Stitches per Minute | |
| Features | |
| Dimensions | |
| Weight | |
| Ideal for | |
The Singer sews mate 5400 has a vast selection of stitches, including all kinds of sewing, covering clothing sewing, quilting, vintage, handicrafts, home, plus ornamental sewing, with 60 installed stitches. A heavy-duty efficient metal frame supports the Singer 5400 sew mate is the best sewing machine for leather handbags that keeps your sewing machine stationary while sewing, eliminating the possibility of skipped stitches.
When it comes to needle placement, there are more than a dozen options. You can enable yours to move back because it's already encoded to do so. Are you already thinking of a spare arm? So, you can always count somewhat on your free arm to manipulate your fabrics creatively.
This is an inexpensive leather sewing machine that provides you with a professional experience when you use it. It is also one of the best beginner sewing machines for leather sewers. You can have a lot of accessories at such an affordable price with a sewing machine for leather. This sewing machine comes with a convenient, packed top spindle and even an autonomous needle threader that accurately places the thread into the needle.
Pros
The machine is not noisy and user-friendly.
It has a see-through functional bobbin.
This is considered very low in the budget as compared to the features it provides.
Automatic tension quality.
Single-step buttonholes
Cons
Poor lighting.
Sometimes the bobbin creates issues.
6. Brother CS6000i Cowboy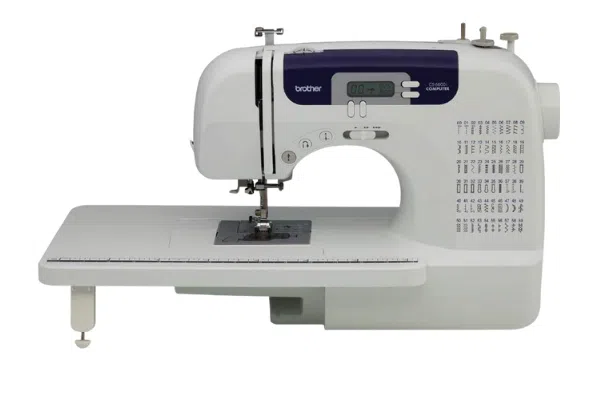 | | |
| --- | --- |
| Stitches per Minute | |
| Features | |
| Dimensions | |
| Weight | |
| Ideal for | |
This tiny beauty, we feel, is among the best sewing machines for leather, helping you get your footing if you're new to leather sewing. However, as you gain expertise as a sewer, this will also guide and assist you in growing. The sewing machine offers amazing bang for the buck, with 60 built-in stitches, processing capabilities, and a slew of other capabilities.
The Brother CS6000i has a straightforward LCD stitch selector with a touch of blue plastic to call your focus to it. The device does not appear to be particularly large at first appearance, despite weighing 17.4 pounds. The automated needle threader plus intuitive bobbin winder make inserting a breeze.
Amateur sewers can gradually increase their speed to much more modest levels well over the life of a project, thanks to manageable speed settings. This machine is also a good choice for quilters because of its free arm and large table.
Pros
Jam-resistant system.
There is a start and stop button if you do not want to use the machine's pedal.
Prettier in appearance than its previous versions.
It is the best for beginners.
You can do free-motion/style embroidery as well.
Cons
There is no automatic tension in this sewing machine that sews leather.
Show a little difficulty when sewing layers of leather or other fabric.
5. Brother ST150HDH Heavy Leather Sewing Machine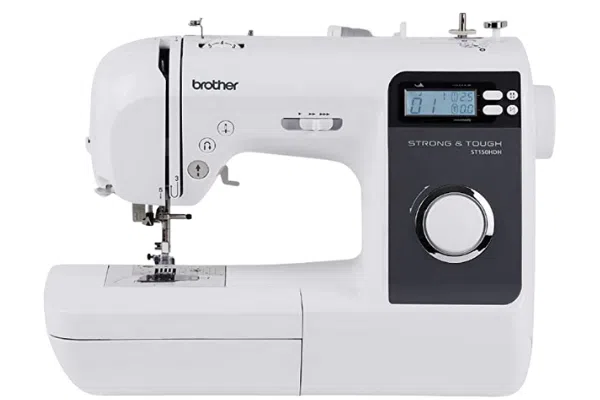 | | |
| --- | --- |
| Stitches per Minute | |
| Features | |
| Dimensions | |
| Weight | |
| Ideal for | |
The Brother ST150HDH machine is pre-programmed to work with almost any fabric you choose to stitch. Whether it is linen, leather, denim, hefty blankets, or any sort of thick fabric. This cowboy leather sewing machine includes heavyweight needles and specialized pedal feet.
With regular sewing, machine leather can be challenging to sew. This industrial leather sewing machine is specifically built to tackle the kinds of heavy-duty craft projects that other machines do not. The heavy duty machine ST150HDH has a metal frame that makes it sturdy and steady while sewing.
It processes these materials quietly enough to avoid waking the neighbors. Stitching selection is made with a pattern option dial on a computerized system where the stitch count is shown on the rear-lit LCD touchscreen display. If applicable, you can also use the buttons adjacent to the display to choose the thread size and shape.
Pros
Reinforcement/reverse stitches are sewn automatically.
The ability to stitch with twin needles is a fantastic bonus.
The foot pedal is an optional feature.
Beginners will find automatic spool winding as well as needle threading simple.
It has greater versatility and possibilities than counterparts who aren't automated.
Cons
Because the handles are not molded from plastic, this can be awkward to hold.
It's dependable and robust, but it's not an industrial leather sewing machine.
4. SINGER 4423 Sewing Machine for Leather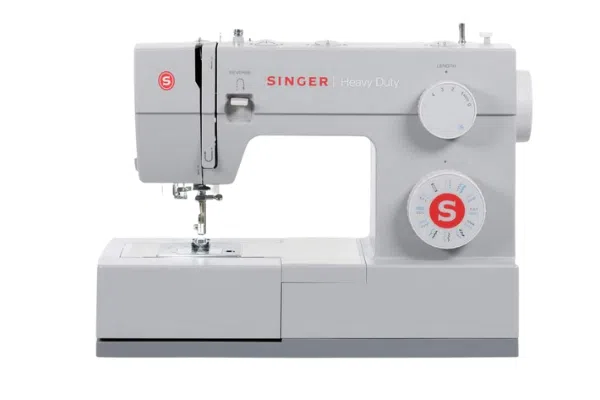 | | |
| --- | --- |
| Stitches per Minute | |
| Features | |
| Dimensions | |
| Weight | |
| Ideal for | |
This electric singer industrial sewing machine is perfect for your day-to-day needs and gives excellent finished products, including leather sewing. It has 23 stitches already programmed from the manufacturing company through which you can style, stitch, and decorate your heavy leather. This Singer heavy-duty sewing machine for denim is also ready to use right out of the box, with a previously installed needle.
Users can follow the directions in the guidebook to thread the initial bobbin. These are directions printed immediately on the machine too. This sewing machine for leather includes a heavy-duty inner frame that guarantees to stay stationary for skip-free stitching while also providing the machine its durability.
Luckily, it consists of a fully automated needle threader. The longitudinal spool pin emerges with a clamp where you can slip on to secure your spool stable when bobbin spinning or sewing, which is a function we particularly like.
Pros
In a few simple steps, it may be mounted inside a cabinet.
During fancy sewing stitches, you have the option to choose a size up to 5 mm.
With a quick spin of the lever, the thread length could be changed.
A single-step buttonhole provides professional outcomes at the touch of a button.
The whole package includes a variety of accessories for varied uses.
Cons
Controlling sewing speed is a difficult task.
Plastic is used for the bobbin covering.
3. SINGER 4411 Sewing Machine for Leather
Budget Pick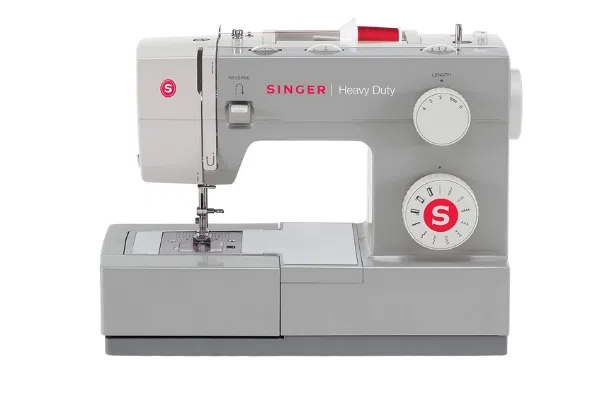 | | |
| --- | --- |
| Stitches per Minute | |
| Features | |
| Dimensions | |
| Weight | |
| Ideal for | |
This is not your ordinary manual leather sewing machine. It is an industrial sewing machine offering 1,100 stitches every minute. SINGER 4411 has quite a heavy-duty metallic inside the frame, high stitching speed, and a robust motor. This vintage Singer heavy duty sewing machine has 11 stitches, including basic stitches and decorative stitches.
For adding zippers and other decorative additions, you can adjust the needle position to any of the three designated positions by the machine. The stainless steel base of this best sewing machine for leather handbags has an arm that offers a seamless surface for materials to pass through effortlessly.
For buttonhole and free movement sewing, its feed dogs could be dropped. Lower the feed blades by sliding the Drop Feed lever. Slip it away and move the handwheel a complete turn to lift the feed blades again to reposition the feed dogs. If required, the clip presser feet can be readily removed and reattached.
Pros
There is long-lasting LED lighting for brighter vision.
It has a feature of adjustable length of stitches.
It can conveniently sew in reverse.
The motor is 60% more powerful relative to other machines.
Cons
There is no LCD screen which is a feature of modern-day machines.
Sometimes the needle is displaced from its position.
2. Brother ST371HD Leather Machine
Staff Pick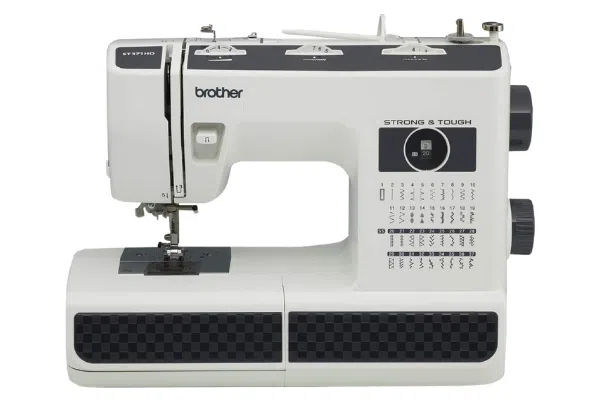 | | |
| --- | --- |
| Stitches per Minute | |
| Features | |
| Dimensions | |
| Weight | |
| Ideal for | |
The rubber base on this machine prevents it from shifting whenever you sew. There are no skips in the stitching, and it's simple to start stitching at the fabric's border without needing to hold those threads from the back to maintain the stitches from clumping. Interestingly, the pedal includes an additional height adjustment for working with thick materials.
Brother ST371HD sewing machine that sews leather is easy to handle and operate with various accessories. It can stitch not only multiple layers of leather but also denim, both of which are tough to sew and made into products. There are 37 stitches already featured in the machine having an auto-sized buttonhole.
Also, A handy, jam-proof top bobbin is included with this sewing machine and an automated needle threader that correctly puts the thread inside the needle.
Pros
You don't have to do the oiling every week as in a manual leather sewing machine.
It is quite sturdier as compared to other machines of a similar price range. The machine is capable of free-motion sewing.
Being under 19 pounds, you can easily carry it around for work.
It comes with a needle plate made of metal, usually not seen in other machines of this range.
Cons
It has a slightly noisy motor which is not ideal for stitching at night.
The light fixed at the stitching spot is not that bright.
1. SINGER 4452 Sewing Machine for Leather
Best Pick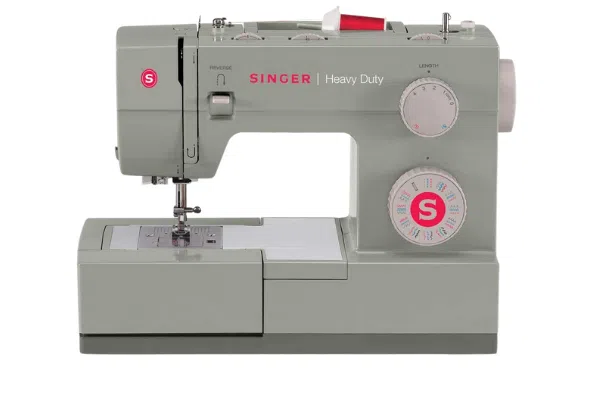 | | |
| --- | --- |
| Stitches per Minute | |
| Features | |
| Dimensions | |
| Weight | |
| Ideal for | |
As for the appearance of the SINGER heavy-duty 4452 sewing machine, the design looks relatively straightforward. This motorized machine isn't particularly attractive, but it will not overwhelm you with many functions, so it's a viable choice if you're looking for a straightforward model with minimal guesswork.
Considering its additional heavy-duty extensions and fast stitch rate, this Singer has a lot of versatility. Although the outside of a vintage Singer leather sewing machine is plastic, yet you must not be concerned because it conceals the metal case interior, which would ensure sturdiness and endurance for so many years.
Considering machines within that budget range, its style of construction is unusual. This machine comes with a fetching handle. The highest stitching speed of this sewing machine is 1,100 stitches in a minute, which provides for high production. It has the same amount of power as industrial machines, which are generally much more expensive.
Pros
This machine works excellent and smoothly with many layers of the fabric  
The heavy leather sewing machine is not too clumsy and easy to manage.
The threading tool works fantastic.
It even has a cutter on one side for cutting threads rapidly.
It includes a dust cover for keeping the dust at bay.
Cons
It only works with shorter spools of thread, not larger ones.
The pedal is somewhat sensitive.
| Design | Heavy Duty | Retailer |
| --- | --- | --- |
| | | Check Price |
| | | Check Price |
| | | Check Price |
| | | Check Price |
| | | Check Price |
| | | Check Price |
| | | Check Price |
| Budget Pick | | Check Price |
| Staff Pick | | Check Price |
| Best Pick | | Check Price |
Leather is usually stitched with nylon or otherwise polyester threads. The artificial materials' robustness is often advantageous to the final products, enabling them to last longer. There still are two types of nylon threads that are widely used; bonded and waxed threads.
It clings, it cannot be tied down without destroying the cloth, and stitching it can be tricky- so this is no surprise that getting the sewing machine that works best is crucial. The only option to choose the best leather sewing machine, particularly for leather, is to consider your requirements, beginning with the type of leather you deal with.
Conclusion
All these mentioned leather sewing machines are undoubtedly the best rated and offer unique and distinctive amazing features. Most of them are budget-friendly, but the good thing about all these sewing machines is that they are easily accessible worldwide. In the end, you decide to make, make it wisely and buy a machine that fits perfectly on your needs! We have tried to put forward all the goods and bads about good quality machines as we genuinely care about your time and money.
Frequently Asked Questions
How thick of leather can a sewing machine sew?
Home sewing machines have the capacity to sew up to three layers of average weight leather. It is ideal to use a leather needle for sewing leather for a better sewing experience.
Can Singer 9960 sew leather?
A Singer 9960 Quantum Stylist can sew a fabric weighed leather, however it is advised to use a Singer leather needle for best results. Because the stitches need to be performed at a distance as compared to normal sewing. As leather may get damaged due to close stitches.
Can Singer Heavy Duty sew leather?
Singer Heavy Duty sewing machines are high speed machines, they can sew thick fabrics like leather, denim, quilts, and other heavy fabrics with an ease.
What needle do you use for leather?
Unlike other fabrics, leather does not contain much of an elasticity. Therefore, it becomes a little difficult to sew leather. A sharp needle is best for sewing through leather safely without damaging it.The R point Groz-Beckert needle is the best due to its edgy sharp head, it can sew through any heavy thick material pretty smoothly.
What tension should I use for leather?
For heavier fabrics like leather it is best to set your upper limit tension around 4-5 for easy sewing. During heavy fabric stitching, the closer the stitches are, the harder it becomes to move the fabric under the needle. Resulting in a bulge of threads gathering beneath.