Industrial sewing machines are a great choice for sewers who aren't afraid of challenges. One of the best things you could do is buy a professional cabinet machine that stands alone. The best industrial sewing machine is also a good idea if you want to grow your business. Because industrial sewing machines can handle a lot of work, they can also help you improve and speed up your sewing skills and make things faster.
Industrial sewing machines are known for their high-quality stitching. Because they have powerful motors, they move at a much faster speed, which cuts down on the time it takes to make things. Heavy-duty thread and fabrics like upholstery and leather can also be used. Extendable tables for quilters, free-motion options, and even sergers can be found in some industrial sewing machines. On home machines, it will be hard to find them.
Overview
8. Juki DDL 8700 H Industrial Straight Stitch Sewing Machine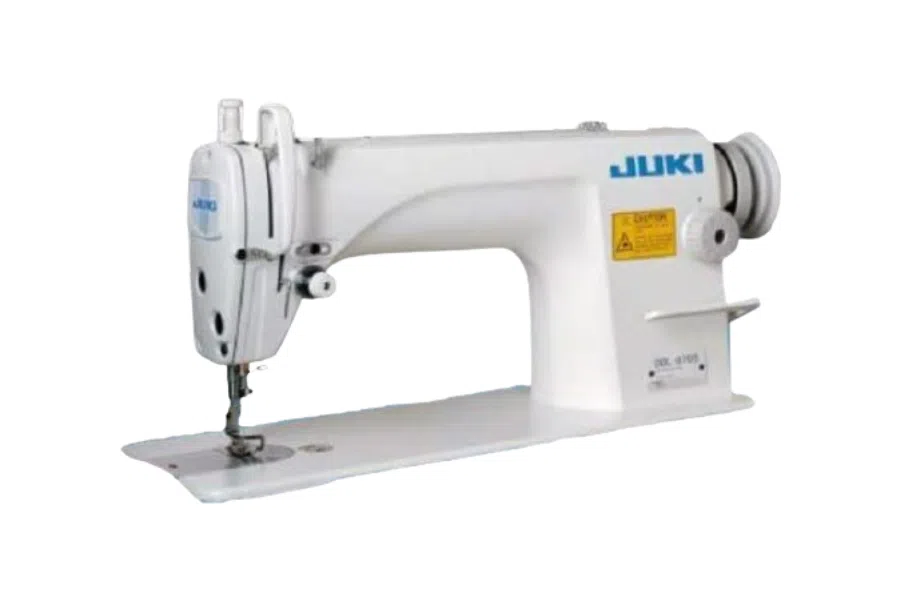 The Juki DDL-8700-H industrial straight stitch sewing machine is the ideal pick if you're looking for an industrial style. Because it is heavy-duty, and highly durable sewing machine. Juki DDL 8700 H can sew high-quality straight stitches on medium to heavyweight fabrics.
In addition, the machine features a wide arm area that may be used to sew vast pieces of cloth, such as quilts. The machine also includes a self-lubricating system, making machine maintenance a pleasure. This sewing machine is remarkable in that it can sew 5500 stitches per minute.
Compared to other Juki industrial sewing machines, this one is speedy, and you can complete sewing jobs in no time. The Juki DDL 8700 H is designed in white and has blueprints. It's an environmentally friendly model that meets the Juki Eco product standard. As a result, utilizing Juki DDL 8700-H has no negative impact on the environment. Furthermore, the machine is made without the use of any harmful materials.
Pros
Reasonably priced
Quiet operation
Plenty of arm space
No need for oiling
Easy maintenance
Cons
No detailed instruction for assembling
Heavyweight
7. JUKI DNU 1541 Industrial Walking Foot Sewing Machine
Best for heavy duty sewing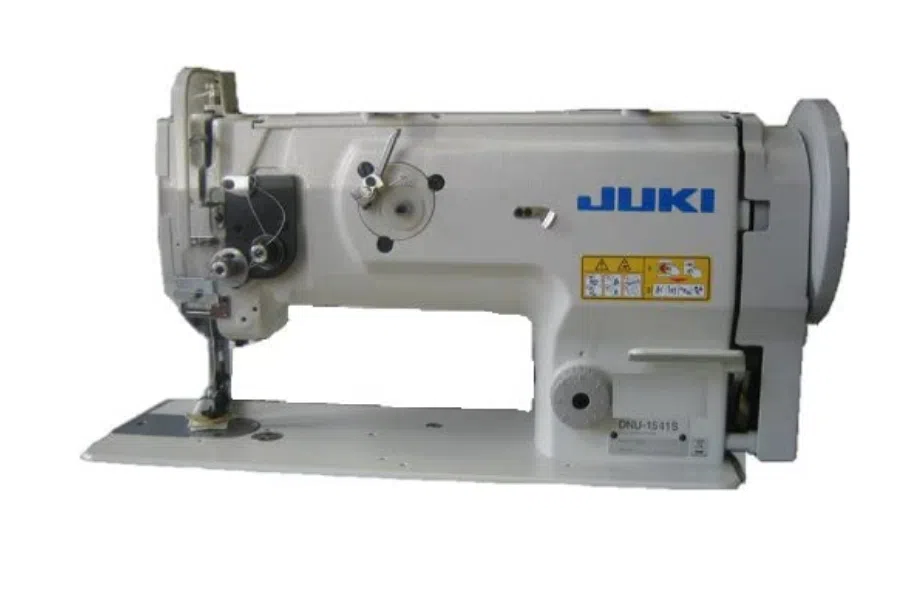 The Juki DNU 1541 is a heavy-duty industrial sewing machine that quickly stitches thick materials. When working with heavier materials, this machine delivers a constant feed and seam quality. In addition, the DNU 1541 has a big needle bar stroke.
Furthermore it has an excellent presser foot lift, and newly implemented double-tension mechanism. This sewing machine provides outstanding sewing capabilities and responsiveness. In addition, the Juki DNU 1541 features a good ratio between the alternating movements of the walking and presser feet.
Hence, making it easy to work with fabrics of various thicknesses. This machine is the best industrial sewing machine, perfect for small enterprises that specialize in leatherwork. If you deal with leather frequently or do large jobs such as stitching a quilt, you can get it right away.
The Juki DNU 1541 is expensive, but it's worth it because of its cutting-edge features and high-strength stitching. In addition, the needle is protected from fraying by a new rectangular feed. A 550W motor is included with every Juki DNU – 1541, which uses 90% less energy than clutch motors.
Pros
Excellent sewing speed
Single needle walking foot
Bed size of 477 x 178 mm
Brand new rectangular feed system
Newly adopted double-tension mechanism
Consistent stitching pitch
Cons
It is an expensive sewing machine
6. Consew CP206RL Portable Walking Foot Machine
Best for portability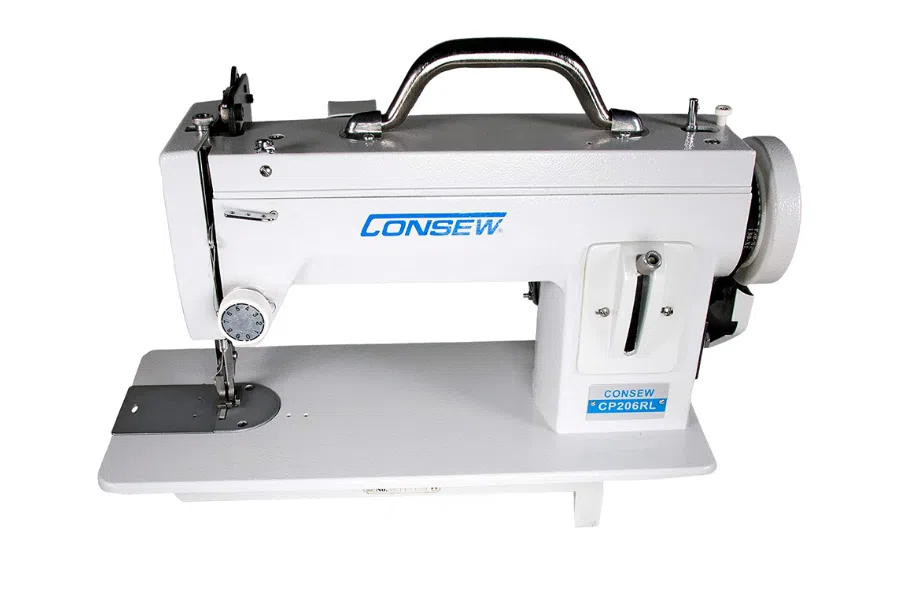 Compared to other sewing machines, the CONSEW sewing machine is one of Amazon's best portable walking foot sewing machines. While it provides mobility without compromising on performance. This machine is suited for large jobs such as quilting.
It can readily handle large tasks and saves you time by sewing layers at once. This machine's horizontal oscillating hook is similar to a rotary hook.
However, this is superior to a rotary hook in one way: it has fewer spinning parts, which implies fewer difficulties, issues, and maintenance costs. The motor on this machine is 110 volts. This isn't a mighty motor, but it's far above average compared to tiny industrial devices.
Pros
Longer Arm
Oscillating Hook
Powerful Motor
Portable
Cons
Not for Very Thick Layers
Lack of Important Features
5. Consew 206RB-5 Walking Foot Needle Feed Industrial Sewing Machine
Best for extra long stiches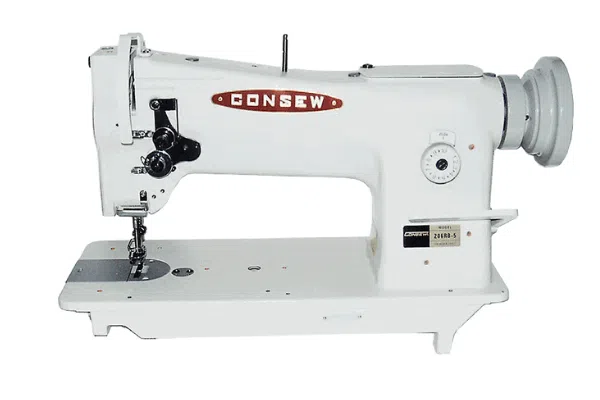 I you are looking for the most powerful motors for walking foot industrial sewing machines, you'll be happy to know that Consew 206RB-5 is the one.
This machine includes a Servo motor, which is the same motor that many buy separately for their heavy-duty machines. In addition, a walking foot is included with this machine. The triple feed machine provides you superior fabric control with its two-part mechanism. As it allows you to draw the fabric through it effortlessly.
This machine, designed for heavy fabrics can stitch ten or more layers of soft cloth and 8 to 10 layers of thick cloth. The stitch length is customizable, with a maximum adjustable length of 10mm, longer than other walking foot heavy-duty machines available on Amazon .
Pros
Table and Servo Motor
Extra Long Stitch Length
14mm Foot Clearance
Triple Feed Machine
Cons
Difficult to Set Up
No LED Light
4. TechSew 2750 PRO Leather Walking Foot Industrial Sewing Machine
Best for industrial performance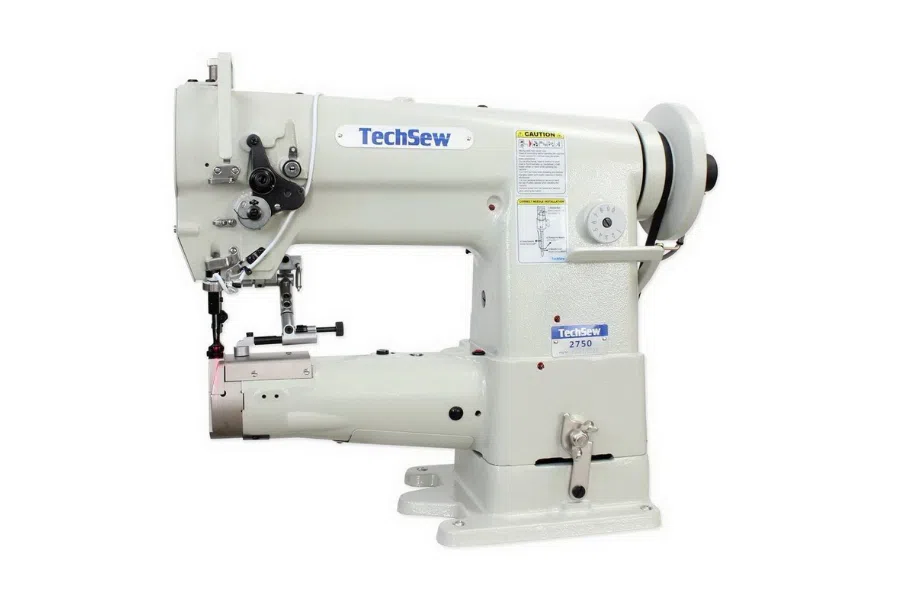 The Techsew 2750 PRO Cylinder Sewing Machine is an industrial sewing machine that can sew in a short amount of time. You can use it to stitch a variety of bulky and thick textiles. This may include saddlebags, boat coverings, vehicle covers, belts, wallets, chaps, leather bags, vests, and jackets.
This leather sewing machine with a cylinder arm is a fantastic choice. The Techsew 2750 PRO has an automated needle position motor that saves you time and effort when sewing.
Therefore, it allows you to sew more goods in less time and fulfill client orders or requests. Additionally the Techsew 2750 PRO features an adjustable speed servo motor that gives you total control over your stitching pace.
Pros
Impressive laser guide sewing feature
Time-saving automatic needle positioning motor
Versatile sewing ability
Suitable for both industrial use and common personal work at home
3. Singer Classic 23-Stitch Heavy-Duty 44S Mechanical Sewing Machine
Staff Pick
Best for heavy fabrics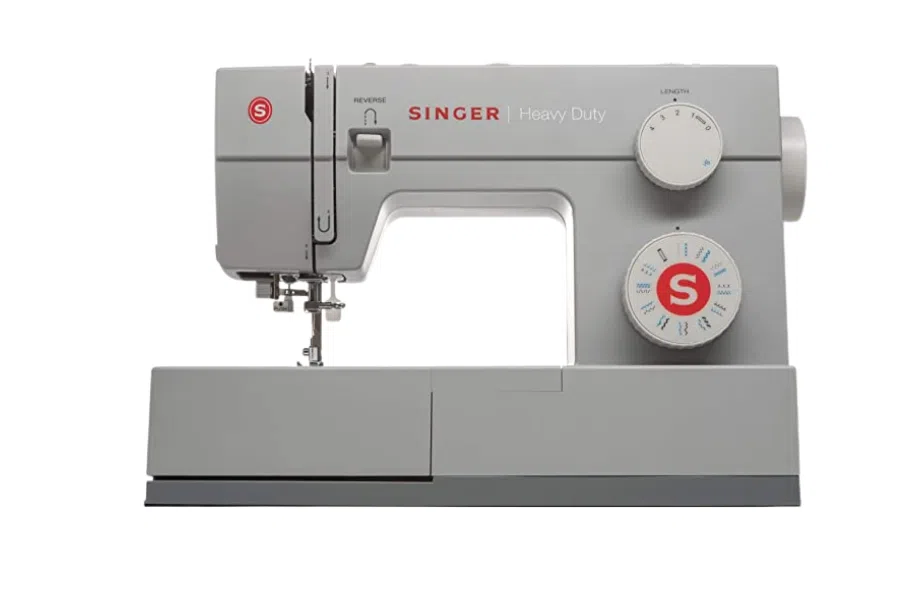 Classic 44s is the finest Singer industrial sewing machine that offers a complete package. Singer Classis 44s is a beautiful sewing machine that is designed to perform heavy-duty jobs without being tired.
Using this sewing machine, you can effortlessly stitch heavy fabrics like canvas, denim jackets, jeans, synthetic leather, and so on.  The sewing machine has 12 ornamental stitches and 23 built-in stitches. While thick sewing cloth, the sewing machine is robust and does not cramp.
The speed of this singer's industrial sewing machine is its most pleasing feature. The SINGER 4423 sewing machine has a stitch rate of 1,100 stitches per minute. Aside from that, the SINGER 4423 is a great product.
Pros
Designed to perform heavy-duty jobs
Suitable for heavy fabrics
1,100 stitches per minute
Cons
It is an expensive option as compared to others
2. Singer Heavy Duty 4452 Sewing Machine
Best Pick
Best for sewing speed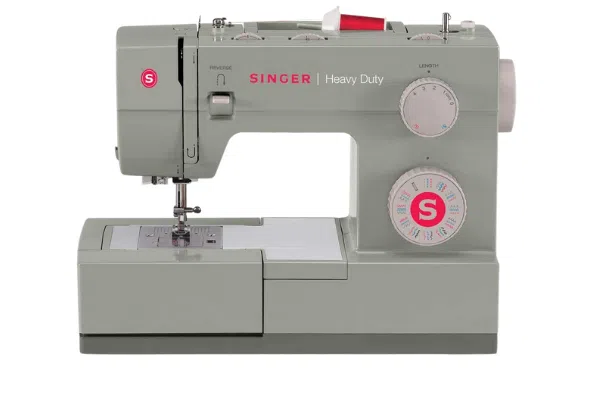 The Singer Heavy Duty 4452 sewing machine is the peak of the Singer Heavy Duty series. Moreover, this mechanical singer industrial sewing machine is simple to set up. On top of that it allows a fast paced sewing. Therefore, it is suitable for both newbies and expert sewers.
It's also simple to thread and stitches through heavy fabrics like denim, leather, and canvas. The SINGER 4452 sewing machine is one of the most reliable options if you need a strong industrial sewing machine with essential accessories. It's not costly, nor does it fall into the category of other low-cost sewing machines that lack essential functions. Its engine is strong enough to stitch heavy materials like denim with ease.
Pros
Breakneck maximum sewing speed
Able to sew through thick fabrics
Very easy to use
Runs smoothly
Automatic needle threader works well
Suitable for beginners and advanced sewers
Cons
The foot pedal is hard to use
1. Singer 4411 Heavy Duty Sewing Machine
Budget Pick
Best for powerful motor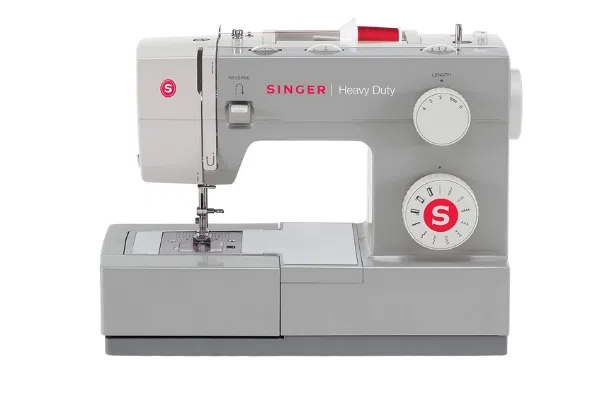 If you stitch thick fabrics like denim, canvas, or quilts then SINGER 4411 is one of the most acceptable options. It's a true workhorse that won't tire out even after extended use. It can withstand a wide range of materials. It has a 60 percent more powerful motor than other equivalent heavy-duty sewing machines, which ensures that it may be used for a long time without issue.
SINGER 4411 has 11 built-in stitches, including decorative and basic stitches. Moreover, it also has a buttonhole. Unlike other similar sewing machines, the robust engine of this singer industrial sewing machine allows you to stitch large materials without difficulty.
Pros
60% more powerful motor
1,100 stitches per minute speed
Heavy-duty metal frame
Reverse stitch lever to reinforce stitches
Quick setup top drop-in bobbin
Cons
No LCD screen
Mechanical sewing machine
Summary of Heavy Duty Sewing Machines
| Award | Design | Sewing | Retailer |
| --- | --- | --- | --- |
| Best for smooth stitching | | | Check Price |
| Best for heavy duty sewing | | | Check Price |
| Best for portability | | | Check Price |
| Best for extra long stiches | | | Check Price |
| Best for industrial performance | | | Check Price |
| Best for heavy fabrics | Staff Pick | | Check Price |
| Best for sewing speed | Best Pick | | Check Price |
| Best for powerful motor | Budget Pick | | Check Price |
What are Industrial Sewing Machines?
Industrial sewing machines are similar to domestic ones; they are designed for commercial and business purposes. High-end quality materials are used to produce their parts such as motors, bodies, and machinery. These machines are used in workplaces for the long term and hours of continuous work. Due to being a workhorse, these sewing machines need regular cleaning and oiling.
These industrial machines sew much faster than the domestic machines at a rate of 1000spm to 5000spm. They can exceptionally and effortlessly stitch multiple layers of various fabrics error-free. The knee lifter is one of its excellent features, allowing you to adjust and control the speed without disturbing the fabrics. The workspace on these machines is more than enough, making quilting and large projects easy.
Most of the home and industrial textile products around us are stitched and quilted by these high-end sewing machines.
Conclusion
Industrial sewing machines are used for heavy sewing in long run, therefore, it is crucial to choose one that lasts longer and is more reliable. The Industrial sewing machines that we have enlisted above are one of the favorites among industrial sewers. They have been chooser based upon the experts
Frequently Asked Questions
Is an industrial sewing machine worth it?
Industrial sewing machines are worth only for loads of sewing purposes. They are less time-consuming and very fast. The reliability and built-in quality of these machines are incomparable to other domestic machines.
What are the types of industrial sewing machines?
There are several types of industrial sewing machines around the globe. The most used and reliable types are mentioned below;

Single Needle Lock Stitch Machine
Overlock sewing machine
Flatlock sewing machine
The feed of the arm
Button attaching machine
Buttonhole machine
Bartack machine
Zigzag sewing machine
Multi-needle stitch machine
Double-needle lock stitch machine
Can you use an industrial sewing machine at home?
Using industrial sewing machines at home is not recommended because they demand more room, daily oiling, and cleaning. These machines are individually designed for one task only. You cannot sew fabrics on an industrial leather sewing machine. By keeping these factors in mind, it is suggested to use domestic sewing machines at home.