Sewing gifts are always fun to give or receive. They are also very useful and practical. But when it is about finding unusual sewing gifts for someone who loves to sew, you might fall short of ideas. There are lots of things you can gift to a loved one who loves to sew. Whether it is a sewing project, or a sewing tool, anything that will be used and loved by them is the goal to achieve.
You don't necessarily need to be a professional seamstress to sew a gift. In fact, even if you are new to sewing, you can easily make a variety of items using basic sewing techniques. Or, if you are totally unaware of what things are used by someone who sews, this article will give you plenty of ideas to choose the right gift. Here are some unusual sewing gifts that are sure to impress your friends and family.
Sewing Table or Multipurpose Craft Station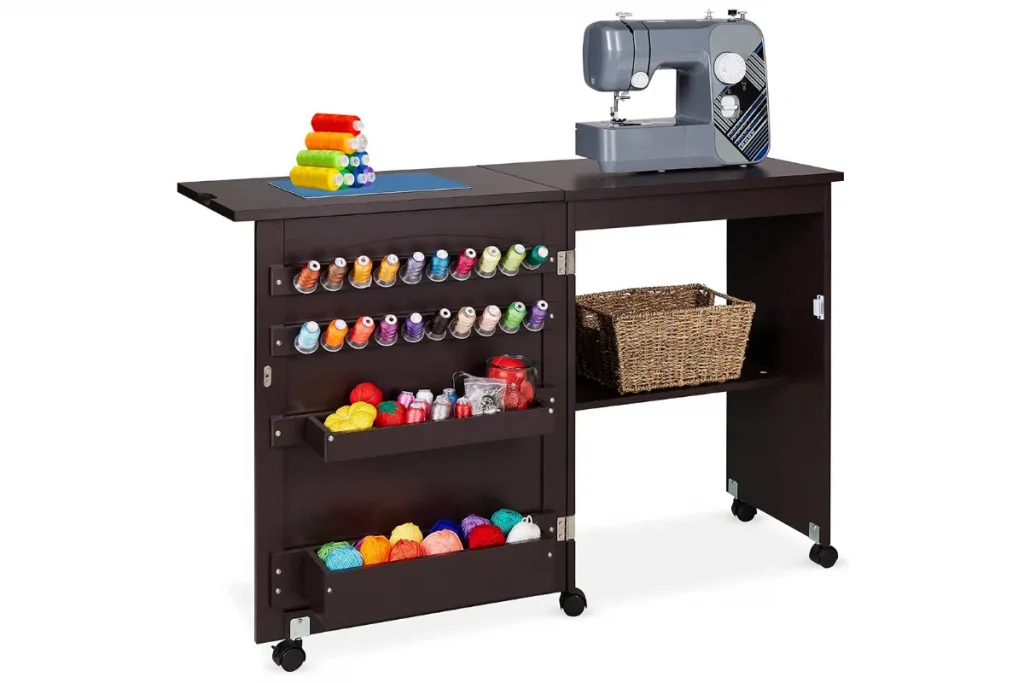 If you are not very familiar with sewing and sewing machines, then you probably may have only seen regular sewing tables. Those simple sewing tables are good and convenient with compact storage options. But if you are looking to buy a sewing table for someone who loves to sew, then this is one of the best unusual sewing gifts so far.
The reason why this is one of my favorites is because I own one of these. My husband surprised me with this master piece on our wedding anniversary four years ago!
Since then, it has become a mandatory part of my sewing room furniture!
What I love most about this table is, that with a modern design, it has many sections to get your sewing items arranged for a handy experience. It has a good storage capacity, allowing you to manage all your sewing materials at one place.
The table can be expanded from one side, that allows you to spread fabric during your project for pressing, cutting, or performing any task over it. Moreover, it's convertible side table can be folded inside while you can hide all your sewing accessories making it look like a compact side table.
It comes with wheels which allows you to move your portable sewing table from one place to another with an ease. Unlike regular sewing tables, it is light weight and stylish.
If I were to suggest one of the most usable gift for a sewing enthusiasts, this compact sewing and crafting table is one of the first things that would come to my mind. 🙂
Singer Sewing Kit & Craft Organizer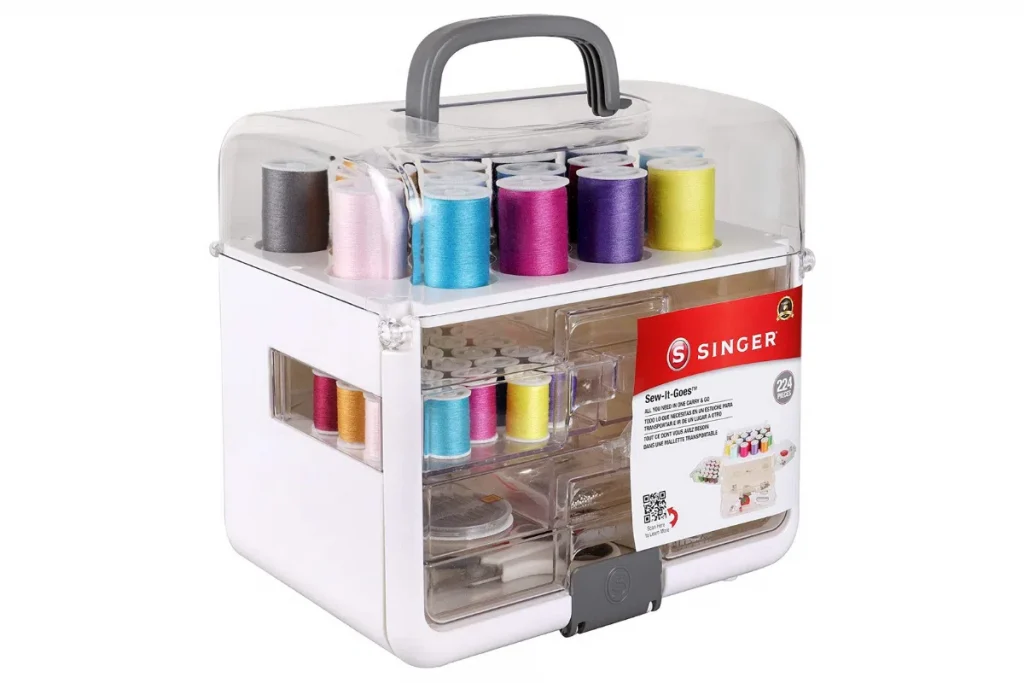 So here comes the next unusual sewing gifts item, Singer Sewing Kit & Craft Organizer! With 224 pieces inside, this compact portable sewing kit organizer is a mini kit to hold all your sewing items in one place. It has a handle lock, while covers the spools from getting dirty when kept in the organizer.
You can keep all small items in it safely, and arrange them as per your convenience. Things like needles, scissors, thread spools, pins, and many other small items can be kept inside it.
Its translucent layer makes it easy to view what's within, while making it convenient for you to search your desired item.
So if you ask me if this is a good gift idea for a sewing lover, then my answer is "YES", it definitely is. This kit is a complete package especially for beginners, as it includes all the basic things one may need.
Beginners Traveler Sewing Kit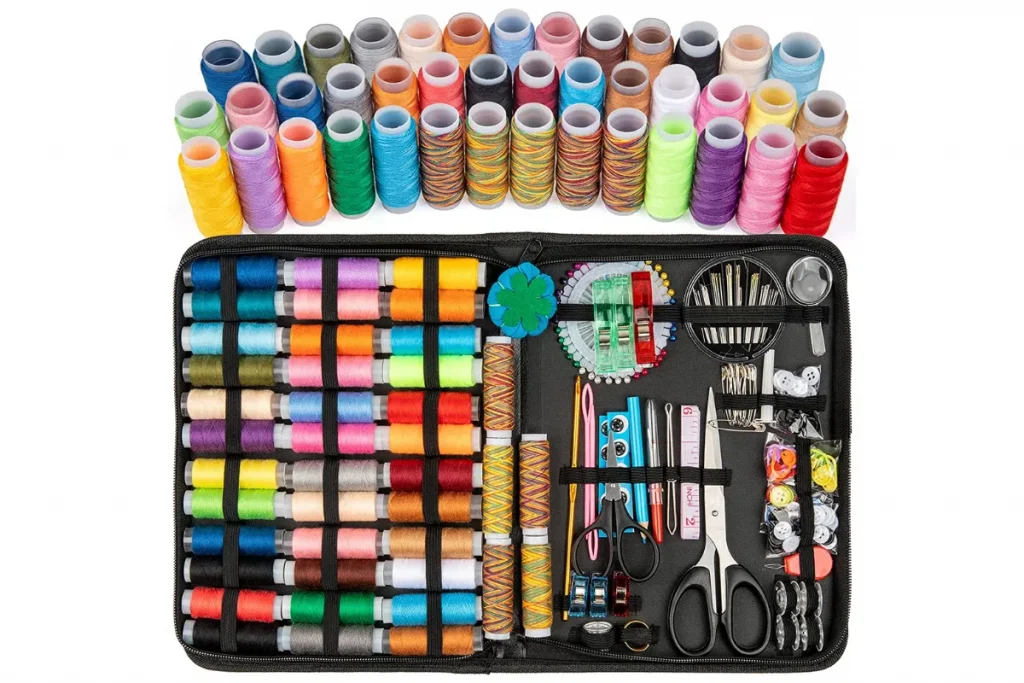 So here is another cool yet affordable gift option for a beginner sewing enthusiast. Although this basic sewing kit has all the necessary things one may need, but it is not something you would want to buy for an expert sewer.
However, it can be used for travelling when someone wants to carry basic things around for sewing. The reason why I still like one of these is, because it does have basic items. Therefore, whenever I have to travel short trips, I carry one of these due to their handiness. These are compact, easy to carry and light weighted.
These kits can also be used for emergencies like stitching a loose button, or sewing a torn piece of fabric.
Stitch Sew Quick Portable Mending Machine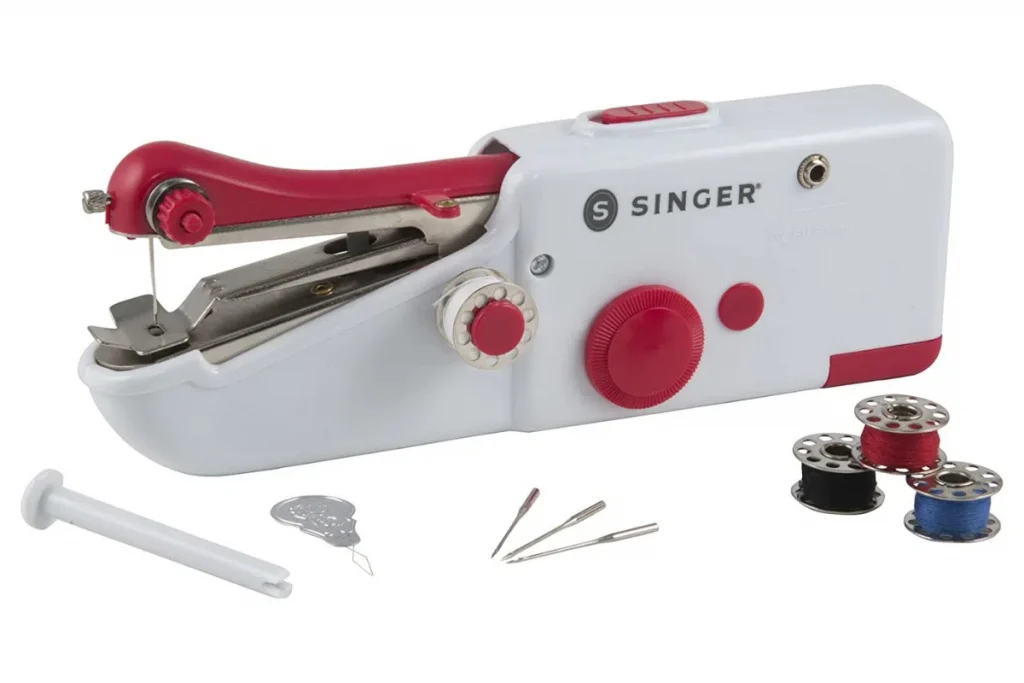 This Singer Hand Sewing Machine a little magic machine! It is tiny and portable, suitable for minor, quick and easy repairs to daily household goods. From bedding to drapes, this battery driven tiny portable mending machine works on various household materials. Its cordless capabilities lets the user to move freely across one or more tasks, and its built in power switch provides for safe control.
It is one of the best handheld sewing machine that is portable and a travelling machine option for those who love to sew. It can make a perfect gift for someone who misses their sewing machine when on vacation.
This is one of the best and unusual sewing gifts you can give to somebody who loves to sew. It is a perfect little mending machine, which can be used to hem the edges, sew smaller projects, sew in case of any dress malfunction or accident.
Hedgehog Shape Cute Pin Cushion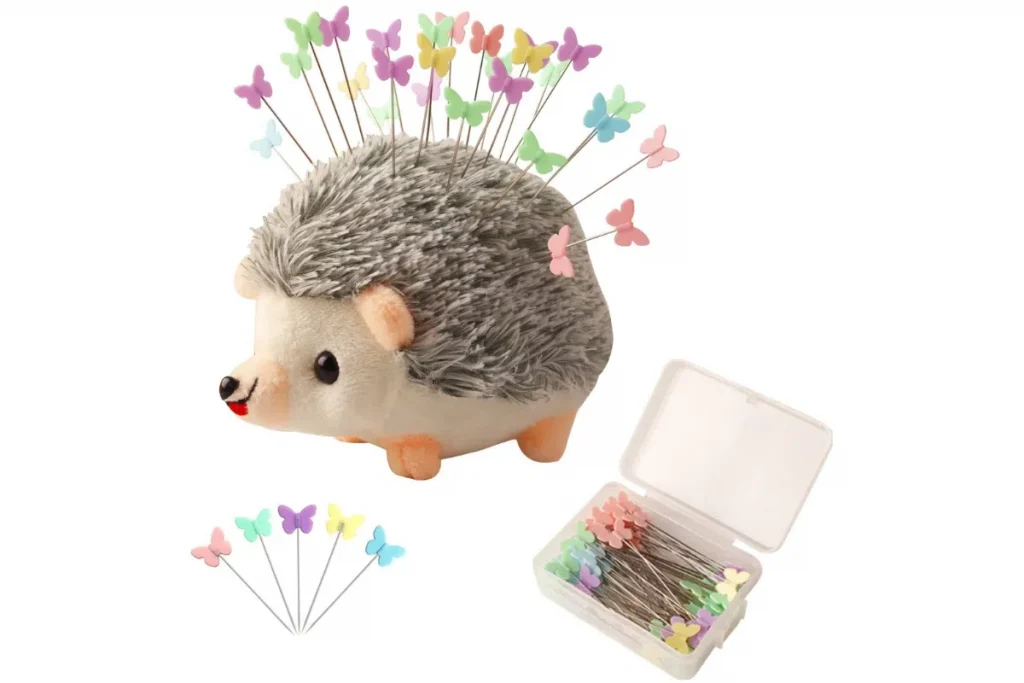 Just look at this cute little hedgehog pin cushion! It seems a perfect gift for children who love to sew. Or you can even gift it to an adult, as it is a really cute thing to be placed on the sewing machine table to organize the pins.
It is available in four different colors, that allows you to choose whatever color looks best. Moreover, the funky butterfly pins are also unusual and look cute at the same time.
This cute little sewing gift reminds me of a pin cushion that I made for my friend who was new to sewing. I had made a turtle and filled it with cotton, while added eyes with tiny black beads. She loved it so much! She still has it with here, while its been more than a decade.
So if you are creative, you can make one by yourself otherwise this cute little animal is going to look super attractive and funky on a sewing table.
Quilted Tote – Sewing Machine Case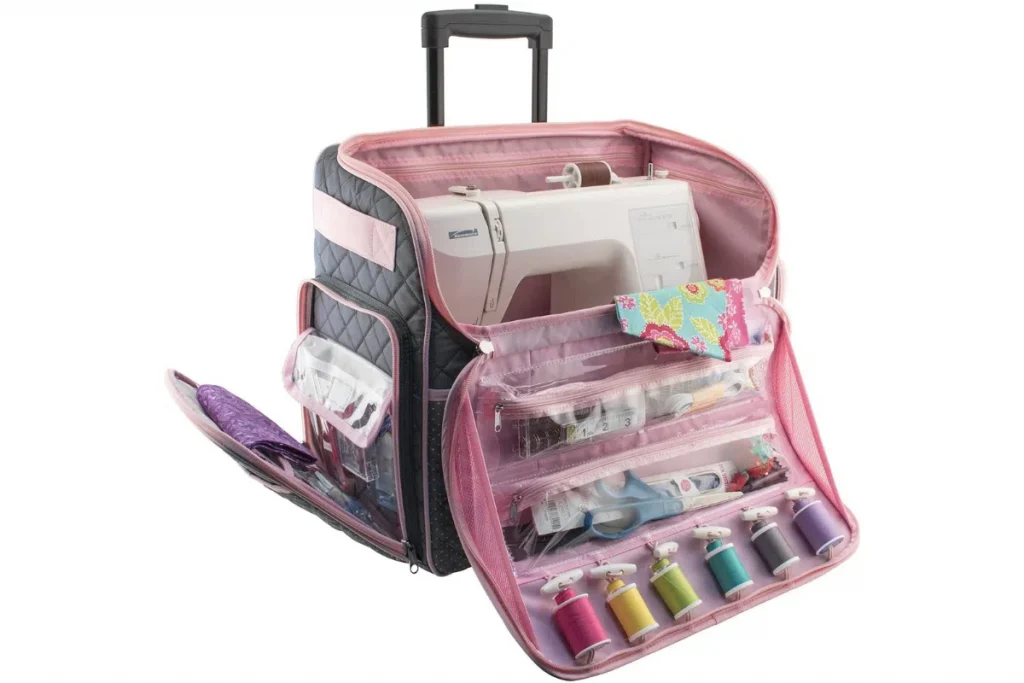 This beautiful and compact sewing machine tote bag fits in most of the singer and brother sewing machines. It has different sections for smart space management. Moreover, it also includes wheels beneath which makes it easy to move regardless of the weight after a sewing machine is placed inside.
Its Quilted design on the outer side allows to keep the sewing machine and other sewing accessories safe from harm. While its adjustable telescoping handle can be used to move your sewing machine from one place to another with an ease.
Carrying a sewing machine during travelling can be challenging due to the weight and unprofessional packing. However, this is a sewing machine case with plenty of space that is ideal for travelling!
Conclusion
These unusual sewing gifts for those who love to sew are a perfect option when you want to gift somebody. You can find gifts in all ranges, depending upon your budget. All you have to do is, go through our list of products and check their prices.
Any price that matches your budget, can be a gift for your loved ones!
On the other hand if your yourself are a sewing lover, you can make something by yourself to present as a gift.
Frequently Asked Questions
What to get my mom who likes to sew?
You can get anything that she might be looking forward to buy or replace. You can ask her random questions to know the exact thing she would be needing. If you want to surprise her, make sure not to make her feel suspicious about you for asking questions.
What every sewer needs?
There are some very basic things that every sewer may need. Even if they possess 1 or 2 extra pieces of them, it is a good idea though. Because if one of them goes missing, they can always use the other. We have not listed usual gifts in the list above, therefore here are some examples of thing:
1. Tailor's Shears
2. Measurement Tape
3. Tailor's Chalk
4. Thread Spools
To know further about common sewing gift ideas, you can check out our article on sewing machine accessories.