What is a mechanical sewing machine? Well, It's just a "Basic Machine" with settings controlled by knobs. When you don't need any fancy features that a modern computerized sewing machine provides and want to sew as simple as possible, Then Mechanical Sewing Machines are the best choice for you.
| Design | Sewing | Retailer |
| --- | --- | --- |
| | | Check Price |
| Staff Pick | | Check Price |
| Budget Pick | | Check Price |
| | | Check Price |
| Best Pick | | Check Price |
Janome 2222 Mechanical Sewing Machine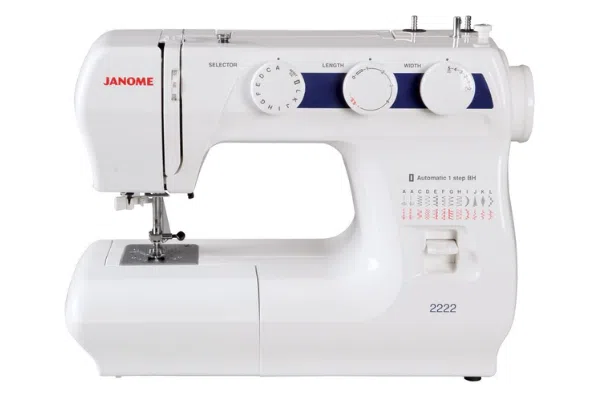 You're not tech-savvy, a beginner perhaps, have a low budget, and are looking to invest in a machine that will serve even when you become a pro sewer – Well, you've landed on the right spot. Janome 2222 Mechanical Sewing Machine is probably one of the best choices for you.
The Janome easy to use mechanical sewing machine provides 22 built-in decorative stitches and a built-in automatic needle threader, making sewing as simple and as easy as it gets. It also provides a one-step buttonhole. The length and width of the machine can be adjusted separately using separate dials. The dials are simple to operate and will allow you to customize the settings to meet your needs. This unit is even more enticing thanks to features like a drop feed and free arm.
Janome has made a name in making user/ beginner-friendly machines. Janome has tried its best to make this model so easy to set up and operate that even a 9-year-old can use it. At only 13 pounds, you can carry it to your classes with ease.
Pros
Lightweight and easily portable
The free arm is included
Budget-friendly
Perfect amount of built-in stitches for novice sewers
Cons
It is somewhat noisy
You can't sew denser fabrics like denim etc
Janome HD3000 Heavy Duty Sewing Machine
Staff Pick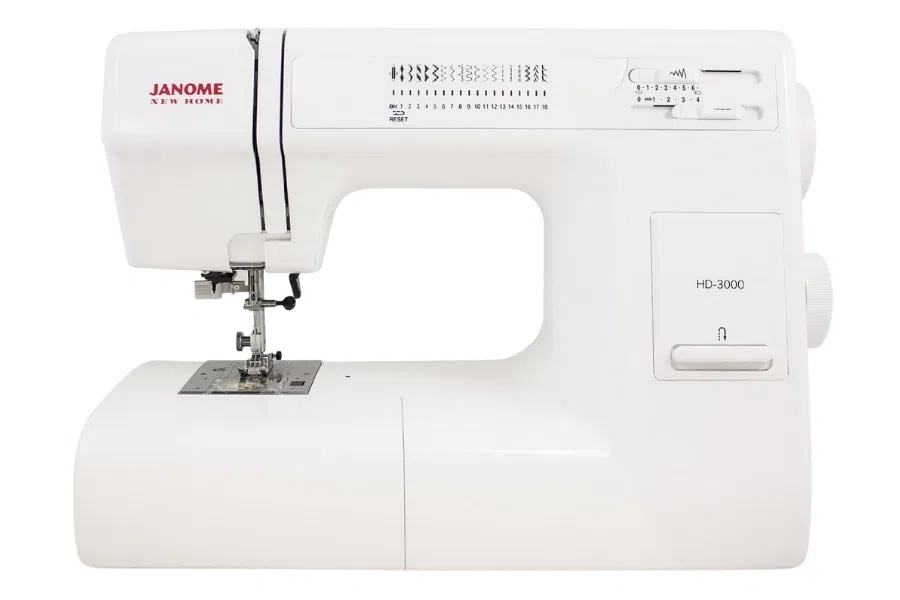 When it comes to picking the best heavy-duty sewing machines, the materials used in their construction are crucial. These machines aren't meant to be elegant. They do not have a computerized interface or hundreds of stitch options.
Instead, they do only a few things, Exceptionally Well. Aside from excellent performance, machines should be robust, dependable, and powerful.
The Janome HD3000 heavy duty mechanical sewing machine delivers all of this and more!
It is a hands-on unit with a plethora of accessories and a user interface that is simple to use. Sure, it's on the pricey side, but we believe it's probably the best heavy-duty mechanical sewing machine available right now.
You'll be able to hem, quilt, and design as you like with the Janome HD3000 heavy duty mechanical sewing machine's set of eighteen stitches, as well as its durable exterior and extended body.
The motor of the Janome mechanical sewing machine is a powerful 1.0 Amp motor capable of sewing up to 860 stitches per minute that can sew everything from silk and chiffon to denim. It can also sew through faux leather or other thin leather, but try to avoid industrial-grade leather.
Pros
Free arm
Great for heavier projects
Aluminum frame for durability and stability
Automatic needle threader and jam-resistant top-loading bobbin
Easy reverse stitching
Cons
A little expensive
A little heavy, but it's a heavy-duty mechanical sewing machine – what are you expecting?
The cord on the foot pedal is somewhat tiny.
Singer MX60 Sewing Machine
Budget Pick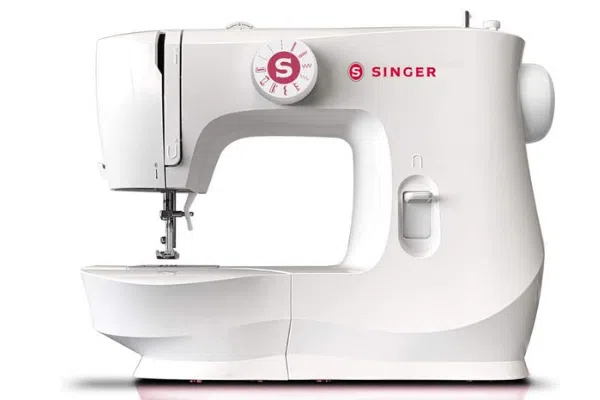 Another budget-friendly Singer Mechanical Sewing Machine, MX60, provides all the features a beginner needs. The MX60 is not a cutting-edge machine with tons of features. It's a lightweight and basic sewing machine targeting novice sewists and those who find computerized models confusing.
Singer mechanical MX60 sewing machine is a good choice for hobbyists and beginners who need a simple sewing machine. This machine is intended for light sewing tasks like fixing holes, hemming and making buttonholes. A general-purpose presser foot, a zipper foot, a buttonhole foot, a darning plate, needles, and bobbins are included in the package to get you started.
One key advantage of mechanical machines over computerized machines is that they are easier to fix. Because they don't feature any digital components, most problems can be fixed with just a slight modification.
Pros
Lightweight and portable
It comes with preset stitch width and length
Dedicated Reverse stitching lever
The Heavy-duty frame keeps the machine from vibrating
Cons
The 4-Step buttonhole is difficult to get used to
The Free arm isn't available
Sewing Machine Singer MX231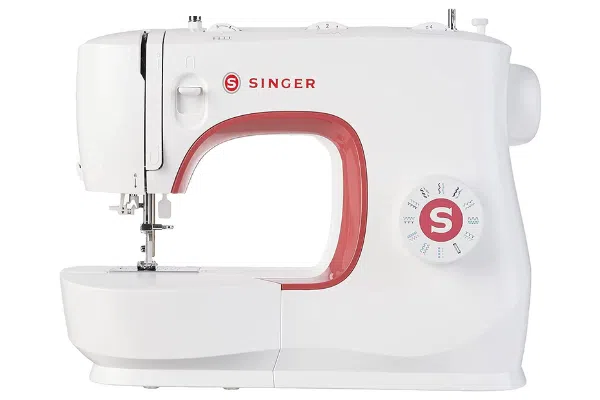 The Singer MX231 is a capable and versatile sewing machine. For example, It offers 23 built-in stitches and 97stitch applications, all of which let you be more creative when stitching.
Furthermore, you may adjust the presser foot while making changes on the fly. It's also relatively easy to use.
Another advantage is that it doesn't give an intimidating look, making it more accessible to beginners of all levels. It also works well for folks who have trouble stitching buttonholes.
Users have praised the Singer MX231 sewing machine for its ease of use and user-friendliness. You can complete any job with the number of stitches it provides. It's incredibly easy to operate, and the fact that it's lightweight means you can stitch without tiring your arm from holding the machine up.
Some people like the machine because it easily sews through numerous layers of cloth, and the presser foot is simple to lower.
Pros
Thread the eye of the needle with ease using the automatic needle threader
Can sew thick fabrics like denim
1-step buttonhole
Cons
It doesn't come with a manual
Singer Heavy Duty 4452
Best Pick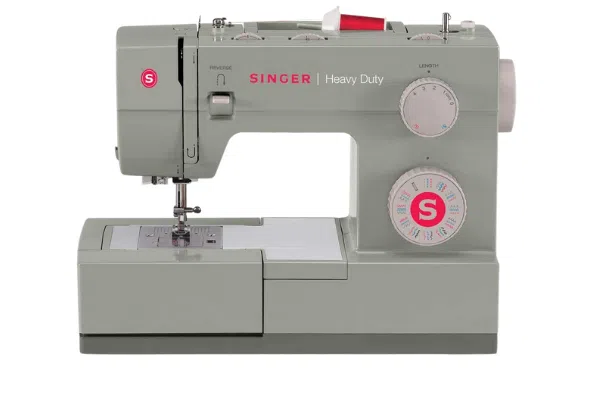 A Singer Heavy Duty 4452 Sewing Machine is a good option if you require a machine that can sew through leather, canvas, denim, vinyl, and even upholstery, as well as typical, lightweight fabrics. Although the designers intended for this type to be used with thick fabrics, the adjustable presser foot pressure makes it possible to stitch lightweight materials.
On the surface, the design appears to be relatively simple. The machine's solid metal frame, powerful motor, and stainless steel bedplate enable it to sew a wide range of materials, from lightweight fabrics to heavy-duty denim and upholstery textiles. Its motor is 60% more powerful and is an excellent worker.
The 4452 has a built-in needle threader, making threading the eye of the needle a breeze. It provides 32 built-in stitches, including stretch, basic, and decorative stitches. You can sew buttonholes with just one single step.
Pros
Fast sewing speed (1100 stitches per minute)
Automatic needle threader
Able to sew through thicker fabrics as well as light ones
Cons
Not enough decorative stitches
What does a Mechanical Sewing Machine Do?
Some other key features have made mechanical sewing machines a must-have item for those enthusiasts who aren't familiar with automated or computerized Machines. For example, many models, as explained below, are portable and lightweight, making them easy to transport. On the other hand, mechanical sewing machines are easy to use, and you can find reasonably priced numerous.
More decorative and buttonhole stitches are available on higher-end mechanical sewing machines, such as those mentioned below. Compared to an automated/ computerized model, their stitches are less accurate but do get the job done.
Conclusion
As stated earlier, Mechanical sewing machines lack the mind-blowing features that computerized machines offer and are quite basic, and in a competition of Mechanical vs Computerized sewing machines or Mechanical vs Electronic sewing machines, The computerized ones will always win. So, If you're confused about whether to buy a mechanical or a computerized sewing machine, let us help you by saying that it depends on YOU and YOUR needs.
If you are a beginner thinking about taking sewing as a hobby or have some sort of tech-phobia, you should seriously consider buying a sewing machine. If you've read from the beginning, you probably know what a mechanical sewing machine is, and what it is capable of doing? Now which one to buy depends upon your needs.