If you are planning to buy a shirt and hat embroidery machine, then it's really important to look around for one of the best options as per your need. Embroidery machines are under-rated when we talk about their functions being limited to just embroidery. But choosing a machine for professional use should be focusing on the results you want to achieve through it.
However, there are so many brands out there which are manufacturing embroidery machines with multiple sewing and quilting options as well.
Well, I know you are here to find out one of the top-rated shirt and hat embroidery machine for professional use, so let's not drag this any further!
Looking at the research and my personal experiences, I have came to an opinion that Brother and Janome brands have one of the best Embroidery Sewing Machines for hat and shirt embroidery. Nonetheless, you may also see Singer in one of the spots, if you are a Singer fan.
Here's what I have cherry picked for you to choose one of the top-class shirt and hat embroidery machines:
Our Top Pick Recommendations for Shirt and Hat Embroidery
11. Singer Futura XL400 Portable Sewing and Embroidery Machine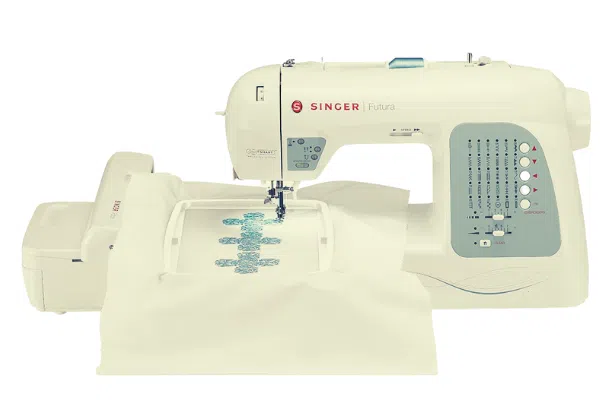 No. of stitch designs
125 built-in embroidery designs
Features
125 Designs + 5 Fonts
Multiple Hoop Capability
30 Built-in Stitches – basic, stretch, decorative.
Dimensions
22 x 9.5 x 13 inches
Weight
23 Pounds
Ideal for
sewing and embroidery
Singer's embroidery and sewing machine are both stylish and dependable. It comes with 125 pre-installed designs and five distinct lettering fonts—Singer's Swift n Smart Threading function threads the needle automatically. To make things easier, it also includes a drop and stitches bobbin function. This machine connects to your computer, allowing you to browse the internet for appropriate designs and utilize any that you discover.
The Futura features a big embroidery hoop that measures 10″ by 6″, but it can be expanded to 20″ by 12″ using the included software. It brightens the stitching surface, making it easier to see your work and reducing eye strain. Embroider personalized writing such as monograms and catchy slogans. For simple needle threading, just feed the thread directly from the spool to the needle area through a single groove and thread the needle by pushing the threading lever.
Pros
Needle threading is done automatically
Large embroidery space
Extensive built-in designs, as well as the option to import additional
Cons
There is no automatic thread tension.
Mac machines are not supported.
10. Janome Horizon Memory Craft 9850 Sewing and Embroidery Machine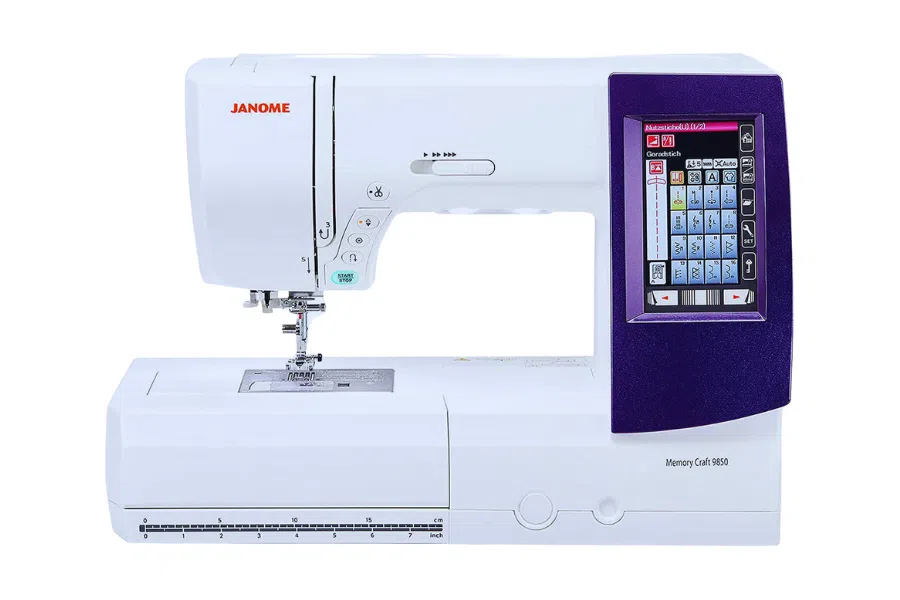 | | |
| --- | --- |
| No. of stitch designs | 200 Built-in stitches |
| Features | Large Color Touch LCD, On-Screen Editing, Automatic Needle Threader, Automatic Thread Cutter, Jump Thread Trimming, 3MB Built-In |
| Dimensions | 18.7 x8.8 x12.4 Inches |
| Weight | 23 Pounds |
| Ideal for | high-quality hat embroidery machine |
Take a hard look at this model if you want a sturdy, high-quality hat embroidery machine that handles embroidery and free motion quilting without spending a lot. If you are working on difficult projects, the Janome 9850 is extremely dependable. Since it has sewing functions for various types of craft projects, you can continue using it on quilts, curtains, clothing, or anything you want after you have finished embroidering your hats and t-shirts. This machine will assist you with all tasks, making stitching a breeze.
Of course, there is a time commitment, but the ease of usage will amaze you. Because of the start/stop bottom, even a five-year-old can operate it while being watched. Furthermore, this sewing and embroidery machine has an on-screen function that allows you to click on the T-shirt symbol and be sent to a methods menu that includes appliqué embroidery, helping you along the route. If you have a large budget and will be sewing and embroidering nonstop, the Janome 9850 is the finest choice.
Pros
Quilting using free motion
Stitches are quite precise.
Maximum stitch width of 9mm as opposed to the standard 7mm
Memory storage of up to 3MB
9. Janome Memory Craft 9900 Best Shirt and Hat Embroidery Machine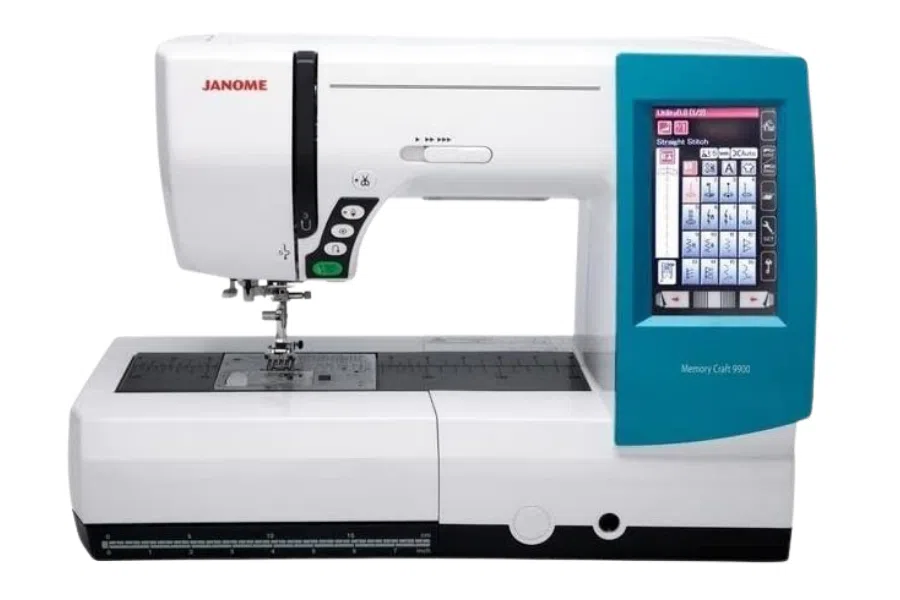 | | |
| --- | --- |
| No. of stitch designs | 175 Built-in embroidery designs |
| Features | Comes with cap hoop, Adjustable stitch speed, Large embroidery area, Touch Screen, USB port, Portable |
| Dimensions | 47.5 x 22.4 x 31.5 Inches |
| Weight | 22.9 Pounds |
| Ideal for | Embroidery works for commercial usage |
The Janome Memory Craft 9900 functions as two machines. A specialist embroidery machine, as well as a very complex sewing machine. It has a vivid LCD screen with three LED lights. Forget about whining about lack of visibility. Janome includes a hat hoop.
Threading and winding are as simple as they have always been. It features 200 built-in stitches, which very few machines on the market can claim. With a drop-in bobbins system, setting bobbins is no longer a chore. The Memory Craft 9900 includes a slider that allows you to regulate how quickly or slow the machine moves.
It also has a timer that will tell you how long a project will take to manage your time better. Janome Memory Craft is a jack of all trades and a master of none. It is good at what it is supposed to be good at. Janome is the ideal choice for specialized embroidery tasks for commercial use.
Pros
A large embroidery area
It's quite silent
Ergonomic lighting
It includes a speed control slider
Cons
Extremely costly
It does not work well with all fabrics
8. Janome Memory Craft 400E Embroidery Machine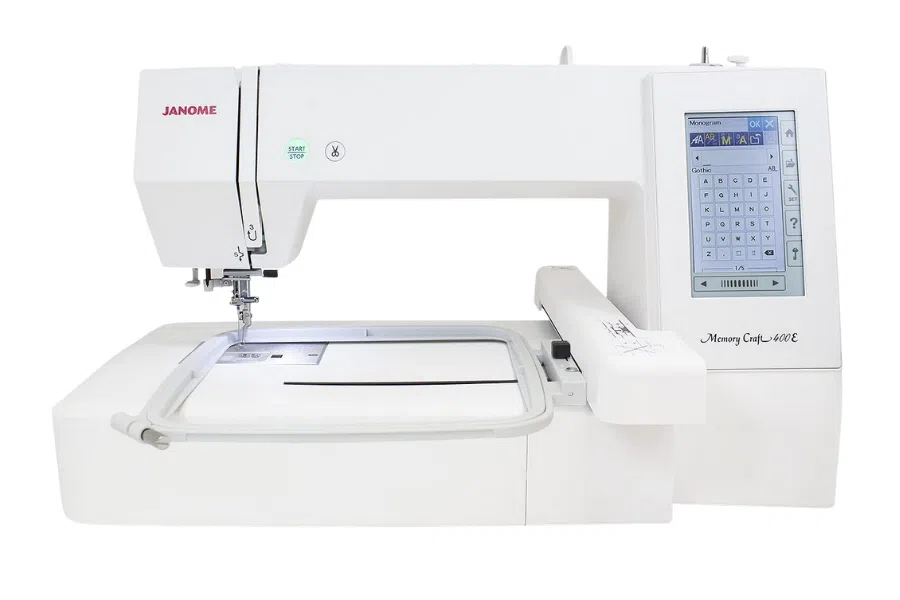 | | |
| --- | --- |
| No. of stitch designs | 160 built-in embroidery designs |
| Features | USB for importing, 160 built-in embroidery designs, Extra wide table, Adjustable hoop positioning |
| Dimensions | 25.98 x 22.01 x 21.81 inches |
| Weight | 25 Pounds |
| Ideal for | Personalize, embellish and monogram home décor items, garments and accessories |
The Janome Memory Craft 400E is your best choice if you're seeking the best hat embroidery machine. While Janome is well-known for producing high-quality embroidery machines. The Memory Craft 400E model is a cutting-edge, feature-rich machine created with pros in mind.
Janome has created an incredible entry-level embroidery machine with the Memory Craft 400E. It's simple to customize, decorate, and monogram home décor, clothing, and accessories.
Designs can be imported through USB and edited using the machine's powerful on-screen editing features. The MC400E's new 5″ LCD screen makes it easy to navigate through all of these functions.
The Janome Memory Craft 400E features extensive on-screen editing functions, including the ability to zoom, expand, decrease, rotate, merge, arc, drag and drop, and copy and paste. Second, there is programmed jump thread trimming, and finally, there is a flexible stitch moving by units of 1, 10, and 100.
Pros
Programmable Jump Thread Trimming 
Has a Needle Threader Built-in
 Automatic Thread Cutter Extra 
Wide Table for Large Projects
Cons
No Foot Pressure Adjustment
7. Janome 500E Embroidery Machine For Shirts and Hats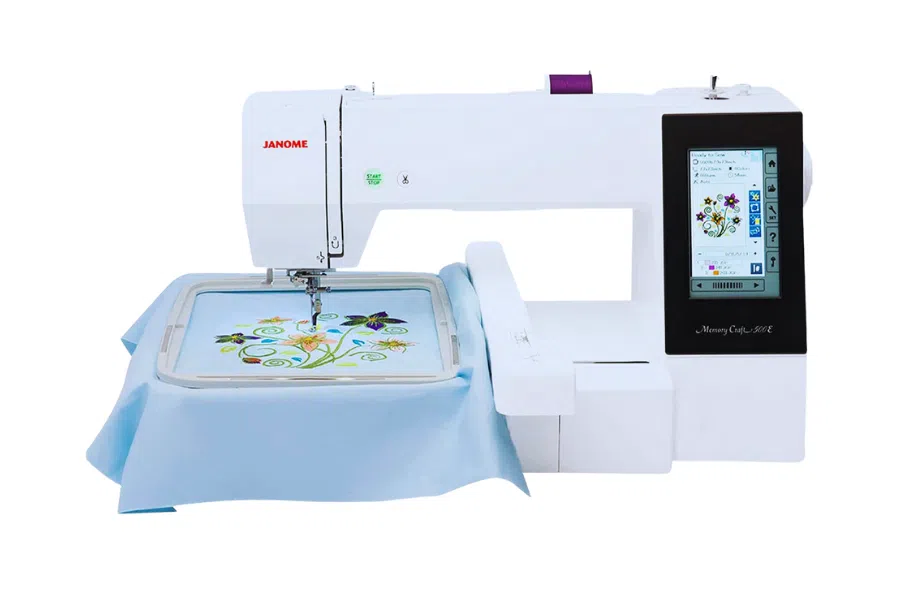 | | |
| --- | --- |
| No. of stitch designs | 160 Built In Designs |
| Features | Color Touch LCD, Automatic Needle Threader, Automatic Thread Cutter |
| Dimensions | 17.6 x 9.5 x 11.8 Inches |
| Weight | 20 Pounds |
| Ideal for | Personalize, embellish and monogram home décor, garments, accessories and more |
The Janome Memory Craft 500E does not resemble its predecessor, the 350E. The 500E is equipped with a big full-color touch screen. On the machine bed, an embroidery arm is permanently attached. It is constructed so that embroidery hoops may be snapped into position and removed with ease.
The Janome Memory Craft 500E features a scratch-resistant surface, which significantly benefits machines constructed of inferior, hard plastic materials. There are bright LED lights, a USB connector, and a slot for inserting floppy discs, allowing the Janome Memory Craft 350E to continue using the software they purchased on the upgraded 500E.
The Janome 500E is large, strong, and smooth, embroidering through thick and thin textiles with equal ease. The huge 8″ by 11″ hoop is supported by the inclusion of an extension table surrounding the machine's bed, and the new enhanced thread-guide system prevents twists & kinks that have previously made embroidering with metallic threads extremely difficult! The metal embroidery foot adds to the machine's overall quality, and the new internally mounted hoop makes attaching the hoop to the machine much easier.
Pros
The machine has enough features to make stitching a pleasure to perform.
Simple to set up
Sewing is of good quality
Cons
The machine is a bit bulky
More expensive than Brother machine
6. Janome MB-4S Four-Needle Embroidery Machine for Shirts and Hats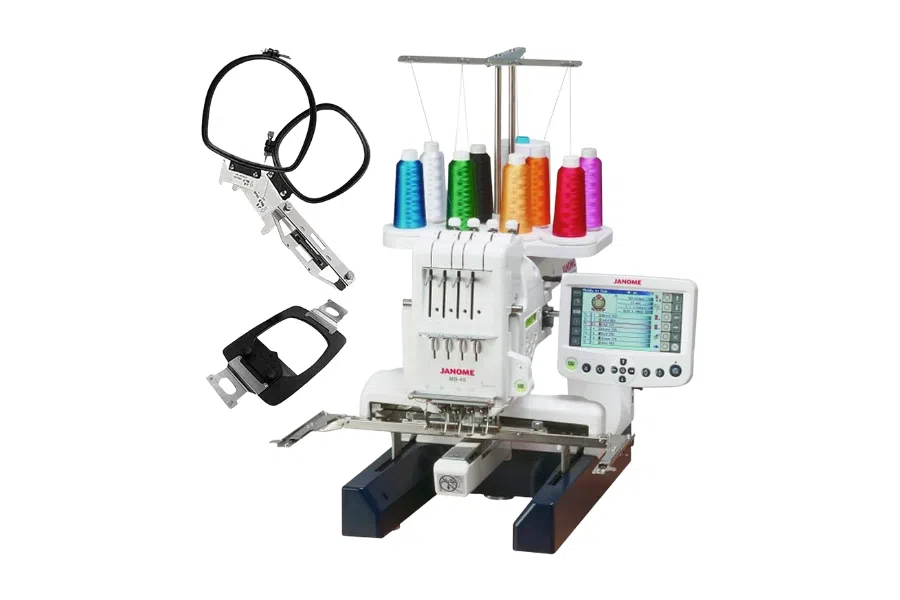 | | |
| --- | --- |
| No. of stitch designs | 50 built-in designs |
| Features | Advanced on-screen editing functions , extra-large bobbin, embroidery area tracing, adjustable hoop positioning |
| Dimensions | 66 x 45.7 x 64.8 Centimeters |
| Weight | 64 Pounds |
| Ideal for | Embroider hats and t-shirts |
The Janome MB-4S four-needle hat embroidery machine is ideal for those who wish to embroider caps and t-shirts. It even features a single head attachment for working on hats and many hoops for your various clothing items, such as t-shirts. This machine is perfect for sewers who require a particular machine for this purpose. It has screen editing capabilities to help you make last-minute changes, as well as a stitch counter to let the machine know when it's time to cut the thread.
It also offers embroidered area tracing, an extra-large bobbin to prevent changing it every other minute, adjustable hoop location for a better-looking pattern, and other features such as upper thread and presser foot sensors, as well as a stitch-out time indication.
Suppose you have your embroidery home-based business and need to upgrade. In that case, this is most likely the machine you should get next before becoming completely professional and outsourcing your production. A significant expenditure that will swiftly pay for itself before providing substantial advantages.
Janome brand has one of the exclusive sewing machine collection, that are meant for each kind of user depending upon their desire. If you want to know more about Janome brand specifically, you can read this article below.
Pros
Single head for hats
The four needles save time
Jump thread trimming
Winds bobbins while the machine is sewing
Very simple to use
Cons
Quite expensive.
There is no way to alter the foot pressure
Only Embroidery
5. Brother PE770 Embroidery Machine for Shirts and Hats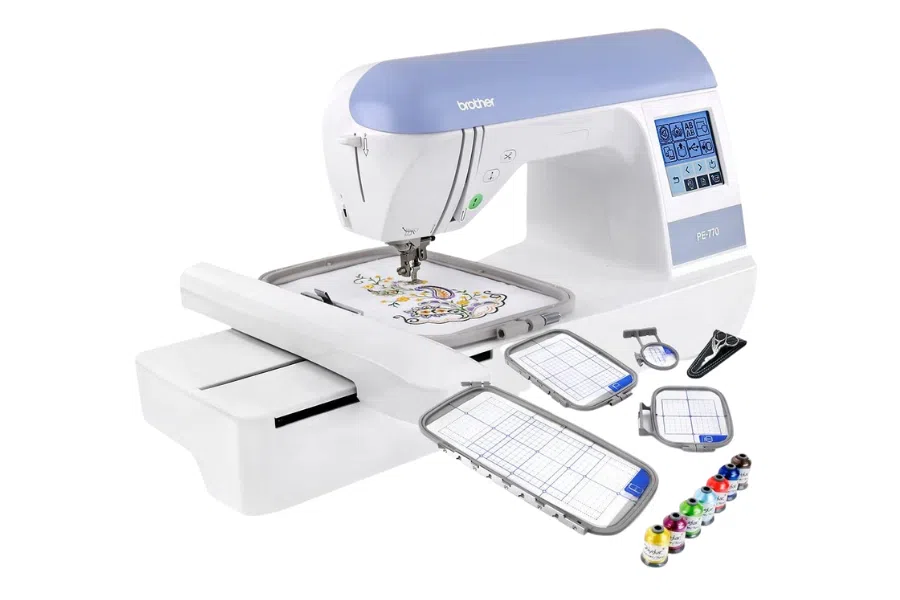 | | |
| --- | --- |
| No. of stitch designs | 430 built-in stitches |
| Features | 5" x 7" embroidery hoop, Quick-set bobbin, 136 embroidery designs included and 6 lettering fonts, Backlit LCD screen, Built-in memory, Easy threading system |
| Dimensions | 17.30 x 7.80 x 11.40 Inches |
| Weight | 26.95 Pounds |
| Ideal for | Durability of this machine is very high |
Owning a a shirt and hat embroidery machine has been popular among craft hobbyists since it allows you to create professional-looking patterns at home. If you are looking for an embroidery-only machine, you may have seen that the options are rather varied. You may be unsure which model would be ideal for you. Whether you are just getting started with embroidery or want to take your embroidered creations to the next level, the Brother PE770 machine is one of the best options available.
The ease of operation and the presence of a rapid bobbin setup, which makes the entire stitching process simple. Regardless of your sewing ability, are two factors that make this embroidery machine worthy of consideration. The built-in LCD screen lets you easily adjust your ideas to the job at hand — flip, rotate and resize as needed to get the picture exactly right. Use the supplied USB interface to import your designs. Or, enter a Brother embroidery card to access a vast array of accessible design possibilities.
You may also alter the machine's embroidery speed on the settings screen on the operating panel to utilize the correct number of stitches per minute required by the type of cloth or thread you choose for your project.
Pros
The Brother PE770 provides plenty of creative freedom
The machine is simple and easy to operate
Variable speed control option
25-year limited guarantee
The spool design that prevents unwinding is a very helpful feature not seen on many machines in this price range
Cons
The touchscreen LCD screen is black and white and does not support additional characters
Not suitable for extra-large designs
4. Brother SE1900 Sewing and Embroidery Machine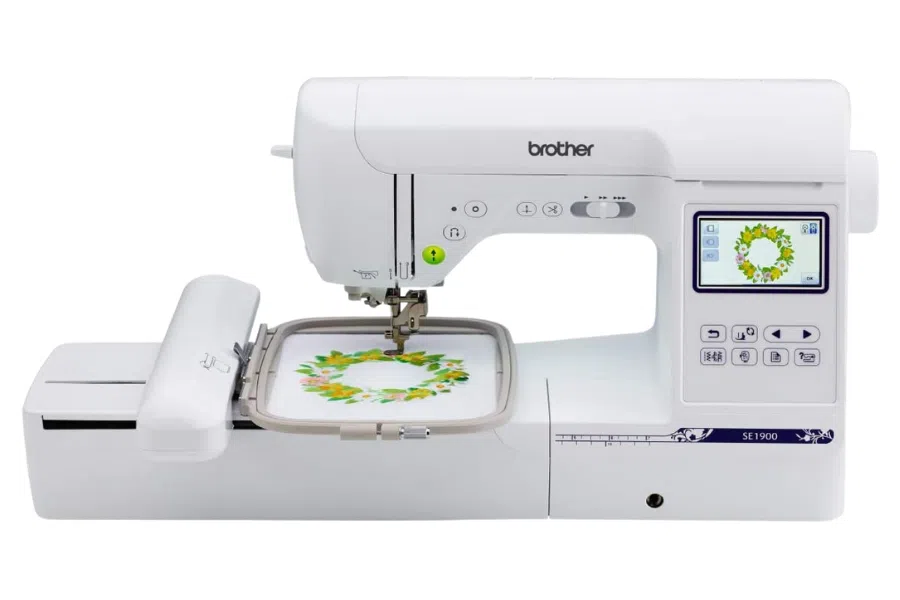 | | |
| --- | --- |
| No. of stitch designs | 240 built-in stitches |
| Features | 5″ x 7″ embroidery field , My Custom Stitch feature, Large color touch LCD screen 5″ x 7″, 138 built-in designs, 11 font styles, Design combination capability |
| Dimensions | 13.43 x 23.19 x 11.54 Inches |
| Weight | 22.05 Pounds |
| Ideal for | Sewing and embroidery |
The Brother SE1900 Sewing and Hat Embroidery Machine is ideal for anybody looking to establish a company or improve their stitching, sewing, and embroidery abilities.
The machine has a 3.2-inch color LCD touch screen display to comprehend the many available features better. This big-screen may be used to study embroidery designs, alter thread colors, and see the finished result before the sewing process begins. The SE1900 has a great selection of 240 sewing stitches integrated into the machine. These include some simple ones, ten various types of one-step buttonholes, and a plethora of fine ornamental stitches that may improve the finished product.
The sewing and embroidery machine comes with 138 distinct designs pre-installed on the platform. This contains a variety of flower motifs, seasonal patterns, children's designs, and more. There is an editing function that allows you to modify the final appearance of these designs. You may also customize the final product with one of seven different embroidered fonts.
Pros
This is a computerized sewing and embroidery machine with various features to let you customize your experience
The working space provided by this machine is significantly larger than that provided by many other sewing and embroidery machines
The business provides a convenient USB connection in addition to the 138 embroidery designs integrated into the machine's software
The sewing machine can function at high speed, allowing you to complete your tasks more quickly
Cons
This is one of the most costly sewing and embroidery machines available
This is a more complicated machine than you would think.
There have been reports of needles breaking when working at really high rates for extended periods, which you would not expect from pricey equipment.
3. Brother SE400
Staff Pick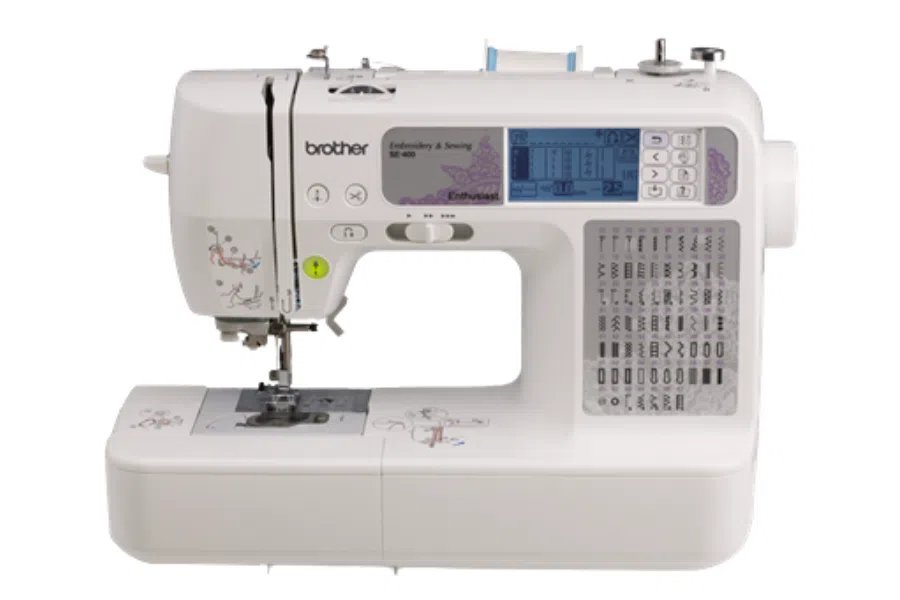 | | |
| --- | --- |
| No. of stitch designs | 67 built-in sewing stitches |
| Features | Embroidery area of 4X4, Built-in super bright LED, USB port , LED touchscreen, 70 built-in designs, 98 stitch functions |
| Dimensions | 20.28 x 14.96 x 15.16 inches |
| Weight | 10.9 Pounds |
| Ideal for | Sewing and Embroidery |
The Brother SE400 computerized sewing and embroidery machine is a stunning sewing machine with many useful functions buried inside it. The embroidery area on the Brother SE400 is 4X4, giving you plenty of room to experiment with the cloth as you sew. Aside from that, the built-in extremely bright LED light allows you to sew even in low-light conditions.
This light illuminates poorly lit sections of the sewing machine, allowing you to see them. This sewing machine has a simple bobbin winding function that assists you in setting up the sewing machine and getting started with your project.
With this sewing machine, everything is so much easier. The unique features of the Brother SE400, such as the ability to import patterns straight from a computer or laptop, set it apart from other sewing machines.
The exciting features and affordable pricing of the Brother SE400 Sewing machine make it a better alternative for those who don't have a high budget but yet want a quality sewing machine. This sewing machine is lightweight and can handle all of your sewing and embroidery tasks. It weighs only 10.9 pounds, making it easy to handle. It comes with 70 distinct embroidery patterns and five writing fonts.
Pros
Designs may be downloaded by USB
Embroidery Card Slot
Numerous stitch designs
Sewing and Embroidery Machine
Cons
The pressure of the presser is not adjustable
Instead of a colorful LCD touchscreen, a black and white LCD touchscreen is used
2. Brother SE600
Budget Pick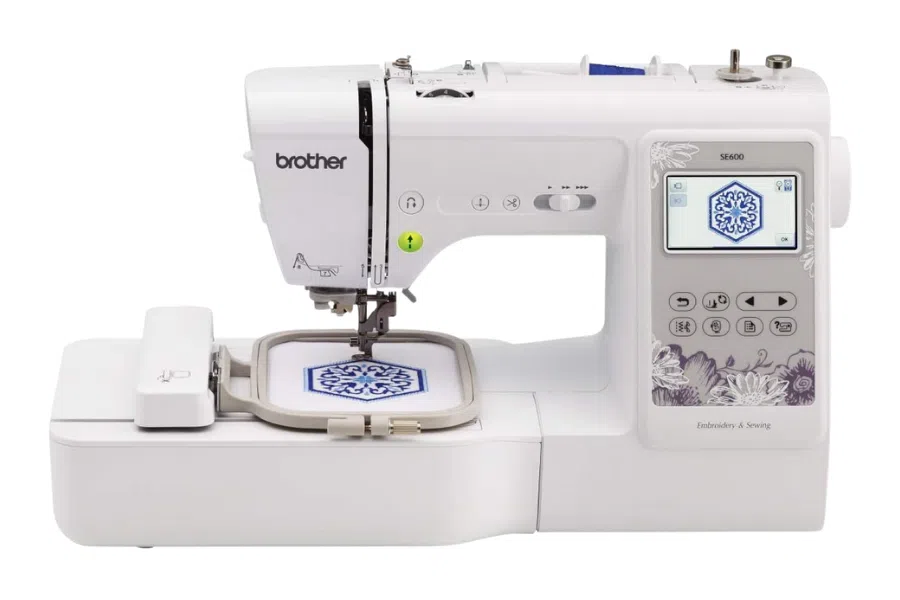 | | |
| --- | --- |
| No. of stitch designs | 103 built-in sewing stitches |
| Features | 4″ x 4″ embroidery field 103 built-in sewing stitches 3.2″ Sew Smart color LCD |
| Dimensions | 16.535 x 21.181 x15.512 inches |
| Weight | 26.24 Pounds |
| Ideal for | Embroider and sew with ease |
The Brother SE600 is the popular brand's newest combined sewing and embroidery machine. The SE600 is a more advanced version of the SE400. The primary difference between the Brother SE600 and SE400 is that the technology has been updated.
A thumb/flash drive may now be inserted into the USB port. The Brother SE600 has 103 sewing stitches, while the SE400 only has 67. It's 80 vs. 60 in terms of built-in embroidery designs.
The best thing about this sewing machine is that it is both a sewing machine and an embroidery machine. It means you won't have to spend extra money on an embroidery or sewing machine.
If you get it, you'll be able to undertake sewing chores, repair ripped items at home, and show off your embroidery talents. LED lights illuminate the workspace for sewing and needlework tasks. As a result, you can continue working even in low-light circumstances.
It might be difficult to see while the cloth is dark or when performing free-motion stitching for quilts. LED lights are quite useful in such scenarios. The Brother SE600 is an excellent alternative for those who do not want to spend money on two different machines; it can perform ordinary sewing and embroidery chores.
Pros
2-in-1 stitching and embroidery
Embroidery patterns installed
Noiseless
USB Port
Cons
Depending on your preferences, you may not appreciate the abundance of Japanese characters in the built-in embroidery patterns.
If you are not technologically adept, the digital interface might seem difficult
1. Brother PE800 Best Shirt and Hat Embroidery Machine
Best Pick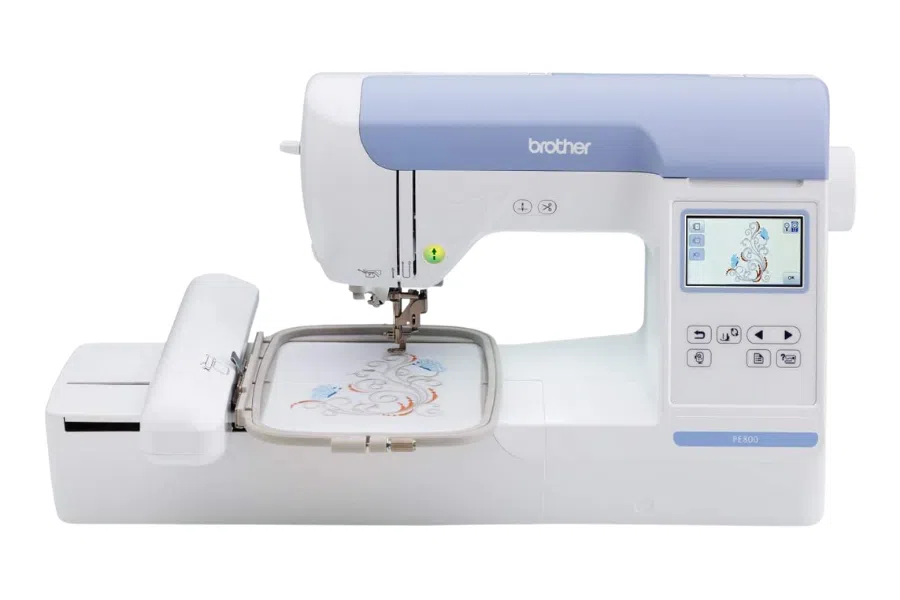 | | |
| --- | --- |
| No. of stitch designs | 138 built-in designs |
| Features | 5″ x 7″ embroidery field for larger designs and lettering. Large color touch LCD screen, 11 font styles |
| Dimensions | 17.48 x 9.48 x 11.81 Inches |
| Weight | 13.74 Pounds |
| Ideal for | Home embroiderers looking for a fast, versatile, dedicated embroidery machine |
This machine is ideal for home embroiderers who want a quick, versatile, specialized embroidery machine that they can improve over time. The PE800 threading machine is simple to operate; simply follow the numbered threading diagram displayed on the machine.
A 25-year limited warranty and free phone assistance for the life of the product are included. You can decorate everything from home décor to T-shirts with one of the 138 built-in embroidery patterns, including delicate scrollwork, complex flowers, traditional quilt patterns, and much more.
This machine also features a fantastic drop-in, simple thread bobbin that is far easier to use than the previous horizontal style bobbins. It also has completely automated needle threading, which makes threading the needle simple.
This Brother embroidery machine can also automatically clip threads after stitching. You could cut these threads manually, or you could let the machine do it for you. The Brother PE800 embroidery machine is designed to work with fabrics that are less than 3mm thick. You should be fine embroidering on leather as long as it is no thicker than around 1/8′′. When embroidering on leather, you must ensure that you are using the proper leather needles.
Pros
138 pre-installed embroidery designs
Embroidery area measures 5′′ x 7′′
USB connection to import fresh designs
Colorful Touchscreen LCD
Limited guarantee of 25 years
Cons
It is difficult to operate – read the instructions.
Embroidery machine only
Only a 5′′ x 7′′ hoop is included
Summary of Top Shirt and Hat Sewing Machines
| Award | Design | Reviews | Retailer |
| --- | --- | --- | --- |
| Best for automatic needle threading | | | Check Price |
| Best for wide stitches | | | Check Price |
| Best for spacious embroidery area | | | Check Price |
| Best for automation | | | Check Price |
| Best for monogram embroidery | | | Check Price |
| Best for industrial embroidery work | | | Check Price |
| Best for professional use | | | Check Price |
| Best for speed | | | Check Price |
| Best multipurpose sewing machine | Staff Pick | | Check Price |
| Best 2 in 1 sewing and Embroidery Combination Machine | Budget Pick | | Check Price |
| Best Overall | Best Pick | | Check Price |
Tips for Beginners before using Embroidery Machine for Shirts and Hats
It will be difficult for you to begin embroidery until you have someone to assist you through the hat and shirt embroidery path. As a result, we've created a list of machine embroidery tips for beginners that you should read if you want to see quick results.
If you are a beginner, you should put in a lot of practice and research. This is the moment when you must allow yourself enough time to work on machine embroidery. You must choose a period when you can devote yourself to digitizing services, whether sewing, attending lessons, or reading. This may appear to be an afterthought to you, yet it is the most crucial thing.
If you truly desire to be successful, it is important, to begin with, little projects. Taking on greater tasks might be detrimental to your business and clients if you are not a pro. So, start with a simple task and work your way up to more difficult tasks.
One of the most important suggestions is to create your unique recipe for machine embroidery digitizing services. Simply write down everything used, such as stabilizer, fabric, colors, thread kinds, and anything else that will help you develop and replicate the design in the future. Get your own notebook and keep your notes with you while working on your embroidery tasks.
All you need to get started with digital embroidery services is a machine or hoop with a stabilizer, scissors, fabric, thread breaks in embroidery, and a pattern on which to work. Before you invest any money, you should acquire some stitching time and conduct good and thorough research.
How does an Embroidery Machine Work? Embroidery on a T-shirt
How Can You Choose the Best Shirt and Hat Embroidery Machine? Things to Consider before buying
The machine you choose for embroidering hats or shirts must be tried and true. Best hat and shirt embroidery machine brands are Brother, Singer, and Janome.
The ease of usage is also important when selecting embroidery machines for shirts or hats. You don't want to spend hours configuring your machine.
The ability of the hoops and work area to handle hat embroidery is important. Some machines come with a hat hoop, while others are optional. Occasionally, the machine's standard hoops can do the job just as well.
When embroidering caps, the design is crucial. Need a machine that can import designs or connect to your computer?
A design machine with an LCD or the ability to connect to a computer is a necessary. You may reorganize and fine-tune your design to perfection.
These machines have ten or more needles. They may design on a large scale and let the machine do the rest.
A hat embroidery machine has a specific feature for using a hat hoop. The hat hoop allows the hat to be put in unusual places. Each hat embroidery machine comes with its own pair of embroidery hoops.
A single needle can still embroider a hat, but changing thread colours takes time. The Janome MB4S has four needles to save you time.
Learn about the machine's capabilities by watching videos and reading the manual. This will save you time. It will also help you understand your goals from the outset.
Where to get Free Embroidery Designs?
Finding a FREE Embroidery Design is always a challenge. You may find one, but there is a huge probability of the format not being compatible with your embroidery machine. Therefore, I am about to share a free embroidery library with you. I personally recommend their designs, because they are available for 2 hoop sizes. Moreover, you have the option of choosing from 18 formats!
Well, that's not it, you also have an option to choose from numerous categories available along with brand designs. I am using their designs since long, while it is one of the best free resource for downloading embroidery designs I have came across. So the free resource is Embroiderydesigns.com, that allows three free downloads per week, which I feel is enough for a beginner to get started with.
They have also two more offers for those who buy their designs. Such as, they allow six free downloads with a purchase of $35, while nine free downloads with a purchase of $75.
Tools Used for Hat and Shirt Embroidery Machines
If you've ever had difficulty with a hat and shirt embroidery machine, it's probably that you simply lacked the tools to finish your project successfully. Embroidery tools make it faster and easier to embroider on a wide range of items and correct and even avoid errors.
When it comes to putting and centering left and right chest embroidery patterns on items, the Embroiderer's Helper is your right-hand assistance. With notches that show where to place your center mark based on the size and kind of shirt, this affordable placement tool takes the guesswork out of design placing.
Peggy, an embroiderer and sewing lover, created this tool as a part of her goal to assist other embroiderers in removing embroidered thread without damaging their clothing. The Stitch Eraser makes the stitch removal procedure less laborious and more efficient for embroiderers when removing heavier threads. The box includes clipper oil, a cleaning brush, and thorough instructions on using this equipment.
Using HoopTech's Slimline Clamping System is ideal for embroiderers who have versatile needs. This tool comprises a master bracket attached to the embroidery machine and interchangeable frames that come in various sizes. Its thin form allows you to frame difficult-to-hoop places with a little room, such as wallets and shirt sleeves.
Robot Frame
Embroidering shoes is a difficult task, but Robot Frame can provide high-quality and trouble-free embroidery on shoes. The equipment comprises two adjustable high-pressure clamps that establish a firm grip on sturdy shoes such as cleats and leather boots during the embroidery process. You can also use the clamps to embroider other difficult-to-hoop objects like bags etc.
HoopMaster
The HoopMaster is ideal for people who have difficulty achieving design positioning. The placement guidelines on this hooping station show you just where to place your design based on the shirt and hoop size.
If you need easy design placing and hooping, the Hoopmaster will reduce its time to execute bulk orders.
Placement stickers
Placement stickers are a simple and efficient way to identify the location of your artwork. Embroiderers usually mark their intended area for embroidery location with water-soluble markers or chalk, which may be difficult to remove. The stickers include a crosshair, making it simple to lay your needle in the middle of the crosshair to ensure correct placement. Once the needle is centered in the crosshair, it is pretty easy to attempt successful stitching.
During the embroidering process, each of these tools has a role. However, it is useful to have them on hand just in case! At the same time, you may not use them very often.
Conclusion
Embroidery is a craft, a kind of art, and it relies on professionals to flourish. Machines are only tools; how needlework turns out is entirely down on the user. Those suggestions above were made to assist you in locating the best machine for your craft.

Picture Credits: Amazon.com
Frequently Asked Questions
What embroidery machine is best for hats?
The Brother PE800 is a great hat embroidery machine. This embroidery sewing machine is ideal for home embroiderers who need multiple threads and stitches. It also comes with 138 pre-installed designs, giving you lots of alternatives.

How difficult is using a hat embroidery machine?
Embroidering by machine can be tricky at first. Like other technical talents, machine embroidery takes practice to perfect. It takes a long time to learn how to use different embroidery techniques to create a design.
What kind of machine do I need for embroidery?
The type of embroidery you wish to do with your sewing machine will determine the ideal machine for you. Beginners can learn to embroider designs for themselves on any simple sewing machine with a few stitch designs.

How do you transfer embroidery designs to fabric?
You can transfer embroidery designs to fabric using multiple methods. The most tried ones are:
Tracing Paper
Water Soluble Stabilizer
Heat sensitive pens with Iron heat
Can you use normal thread for embroidery?
It all depends on the design you are about to embroider. Some designs may require thin threads. Therefore, a normal thread can be enough. But working on a professional level, you might be working on numerous designs which may need thin to thicker threads for better filing.