Many sewing projects can be sewn and stitched while cutting fabric straight, lying flat on the floor. But if you are working on dress sewing projects, then a sewing mannequin can save you from many hassles and troubles. The best dress form allows you to do the measurements accurately with a customized body shape in front of you. You can drape the fabric around the dress form to estimate how much material is required and look once the design is done.
You have a lot of room for trying out new designs and fabric styles to experience. However, having the right size is crucial for styling your clothes using a sewing mannequin.
What is a Dress Form, and why is it necessary?
A dress form is a three-dimensional wire, paper, or fabric representation of a woman's torso from neck to thighs usually (which may not include arms and legs) to take measurements for clothing. It is used for fitting garments as a trial once the sewing and designing are in process. Just like a human body, dress forms can be found in different sizes and shapes. They come in different sizes, conditions, and styles. Usually, there is a torso, but expensive ones may have detachable arms and legs. They have a metal or wooden base.
If you want to know how important it is, then as a beginner, it may not be necessary. But as you learn and grow, this becomes one of the must-have sewing tools if your sewing projects are related to dress sewing. Because you would need a lot of draping, pinning, measuring, and cutting.
Measurements from stitched clothes are usually not accurate because every fabric type has its properties. The best dress form can be the best tool to use for clothing sewing projects for a more exact measurement. Moreover, if your sewing mannequin is adjustable, you can have various sizes to go with.
Types of Dress Forms
Depending upon your budget, your need, and the flexibility of a project there are many types of dress forms. Some are barely adjustable, while some can be modified in any shape and size as well.
Adjustable Dress Forms or Sewing Mannequin
Adjustable dress forms, just like their name, can be adjusted as per your measurement needs. They have several panels that can be expanded or brought together with the help of dials. These exceptional dials allow you to create somewhat customized sizes for your dress form. Some of these adjustable dress forms not only can be adjusted in width but length also. These sewing mannequins come in handy if you want a longer torso to work with.
Many brands are offering adjustable dress forms in different body structures. Here are a few selling in a variety of sizes to further adjust them to your desired measurements: Singer and Dritz etc.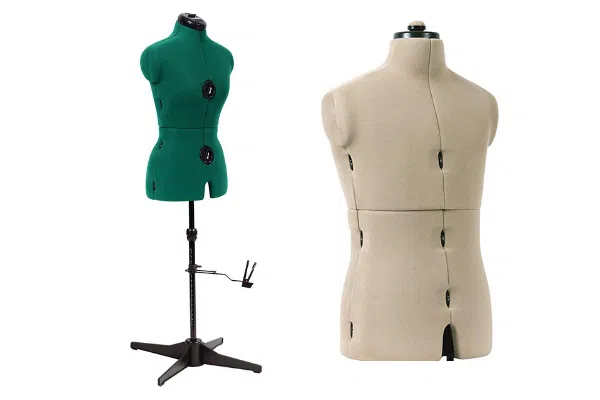 There are some pros and cons to having these dress forms. They are made up of lightweight plastic and can be moved easily from one place to another. However, due to the adjustability feature and quality of the plastic, they become fragile to handle. Another drawback is that when you use the dial to expand the dress form size, the space left between the panels becomes impractical to pin.
Small Scale Dress Forms
These dress forms are half-scale compared to a full-dress form. These are helpful when you want to drape the fabric around for styling. This is a cost-effective option for college students who work on multiple projects. They are lightweight and best for students to carry from one place to another.
These innovative sewing tools allow an economical option for those who work on a small scale and need to create multiple designs now and then. These small-scale dress forms are also pinnable, just like a standard dress form.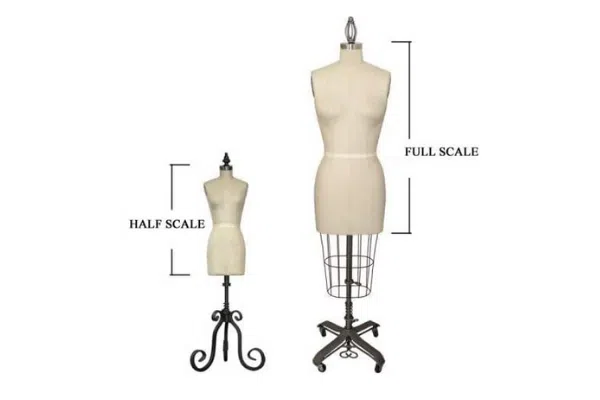 Display Dress Forms
Just like the mannequins in the clothing store, if you are looking for a display-only dress form, these are best to use. They do not allow any kind of pinning or sticking of the cloth. These are usually lighter in weight and cheap in price.
You can use these for draping displays or displaying clothes on them as a sample. They are more stylish than a regular sewing dress form. Because they are used mainly for display purposes, you can find various display dress forms that look prettier and presentable.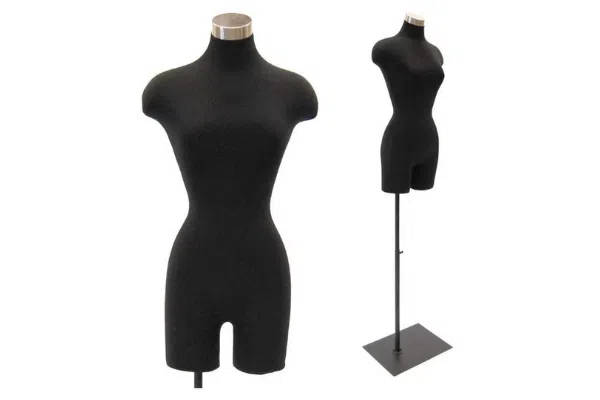 Pinnable Foam Dress Forms
Another economical option for purchasing is a pinnable foam dress form. These are wrapped with foam all over, allowing you to pin from any side you want. These are also lightweight and easy to move from one place to another. These come with a foam coating and often can be found with a fabric layer to protect the foam from damages.
Their longevity is dependent upon the quality of the foam. Although pinnable foam dress forms are a cheap option, their wearing-off age is minimal. They tend to not last very long, but a good quality foam dress form can last longer if taken care of.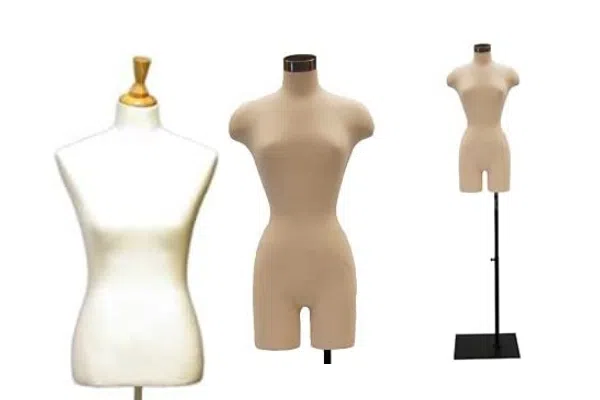 Professional Dress Forms
The most professional dress form is a traditional canvas for styling clothes. These are linen-covered forms with heavy bodies. Professionals often use these, such as tailors, dressmakers, dress designers, garments making shops, and places.
A professional dress form can cost you more than any other option on the list of best dress forms. Because these are made using high-quality materials. They are used professionally and frequently; therefore, these dress forms must be high in quality. Regardless of the high prices, a professional form can last for many years if used with care. Its life can be extended by repairing them.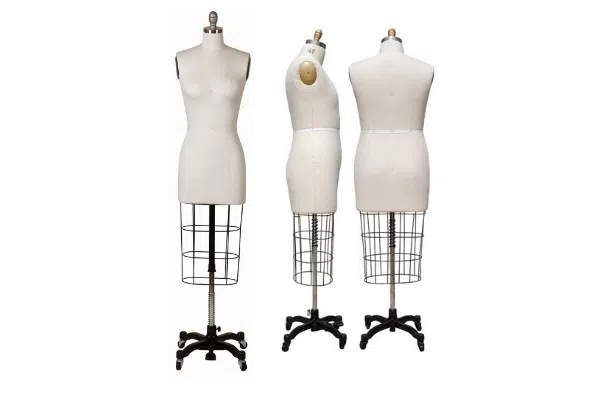 A professional dress form is usually made up of thick cardboard and covered with the thin layering of foam. Then, on the top layer, the linen has canvas on the dress form to measure different body parts. A heavy metal stand base is added to the forms to make them stable and hold on to heavier fabric. The top part can be revolved around as you drape the fabric or style the clothing during your project. Many trustable brands like Mannequin Mall, PGM, TSC, Superior Model, and Wolf Forms.
Bifurcated Dress Forms
The apparent difference in bifurcated dress forms and other dress forms is that they include large legs with the torso. They are best for those projects that require a lot of pants and shorts projects.
As they are beneficial for testing pants fitting during the making process.
Many companies manufacture bifurcated forms, while some also include magnetic arms, which can be removed or attached when required.
These dress forms are costly due to their detailed features. These are full-fledged body forms for sewing projects or styling garments.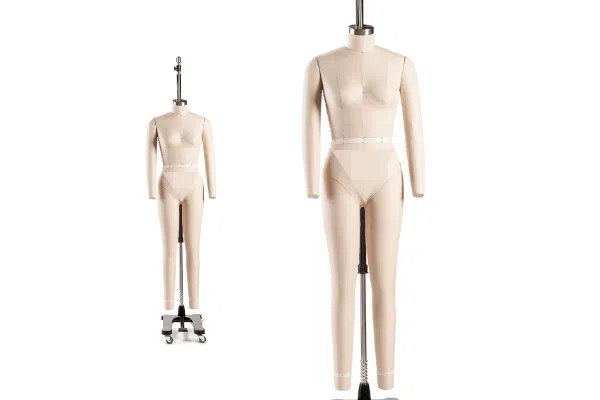 Custom Dress Forms
Finding the exact measurement dress form for your body might look like an impossible thing to achieve. Because buying something near to your body measurements may still require some kind of padding to make a perfect shape.
Custom dress forms are made upon order against your exact body measurements. These are scanned 3D models to replicate the actual shape of your body. So if you are going to make your clothes, then a custom-made dress form can be an ideal choice. But make sure your body size does not fluctuate very often, as this can cause inconvenience while using the same form.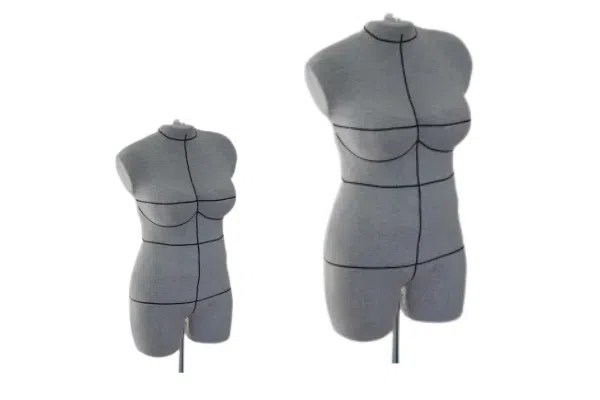 These dress forms are made on a customized size using scanning technology to imitate your body; therefore, this is an expensive choice to make. But finding the right size can be a relief for you in the long run if you plan to make several dresses using it.
Many brands have entered this niche by offering customized dress forms with the scanning technique. A few vibrant ones are Personal Fashion, Ditto Form, and Beatrice Forms.
Fixed Sewing Mannequin
A fixed dress form has no adjustment facility. Therefore, these are one of the cheapest forms you can get. They are inflexible and are fixed on the stand.
These have standard body measurements for those working on a smaller scale or just began their garment projects.
These can be used more like a mannequin to display clothes on them because pinning is impossible as they are made up of hard material like plastic or cardboard etc.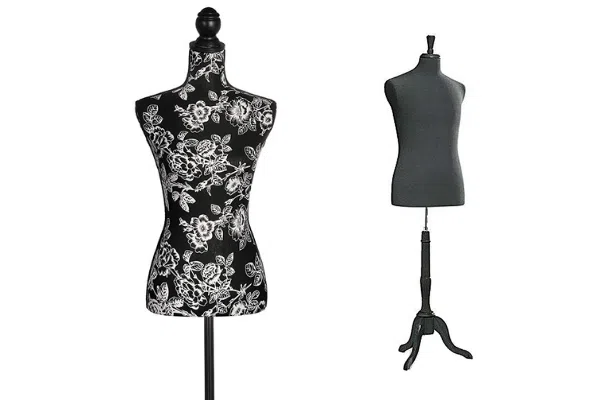 DIY make Your Own Dress Form
If you want to make your own dress form, it is possible. There are many tutorials online on making a dress form by yourself. The most famous one is completing a sewing mannequin with duct tape. You can wear any spare shirt that goes under the waist. Wrap the duct tape safely around your body with someone's help. Once a dummy has formed, you can cut the piece off your body and sew it backfilling with cotton or foam. You can watch this tutorial for visual assistance.
Now you can use a stand to hang it in the room. This DIY sewing mannequin can allow you an affordable dress form if you avoid any extra expenses in the beginning. Once you are experienced and professional in the sewing game, you can consider buying a professionally made sewing mannequin.
Characteristics to Consider while Choosing a Dress Form
A dress form is a very handy sewing tool for garments. Depending upon your budget, body, projects, preferences, workspace, and many other factors, you have to choose the best one for you wisely. Because this is not something you are going to buy very often. So make sure you invest in the just right one for you.
There are a few significant characteristics you should consider while buying the best dress form for yourself. We have listed them below to choose from.
Portability
Before purchasing a dress form, you should keep in mind how often you would need to move it from one place to another. If you have a dedicated space to work and have no plans to move your dress form from one place to another, then even heavier ones are good to go with. But if you are a student or the nature of your work requires moving back and forth along with your dress form, it is better to get a lightweight sewing mannequin.
Shape
Everybody shape is different given the structure, age, and gender. Always consider what shape you require based on the body structure you want to prepare clothes for. It can be a dressmaker's dummy of a child, a man, or a woman.
Size
Just like the shape, size is also crucial for buying the best fitting dress form for sewing. If you plan to just make your clothes, going with a dummy of your body measurements is good to go with. You should take measurements of your body to buy the exact matching size. But if you are looking forward to sewing for different people, you should rather consider something that can be a standard size to slightly adjust the size.
Type
You need to take the type of dummy into account before buying the best dress form. It all depends on your requirements: which one should you go with, adjustable, fixed, display, bifurcated, custom, a more exact measurement, or professional?
The better the flexibility and durability, the more expensive they can be. But buying a cheap sewing mannequin and never being able to use it can be frustrating. So always invest in the right type of dress form.
Usage
The purpose of buying a dress form is important to identify. If you want to use it to display your clothes, then a display sewing mannequin would be a cheap option. If you plan to sew your clothes, then buying your measurement dummy is more useful. On the other hand, a professional tailor would buy a traditional canvas.
Durability
If your projects are temporary and you do not intend to pursue sewing as a hobby or profession, it is better to go for something that can meet your needs. Let alone the durability factor, because it can be expensive.
On the other hand, if this is something you would be doing in the long run, and that too frequently, then it is best to invest in a durable dress form. A pinnable foam dress form is not suitable for someone who needs frequent pinning. That may damage the foam and make you replace your existing dress form. The larger you plan to pursue sewing, the better investment you should be making on this sewing tool.
Collapsible shoulders
A very useful feature of all other ones is collapsible shoulders in your sewing mannequin. Dresses with small necklines can be challenging to fit onto those forms due to their stiff body. Unlike a foamy dress, a form can be helpful, but in other cases, collapsible shoulders can save you a lot of hard work to make your dummy wear small circumferences.
Adjustability
If you are doing projects for people with different body sizes, then it is best to consider options within the dress forms that are adjustable. An adjustable sewing mannequin can expand the body in girth. Nonetheless, you may also find some dress forms that can also expand in length. Overall you can make adjustments to the measurement of hips, bust, torso, and height.
These dress forms allow alterations to the size, and you can work on many different body types with just one form. They can also be handy if your own body has the potential to gain and lose weight frequently.
Additional limbs
These sort of sewing mannequins that have legs as an additional feature are called bifurcated dress forms. These are best to purchase if your projects require pants or short sewing since these limbs would allow you to make a perfect fitting around the lower body parts.
Padding
Suppose you are going to be frequently adjusting sizes as per measurements. In that case, you can get a sewing mannequin that allows you to add extra padding for the exact shape because a non-adjustable dress form cannot allow you to make many alterations.
Important Tips
Always consider the dress form for the body size you desire to replicate in your sewing projects. Buying a sewing mannequin not even near to your desired measurements can be a wastage of money.
Always take measurements of the replicating body and check it over the dress form to determine if those are accurate. Because most of the time stated, values could vary from the actual ones.
Clothing measurements can be deceiving when the same measurements are taken for another fabric because every fabric has its flexibility and inflexibility to fit on a particular body. That's why dress forms save you from wasting all the effort you put into a design and end up with a non-fitting dress.
If you are working on different body sizes in your sewing projects, it's better to purchase an adjustable sewing mannequin to make changes every time you switch projects.
A dress form can be adjusted in size by adding foam and padding to it. It can be modified depending upon how much padding you want to add to mimic a size simultaneously. Nevertheless, a larger size cannot be adjusted to smaller in this case. That is why it is advised to purchase a dress form in a smaller size for modifications.
If you have just started your sewing journey, it is better to borrow a sewing mannequin for a trial. Once you feel comfortable and decide to continue sewing, you can then buy your dress form.
If buying a new sewing mannequin seems expensive as a beginner, you can always look for a dress form for sale on craigslist.
Frequently Asked Questions
What is the best dress form for home sewing?
To get the solution, consider your sewing needs and the best types for home sewing. Buying an expensive dress form for home sewing is not a good idea. Achieve maximum functionality at the lowest cost. For further information, see this Dress Form Guide.
Are dress forms adjustable?
Dress shapes are movable. Some can be manually changed by putting pads around the measurements. But they don't have to be adjustable.
What are the best adjustable dress forms?
The best adjustable dress forms can be purchased from Dritz. They come in a variety of sizes and shapes. They are affordable as well when compared to other brands.
What is the difference between a dress form and a tailor's dummy?
A tailor's dummy is a dress form used by skilled tailors. It's an old-fashioned dress form. A tailor's dummy was used for draping, measuring, and pinning fabric. A dress form is sometimes known as a tailor's dummy.
Is a dummy the same as a dress form?
A mannequin is a more polished dress form that might be complete body or only the torso. It displays apparel. A mannequin is used in clothing stores to display clothes ideas. A dress form's measures are more flexible than a dress form's.
How do I choose a dress form?
A dress form should be sized exactly or very closely to the figure you are sewing for. Detachable arms or legs can also be useful if your project is more focused on the arms or legs.
What is a pinnable mannequin?
It's composed of dense foam, so you can pin it while draping fabric around it. No hooks, pins, or grasping things required.