From simple hand stitches to larger projects that require machines to sew something, Sewing and Quilting are great ways to spend some time and effort and come out with the result that leaves everyone speechless. Several materials and stitches can be used to make lovely landscapes, prints, or gifts for loved ones or your own house. You've probably heard that sewing machines come in many sizes, but sewing machine throat size is one of the essential features. The throat size of your sewing machine is measured from the needle to the right column.
What is a Large Throat Sewing Machine?
Sewing machines with ample throat space are used for Quilting and, by design, can run a thicker fabric through them. Quilters all around the world have been utilizing large throat sewing machines to simplify their life and increase the efficiency of their stitching.
The usual throat size of these machines ranges from 12 inches to upwards of 18 inches. The ideal large throat sewing machine for you will be selected by the sorts of stitches, arm size, foot lift, and needle penetration you require. Professionals and general users should also consider stitch speed and computerized controls.
10. Grace Qnique 15 LongArm Quilting Machine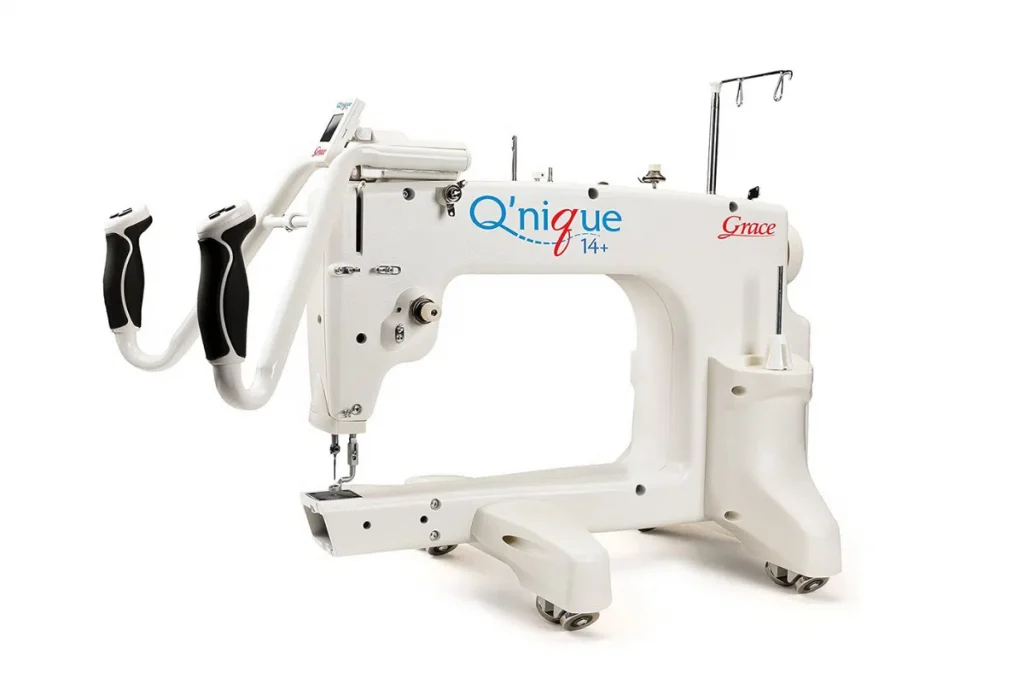 The Grace Qnique 15 Long Arm Quilting Machine is a fantastic addition for any sewer who is new to this hobby. It ensures that the stitches will be balanced and that there will be no loose threads. Its quick stitching pace makes working on larger projects easier than previously.
The Grace Qnique 15 Long Arm Quilting Machine includes its built-in bobbin winder, which is one of its most remarkable features. This enables quick and easy winding with minimal effort. Because the bobbins are already put in the machine, the big M-class bobbin container also helps.
It allows quick and easy adjustments in the middle of a project with no trouble. Also, it is quite an affordable long arm quilting machine. The price is very low as compared to other long arm quilting machines.
Pros
Longarm quilting frame at a low cost
The stitching speed of 2,000 SPM is quick
Thread tension regulation
Bobbin winder that automatically winds the bobbins
Cons
There is no quilting frame included in the box
OLED touchscreen size is very small
9. Handi Quilter Sweet 16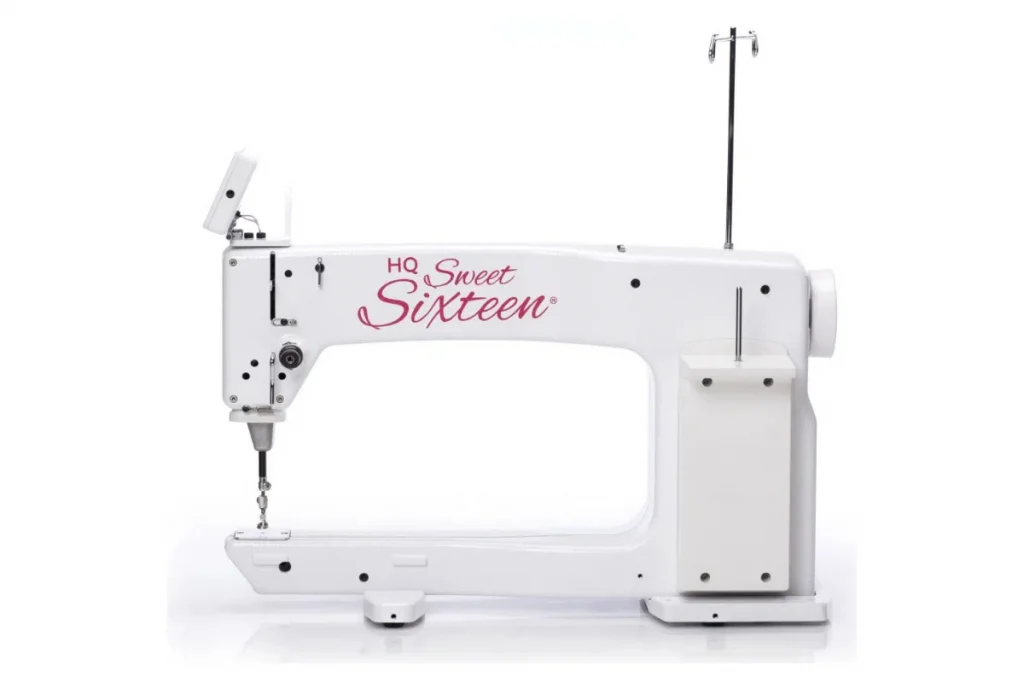 The Handi Quilter Sweet Sixteen is one of Handi Quilter's most incredible long arm quilting machines. It's inexpensive, dependable, and well-made. It also includes everything you need to get started sewing your home décor projects without breaking the budget.
The Sweet Sixteen has an easy-to-load bobbin and an automatic threader, making Quilting a snap. This machine has a stitching speed, which is more than enough. It also has a 5-foot quilting frame, making it the most storage-friendly long arm quilting machine available. It only requires a small amount of space to demonstrate its true strength.
Other long arm quilting machines typically have quilting frames ranging from 8 to 16 feet in length, but the fact that this one has a 5-foot quilting frame makes it ideal for people with little storage space.
Pros
It takes up very little space to work
Large quilting area (14′′ x 48′′)
Has a 5 foot quilting frame
Cons
It is not an affordable quilting machine
A small size quilting frame
8. Singer 7258 Stylist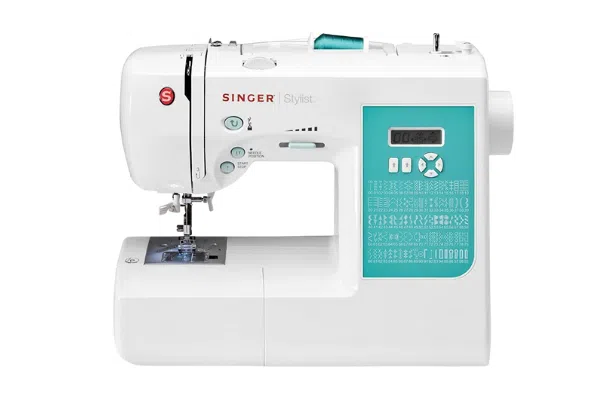 Singer 7258 Stylist sewing machine includes almost 100 stitch patterns as well as seven completely automated one-step buttonholes. The setup of the Singer sewing machine, which features a horizontal thread delivery, an automated needle threader, will be a pleasure to use.
The system is built with a top-loading bobbin mechanism that includes a magnet-type vertical axis spinning hook. There is a stitch selection button that allows you to pick the desired stitch with the touch of a button. This machine also has the sewing industry's most time-saving feature, an automated needle threader. There is an automated adjuster that ensures excellent stitch quality.
The stylist is built with a strong internal structure for optimum durability. With several incredible features, this simple-to-use Singer 7258 Stylist sewing machine will be your most acceptable investment.
This long throat sewing machine is ideal for a variety of sewing tasks such as fashion sewing, Quilting, creative stitching, and much more. This wholly automated machine will become your genuine fashion partner in every way.
Pros
Heavy-duty stitching requires a sturdy metal frame
LED display for easier navigation
10 presser feet and a variety of additional components
Needle threader that works automatically
There are 13 needle locations
Cons
The machine comes with a weak plastic pedal
No lever to lower the feed dogs
7. Janome 8200QCP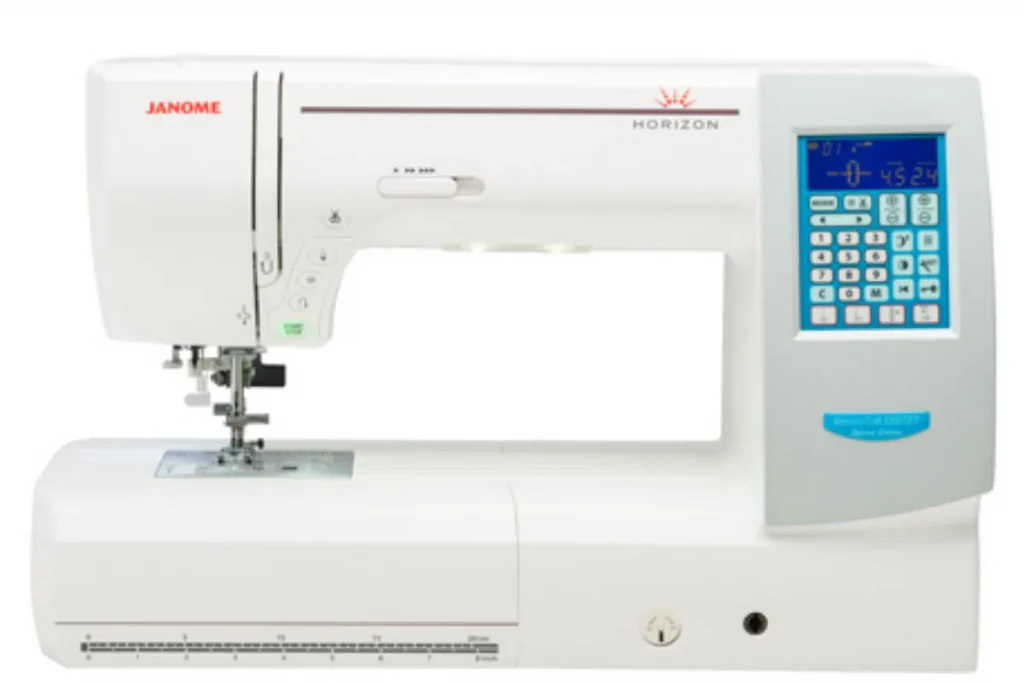 The Janome Memory Craft Horizon 8200 QCP Special Edition quilting and sewing machine, commonly known as the Janome 8200 QCP quilting and sewing machine, is the perfect quilting partner. It was created with the quilter in mind, and it has hundreds of ornamental stitches as well as a feed dog system that is optimized for many layers of cloth.
It includes a long arm with 280mm of needle space to the right, 5 white LED lights, and a quick-change needle plate that makes sewing larger projects a breeze. The needle threader, auto thread tension, thread cutter, and stitch chart are all convenient features.
An extra-large extension table is provided, as well as a variety of various feet, including free-motion choices; simply put one on, lower the feed dogs, and enjoy free machine stitching. The adjustable knee lift option lets you adapt it to your specific needs by adjusting it from left to right so you can quilt in comfort.
Pros
170 built-in stitching designs are included in this impressive collection
Memorizes up to 50 different pattern combinations
The LCD panel has simple button controls
Features that may be programmed for a more personalized stitching experience
6. Janome MC6650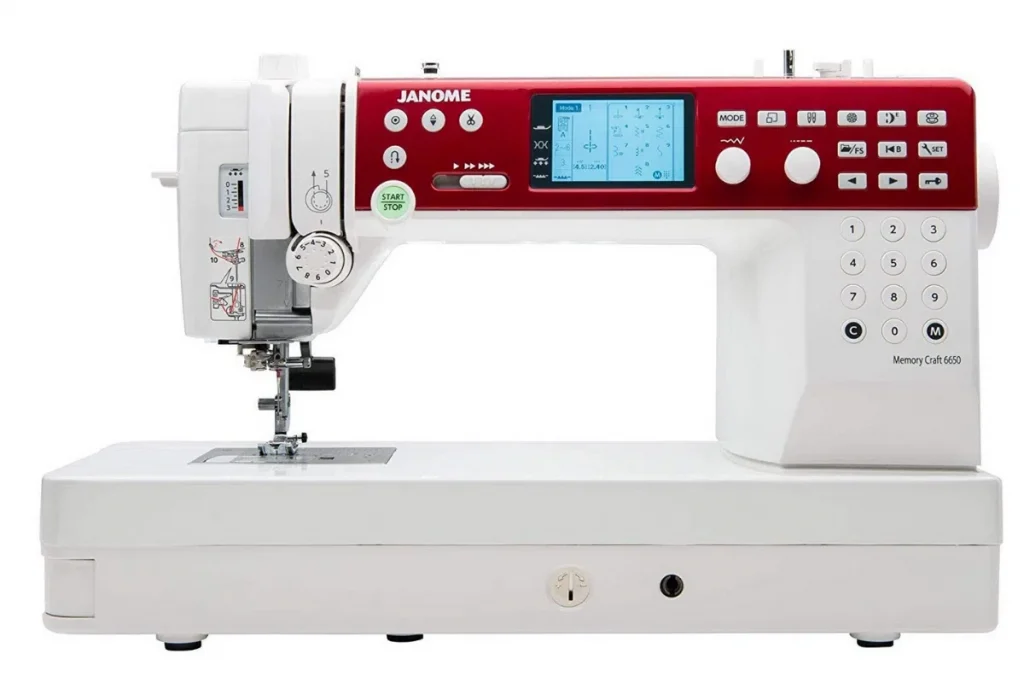 The Janome Memory Craft 6650 sewing machine is quite flexible. It has 170 stitches, 2 alphabets, separate bobbin winding, and a maximum stitching speed of 1000 stitches per minute.
It is ideal for Quilting and a variety of household crafts. This is a strong, powerful, and silent large throat sewing machine. Because the exterior body and inner frame are made of metal, the device is a little hefty but not excessively heavy.
However, it is not a suitable option for a newbie or someone searching for portability. The Janome Memory Craft 6600 sewing and quilting machine provide high-quality service in terms of speed and precision.
It is tough to make and performs admirably. Aside from regular sewing, the model can readily perform a variety of tasks such as Quilting, patch stitching, and appliqueing. The Janome Memory Craft 6650 has numerous appealing characteristics that make it appropriate for professional usage but not for industrial application.
Pros
Numerous stitches ensure that every user is satisfied
12 presser feet allow for a wide range of sewing jobs
The neatness and cleanliness of the stitching
The excess of extras. The user will not need to purchase any more accessories from the market
Cons
It cannot recall stitches
There is no free arm
5. Janome 1600P-QC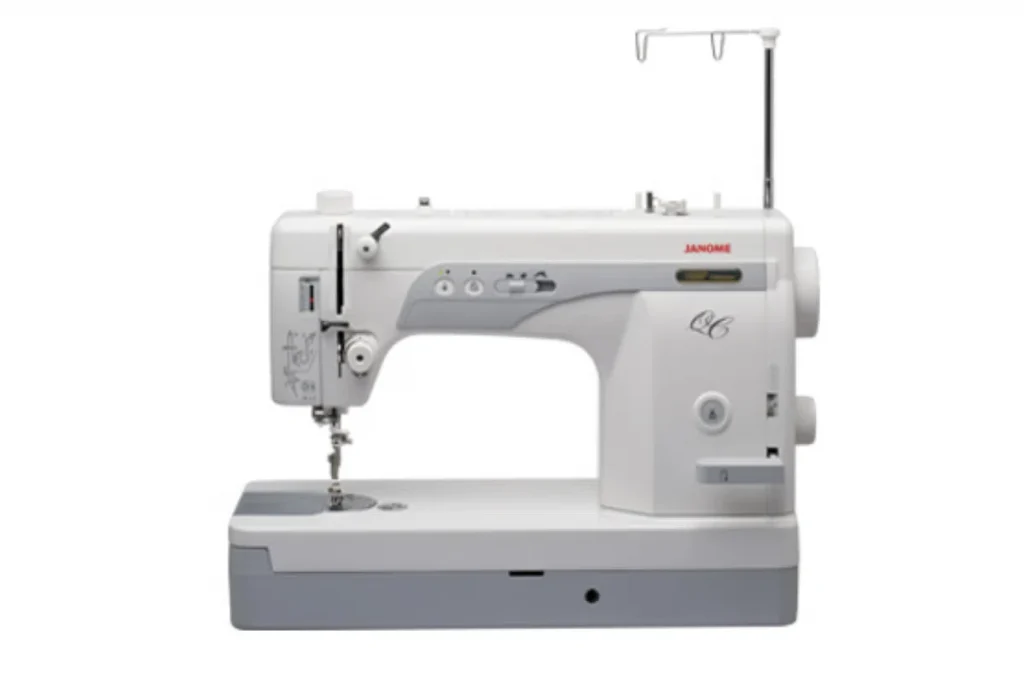 The JANOME 1600P-QC is possibly one of the quickest machines on the market right now. With its ease of operation and smooth design, this machine is yet another great creation from industry leader Janome. If you're searching for the best mechanical sewing machine with a large throat that only sews straight stitches, the Janome 1600P-QC is the machine for you.
This is a durable, robust machine that is as near to industrial as you can get without spending a fortune. This machine is also highly popular with quilters. However, if you want a lightweight machine with a variety of stitch possibilities, or if you are a newbie, this is not the machine for you.
The 1600P-QC is the ideal machine for sewing and Quilting because of its fast speeds and smart design! You'll discover everything you need to finish projects fast and efficiently. This large throat sewing machine is the fastest on the market, with speeds of 1,600 stitches per minute. Even from a quilt frame, the side-loading bobbin provides for simple access.
Pros
This is a heavy-duty machine
Automatic thread cutter
Excellent for Quilting
Sews quickly through thick fabrics
Fast stitching speed
Cons
Cannot drop feed dogs
Some people find it difficult to thread
No free arm
4. Janome 3160QDC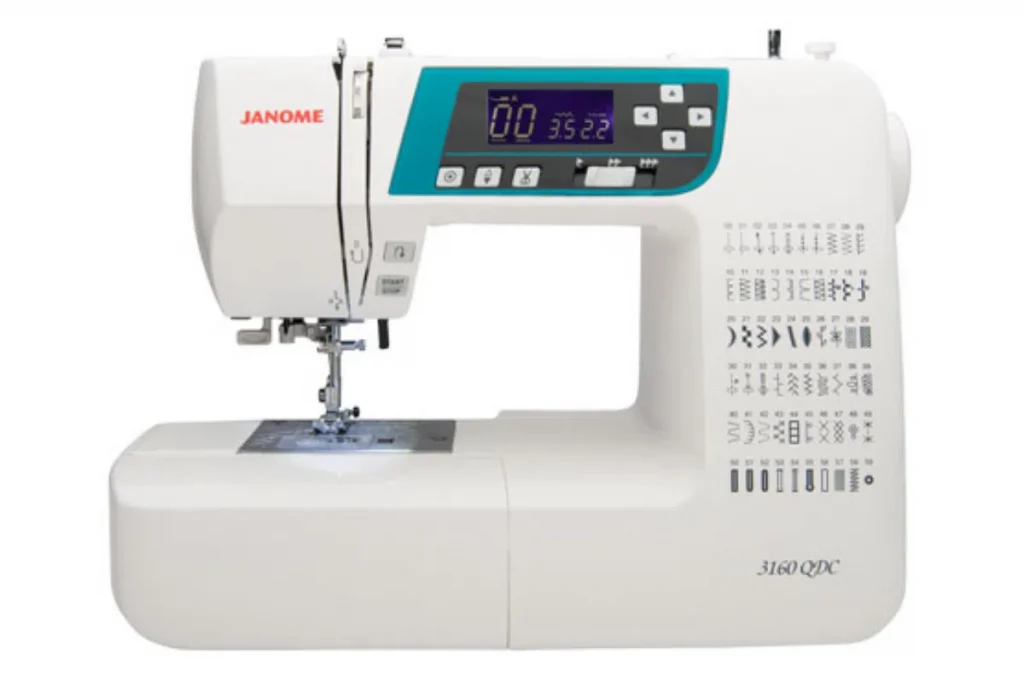 The Janome 3160QDC is a computerized sewing machine that is lightweight. It is reasonable in price and ideal for quilters, home crafters, and people looking for a portable machine for workshops, sewing organizations, and so on. The 3160QDC is also quite simple to operate, making it an excellent choice for both newbie and expert sewers.
It sews smoothly, has a lot of useful functions, and also has several built-in stitches. It also has several helpful features that, while not contributing much to the machine's performance, make your experience with it as comfortable as possible by using simple and creative designs.
The main feature of this machine is its automated, pre-set operations that can be engaged with the push of a button. These buttons are located on the control panel and may be used to perform a variety of tasks ranging from top/bottom cuts to needle up/down control.
Pros
Effortless to use
Handles both thin and heavy fabric
It produces excellent looking stitches
Automatic needle threader works well
It includes an extension table
Cons
Its lighting is dim
There is no knee-lift
3. Brother PQ1500SL
Staff Pick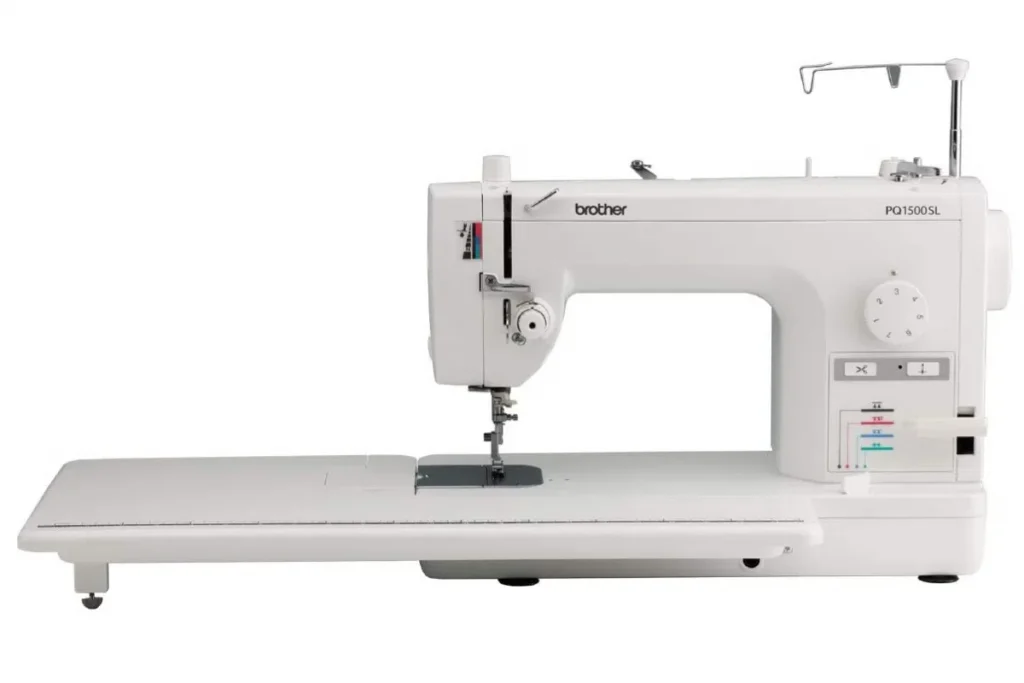 The Brother PQ1500SL quilting and sewing machine is yet another high-quality model from the Brother sewing machine range. The machine is characterized as a high-speed quilting and sewing machine with a stitch rate of 1500 per minute.
This sewing machine with a large throat, like all of the brother sewing machines, has unique characteristics that set it apart, such as an automated needle threader, a retractable drop feed dog control, an exclusive pin feed system, and so on.
The Brother PQ1500SL quilting large throat sewing machine is a heavy-duty, powerful machine with functions that enable users to stitch and quilt on the machine with ease. It is intended for quick completion of sewing and quilting projects and is simple to use once you get the hang of it. It also includes features that help you to save a significant amount of time while sewing or Quilting on the machine.
Pros
The sewing speed is fast
Large throat space and a broad extension table
Machine with high power and heavy-duty capability
When compared to competitors, it is more affordable
Several attachments and feet are provided
Cons
It only has a straight stitch
It is not suitable for beginners
2. Juki HZL-NX7
Budget Pick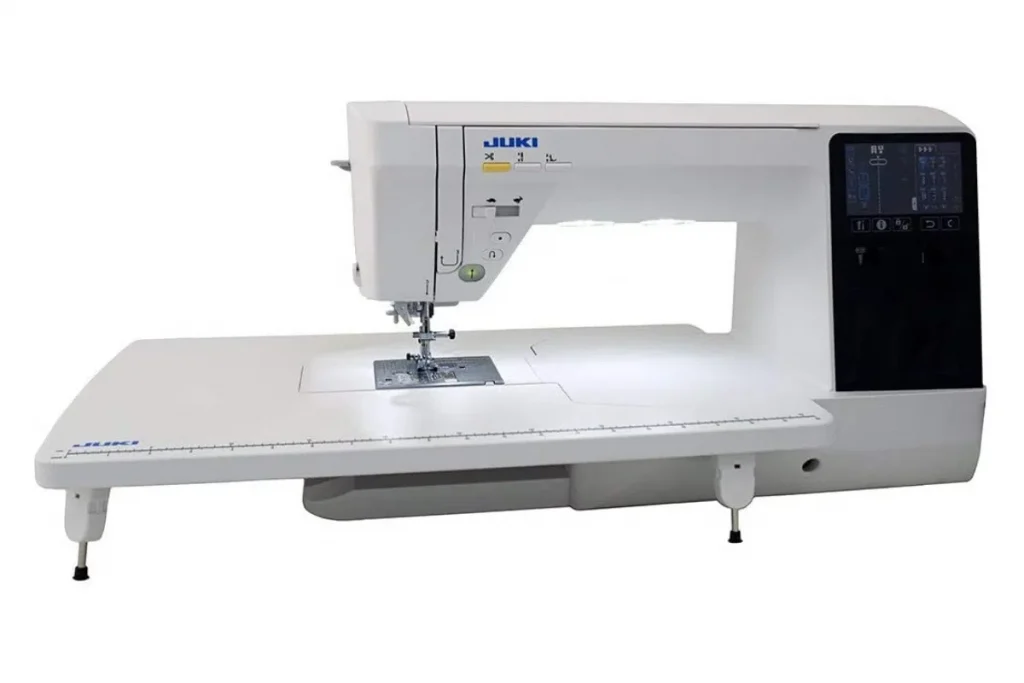 The Juki HZL-NX7 is a quilting-capable sewing machine with a large throat. A computerized sewing machine with 351 different stitch patterns and four different font styles. It is industrially suitable due to its maximum stitch speed of 1050 stitches per minute. It's also very quiet, so you can work on it without disturbing anybody else in the Home.
The throat plate of the Juki Kirei HZL-NX7 is graded, and it has a fine guided scale as well as an angle scale. This allows you to easily measure the necessary length of the cloth without having to look for a separate measuring tape.
It also offers many premium features, and if you're looking for sewing machines with ample throat space, speed control, automated tension, or other difficult-to-find capabilities, this deep throat sewing machine is for you. While the Juki HZl NX7 is quite costly, we believe it is well worth the money. A sewing machine is an investment that will last a lifetime.
Pros
It looks great.
Simple to use; suitable for beginners
Accessible accessory box
Ideal for both thick and thin fabrics
Large throat for difficult-to-reach areas
Cons
Expensive
Difficult to wind the bobbin
1. Juki TL-2010Q
Best Pick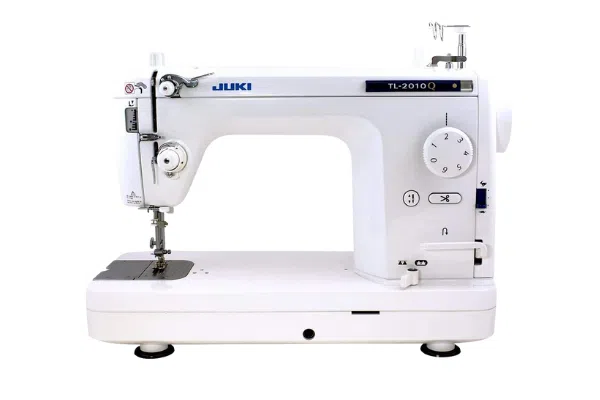 A high-quality portable sewing machine with quilting capabilities is typically hard to find, but if you're looking for one, the Juki TL-2010Q is an excellent option. Because it was developed with quilters and professional sewing tasks in mind, this sewing machine includes many functions that enhance the stitching experience.
Whether you are a beginner or have years of expertise, this large throat sewing machine is worth considering since it combines outstanding features with a meager price tag. The Juki TL-2010Q is suitable not just for Quilting but also for dressmaking, tailoring, and home décor products.
It can be used as a tabletop machine or on-machine quilting frames, increasing its versatility. Despite being built of die-cast aluminum, the machine is relatively light for a model of its size. The Juki TL-2010Q sewing machine has total dimensions of 17.75″ (W) x 9″ (H) x 8.5″ (D) and weighs 25.4 lbs. with the auxiliary table.
Pros
It is very light and portable
An automated thread trimmer is included
At up to 1500 stitches per minute, it is speedy
You may manually control the pace from 200 to 1500 stitches per minute
Suitable for Quilting, numerous layers, and thick materials
The position control of the needle is smooth
Cons
It's a little pricey for newbies, but it's a fantastic deal when you consider the features
It only comes with a single stitch, which may be insufficient for certain people
The LED isn't as bright as you'd expect from a computer in this price bracket
Summary of Large Throat Sewing Machines
Conclusion
A large throat sewing machine has ample space to move around while sewing. Whereas, a regular sewing machine is not flexible enough to perform a free style sewing. Usually, a large throat sewing machine is used for quilting, which eases the process of moving heavy fabric back and forth while you sew.
Each sewing machine listed above is best of its kind, however, there are a few which may fit in just right for your desired sewing or quilting.