The Janome company needs no introduction since it has been a well-established name for Janome sewing machines with various mind-blowing sewing, quilting, and embroidery machine designs. Janome sewing machines are great for both home and commercial use.
Janome has a lengthy history, and the business has produced several high-efficiency sewing machines throughout the years, including the Janome HD3000, Janome MC 6300P, and Janome HD1000. These sewing machines, sergers, and embroidery machines are always fun to use as they offer so many unique and exciting functions.
9. Janome 2206 Sewing Machine
Budget Pick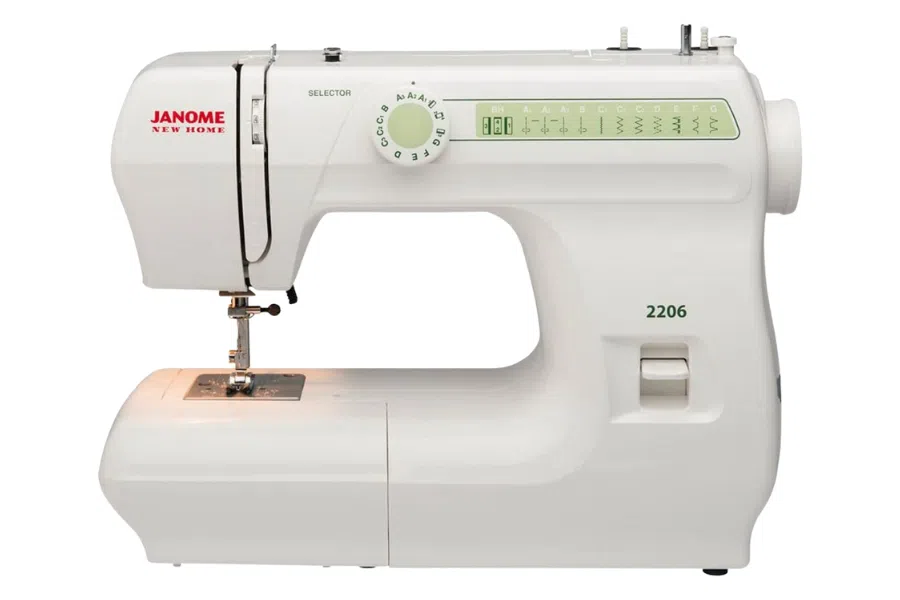 | | |
| --- | --- |
| No. of stitch designs | 6 Stitches |
| Features | Front Loading Bobbin, Free Arm, Speeds up to 860 spm, Built-In Thread Cutter, Drop Feed Dog |
| Dimensions | 17 x 9 x 14 inches |
| Weight | 14 pounds |
| Ideal for | Home use |
A high-quality sewing machine may make a significant difference in your work, especially if you are just a beginner or a returning sewist. In such cases, investing in a sturdy yet affordable machine that can offer a range of features becomes increasingly essential.
The Janome 2206 sewing machine is ideal for beginners, clothing alterations, home décor, and various little and basic tasks. It allows comfort to sew and makes your sewing experience while giving confidence in yourself. It's also effortless to use. Furthermore, the Janome 2206 comes with a built-in-thread cutter. Its speed is worth testing how fast you can sew with this tiny machine in just a matter of a few minutes.
It has other built in features like free arm, and drop feed that you may use as your sewing skills grow. Its incredible versatile functions allows beginners and expert sewers a room to own this machine like a pro. Janome 2206 is an affordable, yet versatile and reliable sewing partner. What else could you ask for?
Pros
Front Loading Bobbin
Drop Feed Dog
Free Arm
Built-In Thread Cutter
Speeds up to 860 spm
Cons
Bit heavy
Only 06 Built in Stitches
8. Janome Memory Craft 14000 Sewing and Embroidery Machine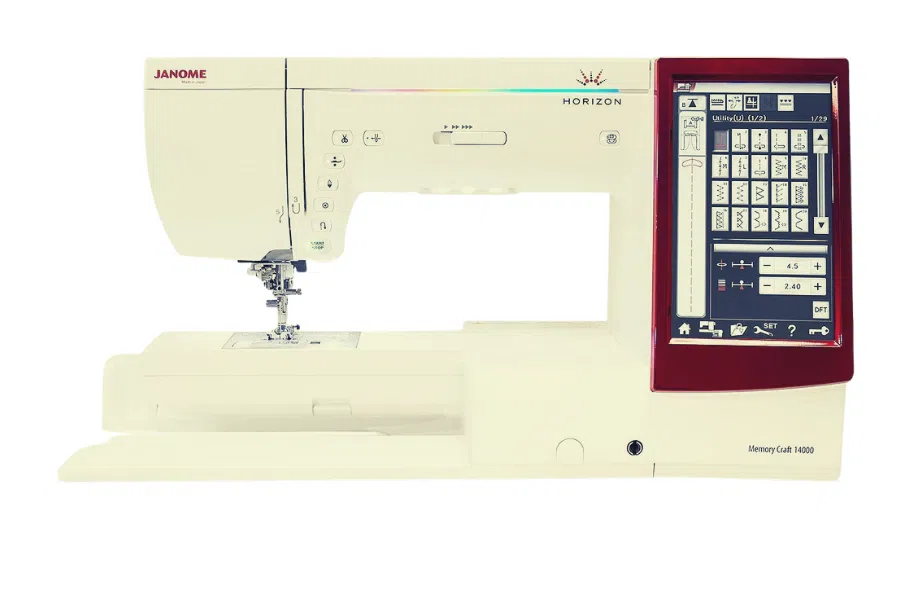 | | |
| --- | --- |
| No. of stitch designs | 400 Built-in Stitches |
| Features | Automatic Thread Tension, Automatic Needle Threader, LCD Full Color Touchscreen, Automatic Presser Foot Lift, Start/Stop Button, Locking Stitch Button, Speed Control Slider |
| Dimensions | 30 x 30 x 30 inches |
| Weight | 62.7 pounds |
| Ideal for | Embroiderers |
It is the ideal embroidery machine for customized designs, with over a hundred designs and embroidery patterns, and it can take your business to a whole new level. It is a modern and updated version of Janome's Sewing machines. This lovely product is ideal for people looking to make a few extra dollars or earn some extra cash. It's perfect for embroidering logos, patterns, and monograms in 11 distinct font types.
In conclusion, the fastest-growing embroidery home business is the result. Its speed is a noteworthy characteristic that should not be ignored. It has a stitching speed of 1000 stitches per minute, perfect for running any home business effectively.
This highest speed saves time and allows you to generate an increasing number of embroidered patterns. A full-color LCD touch screen allows you to view and modify models of your choosing. These series of Janome Sewing Machines are long lasting ones so far.
Pros
Contains multi-hoops 
It offers USB and PC 
Fully computerized
It has a variable zig-zag option
Automatic needle threader
Cons
It is costly
It needs a lot of space
7. Janome Industrial-Grade Aluminum-Body HD1000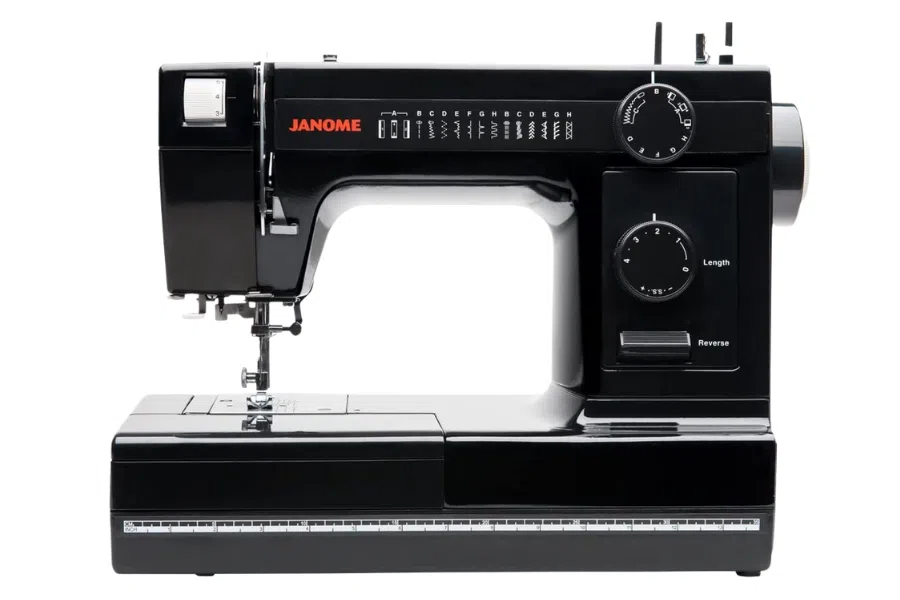 | | |
| --- | --- |
| No. of stitch designs | 14 Stitches |
| Features | General Purpose Foot , Zipper Foot, Blind Hemming Foot, Sliding Buttonhole Foot, Automatic Needle Threader, Adjustable Stitch Length and Width |
| Dimensions | 15.6 x 6.3 x 12.4 inches |
| Weight | 16.8 Pounds |
| Ideal for | Industrial use |
The Janome HD-1000 Black Edition has a super-sturdy design and simple-to-use features for a dependable and pleasurable sewing experience. Using the Janome HD-1000 Black Edition's 14 built-in stitches and one four-step buttonhole, you can create the project you've been dreaming of, whether it's a garment, accessory, or home décor item.
A unique accessory bundle is included with the Janome HD-1000. The provided 5-pack of Leather Needles can assist in the creation of professional-looking leather products.
The Ultraglide Foot is made of a unique resin that allows for more precise stitching of leather, suede, vinyl, and plastic that would generally adhere to a conventional metal foot.
The Janome HD1000 also includes a built-in needle threader, so you won't have to thread the needle by hand. There's no need to pull out your reading glasses or squint your eyes to see if the thread has passed through the eye of the needle.
Pros
Heavy-duty design
Beginner-friendly
Extra-high presser foot
14 built-in stitches
Automatic threader
Cons
It doesn't work with all fabrics 
Clutch can slip at times
Custom bobbins jam periodically
6. Janome HD3000 Heavy-Duty Sewing Machine
Best for professionals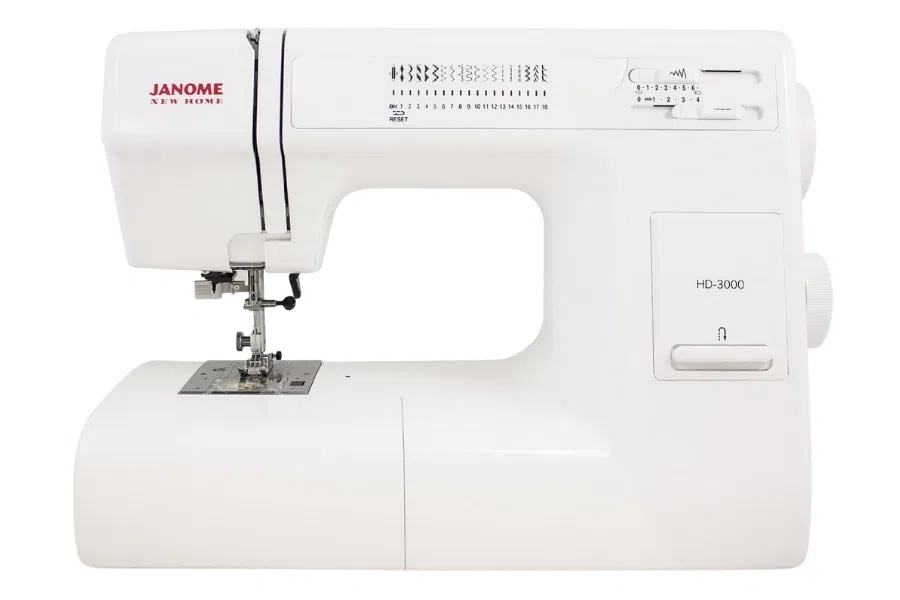 No. of stitch designs
18 stitches
Features
Built-in needle threader, reverse stitch lever, Snap-on presser feet,
Foot pressure adjustment
Dimensions
10 x 19 x 15 inches
Weight
18.7 Pounds
Ideal for
Professionals
The Janome HD-3000 is a high-duty machine that is ideal for a newbie who wants to undertake various stitching. A helpful instructional booklet is provided in the machine's top tray door, indicating the foot and stitch settings for various sewing tasks.
The heavy-duty aluminium body and 18 stitches, including a one-step buttonhole, provide you with the necessary tools to tackle any sewing task. Stitch length and width adjustments are readily accessible on the machine's front, and a protective cover is included for simple storage.
The Janome HD-3000 sewing machine has many unique features for a heavy-duty sewing machine, yet it is a regular sewing machine because it is not computerized! Another exciting feature of the Janome HD3000 is its transparent bobbin plate, which allows you to watch the thread supply from the bobbin. You can then estimate how long the bobbin thread supply will last.
Pros
Metal Frame for durability
Faster speed
Heavy-duty sewing machine
5. Janome MOD-19 Easy-to-Use Sewing Machine
Best for beginners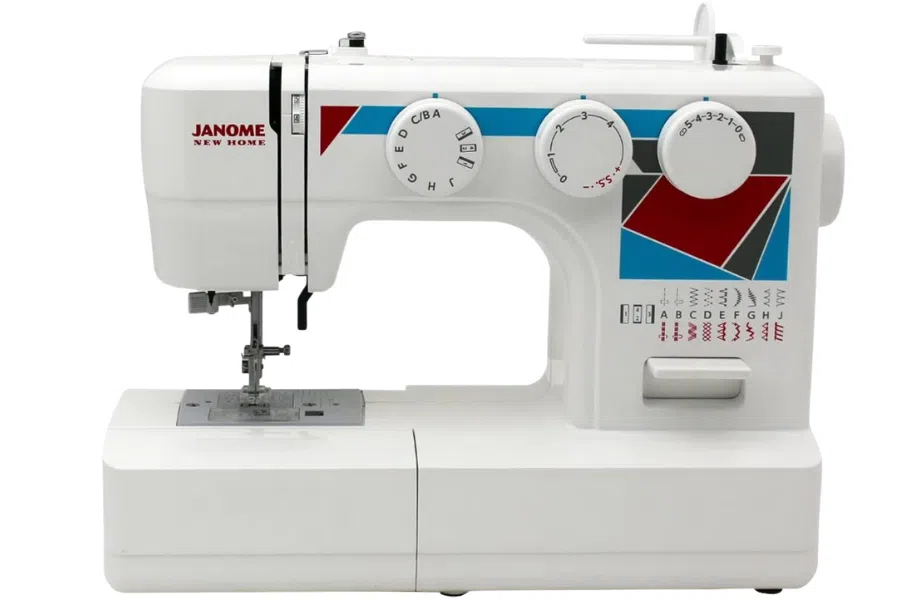 | | |
| --- | --- |
| No. of stitch designs | 19 Stitches |
| Features | Easy Threading with Built-In Needle Threader, Top Loading Bobbin with Clear Cover and 5-Piece Feed Dog System, Free Arm, Drop Feed, Adjustable Stitch Length and Width and 4 Presser Feet, |
| Dimensions | 7 x 16 x 12 inches |
| Weight | 11.7 Pounds |
| Ideal for | Basic home use |
The Janome MOD-19 sewing machine is ideal for creating colourful children's clothes and simple home decor items. For ease and convenience, this 19-stitch machine includes a built-in needle threader.
The MOD-19 has a four-step buttonhole, snap-on presser foot, and a bobbin winder for basic sewing operations. With the MOD-19, you can accomplish your tasks with power, accuracy, and confidence.
With a quiet machine, you won't have a rattily workstation to bother you and your housemates. If you prefer to sew late at night or early in the morning and don't want to wake anyone up in the house, this is the sewing machine for you. This Janome compact sewing machine is made to survive with an utterly metal interior, even when subjected to heavy workloads or rough handling.
Pros
Highly durable
Easily portable
Perfect for beginners
Affordable
It is quiet and versatile
Cons
Plastic presser foot
Partial metal needle plate
4. Janome 4120 QDC Computerized Sewing Machine
Best for workshop sewers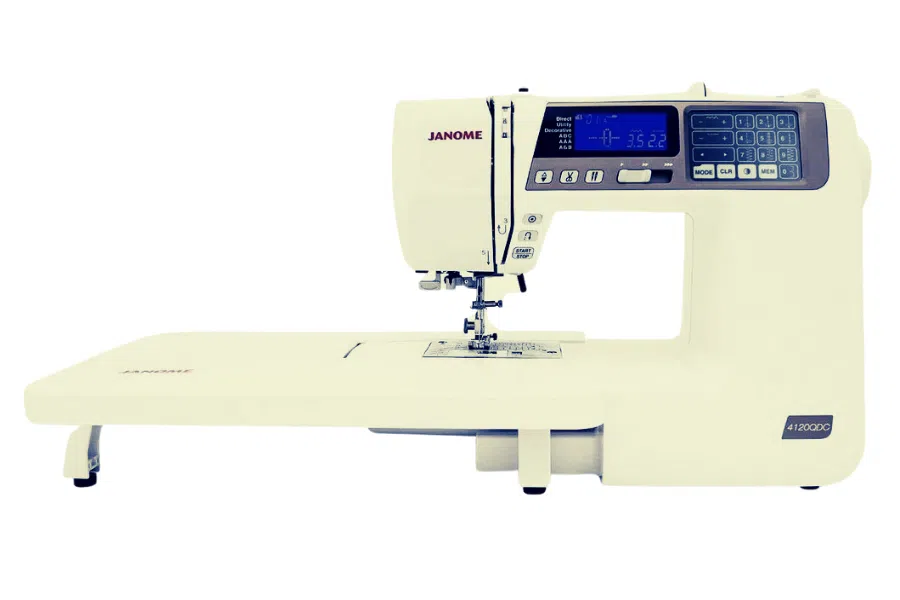 | | |
| --- | --- |
| No. of stitch designs | 120 Built-In Sewing Stitch |
| Features | Full LCD Screen, Automatic Thread Cutter, On-Screen Stitch Editing, Easy-To-Use Control Panel, 7mm stitch width, and needle up/down feature |
| Dimensions | 19.8 x 12 x 16 inches |
| Weight | 22.4 Pounds |
| Ideal for | Workshop sewers |
The Janome 4120QDC Sewing Machine is primarily white on the outside, with blue highlights around the control panel. Its sleek design has an LCD screen and a keypad on the front. The learning curve on this sewing machine isn't high – if you're switching machines, you won't be intimidated by getting used to this one.
The Janome 4120QDC computerized quilting and sewing machine is flexible, sophisticated, and all high-end machines should be.
An easy-to-use machine makes it easier to handle a variety of projects and develop with your machine. The 4120QDC, unlike other combination machines, excels at both quilting and sewing.
Pros
Includes a vast array of stitches 
The LCD control panel is backlit 
Made for sewing and quilting projects
Lightweight and compact enough
It has seven one-step buttonholes
7-piece feed dog system 
Can do monogramming
3. Janome JW8100 Computerized Sewing Machine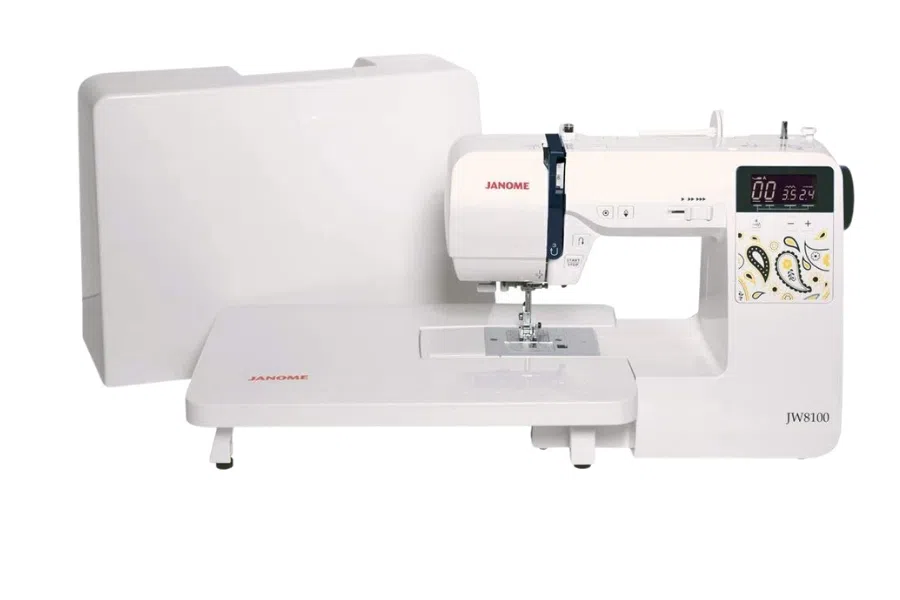 | | |
| --- | --- |
| No. of stitch designs | 100 Built-In Stitches |
| Features | Easy Threading, Top Drop-In Bobbin, 7-Piece Feed Dog System, Memorized Needle Up/Down, Interior Metal Frame, Start/Stop Button, Speed Control Slider, Locking Stitch Button, Reverse Lever Free Arm with Accessory Storage, Memory Function, Adjustable Thread Tension |
| Dimensions | 16 x 7 x 12 inches |
| Weight | 12 Pounds |
| Ideal for | All users |
The Janome JW8100 is an excellent sewing machine with a variety of appealing features for all users. The Janome JW8100, with its 100 built-in stitches and 850 stitches per minute speed, allows you to show off your sewing abilities to others.
A computerized sewing machine with an LCD touchscreen that will enable you to operate many features. It is a fantastic sewing machine for everyone, whether you are a newbie or an expert, since it offers many functions to experiment with.
The Janome JW8100 has an elegant design and is an excellent alternative for people looking for a Janome compact sewing machine that can be kept in a small space. With dimensions of 16′′ x 7′′ x 12′′ and a weight of around 20 pounds, it can be stored in a cupboard or your tiny sewing machine cabinet.
Pros
The ability to change the lengths and widths of the stitches
For accurate sewing, use the Easy Convenience buttons
Variety of accessories and features
A vast number of built-in stitches are available
Cons
The machine can't handle multi-layered fabrics
2. Janome MC6650 Sewing and Quilting Machine
Staff Pick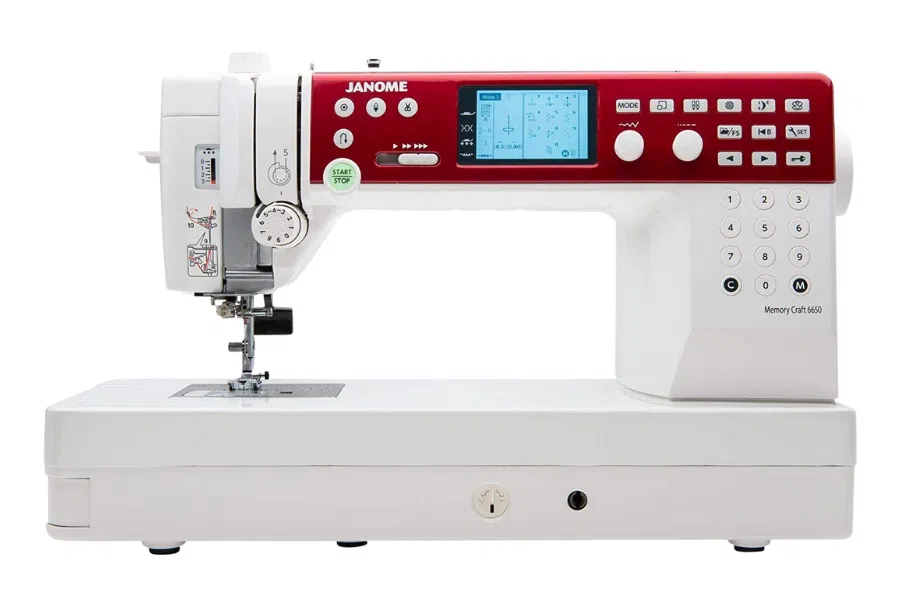 | | |
| --- | --- |
| No. of stitch designs | 170 stitches |
| Features | 2 alphabets, One-push needle plate conversion with 2 included plates, Maximum sewing speed: 1000 spm, 10″ all-metal seamless flatbed, Memorized needle up/down, Needle threader, 6 LEDs in 3 locations |
| Dimensions | 26 x 21.5 x 15.5 inches |
| Weight | 24.25 Pounds |
| Ideal for | Professionals |
The Janome Memory Craft 6650 sewing machine is quite flexible. It has 170 stitches, two alphabets, separate bobbin winding, and a maximum stitching speed of 1000 stitches per minute. It's ideal for quilting and a variety of household crafts. The Janome Memory Craft 6650 offers everything a sewer needs to finish tasks quickly.
The 10″ All-Metal Seamless Flatbed is ideal for projects large and small, and it operates with the speed and precision of the MC6650. The Start/Stop button allows you to regulate the stitching with your fingers.

And having your favorite stitch settings as the default means that when you switch on the machine, your favorite settings are ready to go. It comes with many accessories, such as bobbins and a variety of fun feet to play with. It also includes a simple tiny screwdriver rather than a flat piece of metal.
Pros
Powerful machine
Quiet operation
Produces very nice stitches
Excellent lighting
Great for free-motion quilting
Relatively simple controls
Cons
Some struggle getting tension set
No knee lift included
No ¼ inch presser foot included
1. Janome 2212 sewing machine
Best Pick
Best for multilayered sewing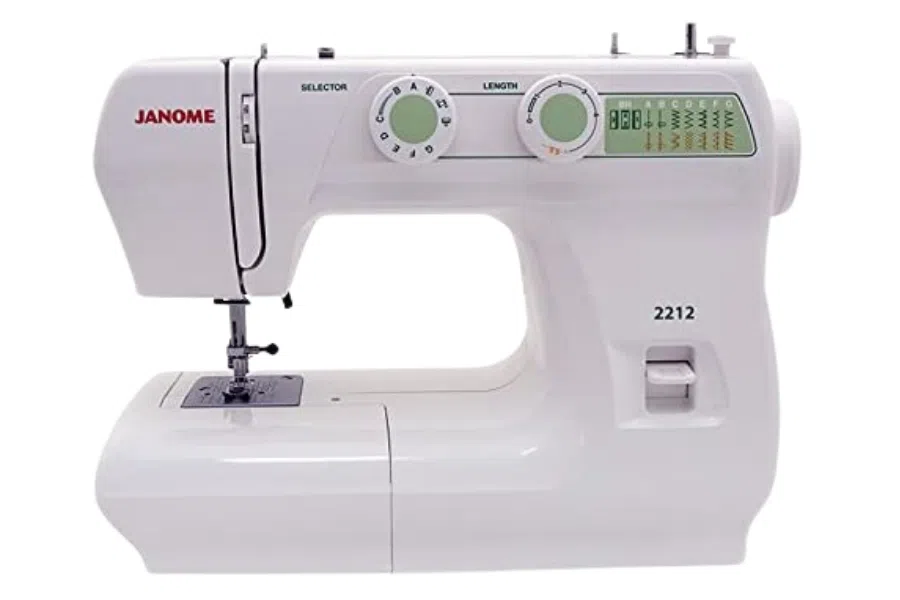 | | |
| --- | --- |
| No. of stitch designs | 6 stitches plus buttonhole |
| Features | lightweight, easy to use four-step buttonhole, dial pattern selection, free arm, drop feed, zig-zag stitch width adjustment and stitch length adjustment |
| Dimensions | 18.1 x 14.4 x 10.6 inches |
| Weight | 6.88 Kilograms |
| Ideal for | Beginners |
This is a simple mechanical sewing machine that is easy to use. It's sturdy and dependable, and it's probably an ideal fit for a newbie or even an expert seamstress who needs the basics. For a Janome, the machine is reasonably priced.
This Janome 2212 mechanical sewing machine has 12 built-in stitches as well as a four-step buttonhole. The ability to change the dial design and the stitch width and length provides ease of usage. Its flexible features, such as a free arm and drop feed, make it suitable for many sorts of stitching.
The Janome 2212 is also a simple, non-digital machine. It is the ideal machine for those who do not want to get weighed down by the complex features of a modern sewing machine.
So, with Janome 2212, you can start your sewing life the way you want to. This sewing machine is reliable, efficient, and will last a lifetime with minimal maintenance other than removing dust from the bobbin box. It is a simple sewing machine that performs well and will endure long while stitching without difficulty.
Pros
Easy to use 
Lightweight and compact
Best for price
Easy to thread
Good basic stitches
Capable of sewing through multiple layers
Cons
No automatic needle threader
Front-loading bobbin
No presser foot pressure adjust
Janome Sewing Machines Brand is one of the world's most reliable brand from Japan that is ruling since 1921. They have never disappointed their users because they have evolved their products over the time according to the demand and what's in so far in the Sewing Machine Universe. That is why generations of generations are relying on Janome for their best sewing machine ranges.
Summary of Best Janome Sewing Machines
| Award | Design | Beginners | Retailer |
| --- | --- | --- | --- |
| Best for affordability | Budget Pick | | Check Price |
| Best for embroiderers and quilters | | | Check Price |
| Best for industrial use | | | Check Price |
| Best for professionals | | | Check Price |
| Best for beginners | | | Check Price |
| Best for workshop sewers | | | Check Price |
| Best for weight | | | Check Price |
| Best for quilters and sewers | Staff Pick | | Check Price |
| Best for multilayered sewing | Best Pick | | Check Price |
Conclusion
Janome is one of the top sewing machine brands which has a huge range of sewing machines for all sorts of sewers. It is a brand having more than 100 years of history in the sewing machine machine niche. Therefore, they have an in depth command over delivering products that not just make it easier for you to learn sewing, in fact their fine stitch quality makes them a perfect choice to consider.
Each sewing machine by Janome is best at what functions it should perform, therefore, it is crucial to first identify what are you looking for. If you plan to start with sewing and then later on consider quilting, then look for a model that saves you from buying multiple sewing machines. Instead, a combination sewing machine is a good option for you.
Picture Credit: Amazon.com
Frequently Asked Questions
Which Janome sewing machine is best for beginners?
Janome MOD-19 Easy-to-Use Sewing Machine is one of the best for beginners since it has the easiest way to understand the process. However, when we dive deep into finding something more than just for beginners, then Janome 2212 Sewing Machine is the best so far in terms of understanding and flexibility of designs, stitches and functions.
Is Janome a good brand of sewing machine?
Janome is one of the leading brands in the world among other sewing machine brands. It is the product of a Japanese company that was founded back in 1921.
How long does a Janome Sewing Machine last?
A janome sewing machine can last up to twenty five years on average if taken care of and maintained in a good condition throughout it's life.
What is the least expensive Janome Sewing Machine?
Janome's Basic Easy-to-use range is one of the most affordable sewing machines. Those have basic functions and can range from $58 to $100.