Sewing is a fun activity and a creative hobby, especially for children. As it keeps them busy while they enjoy making small sewing projects with leftover sewing materials. If you have kids and wondering at what age can a child use a sewing machine, then here is what you need to know before you allow your munchkin to use a sewing machine.
If you are curious when can kids learn to sew, then there are no appropriate ages for children to sew. I myself started sewing (with hand and a sewing machine) at the age of seven. While I know some of my friends who learned sewing at the age of four, five, six, or even eight.
While I came across one of the most unbelievable facts where one of my friend's sister learned to hand sew buttons onto her baby blanket at the age of 18 months! 😀
How old does a Child have to be to Use a Sewing Machine?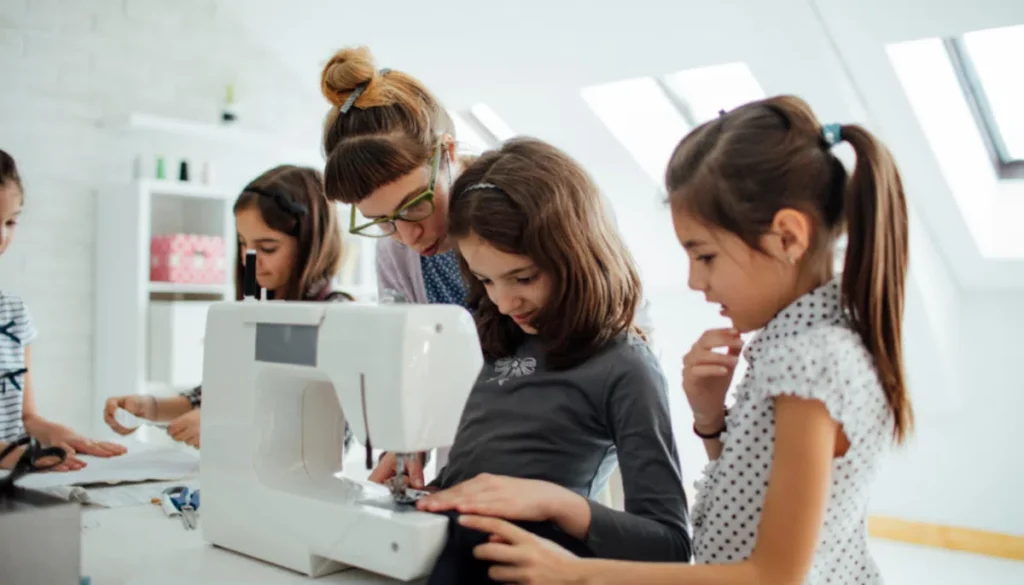 Although I know many who started sewing at a very early age, but it is recommended by experts to introduce your kids to a sewing machine no earlier than six years of age. At the age of seven they can be monitored during their machine sewing. However, at the age of eight they should be able to use a sewing machine without any supervision.
Appropriate age to learn sewing
It completely depends on the interest of your kids in terms of how eager they are to learn this hobby. Some may opt sewing hobby at very early age, while some may take time to develop interest at a later age, maybe near their teens when they want to be creative about their dressing.
Nonetheless, if you are impatient about teaching your kids to sew, then you can start teaching them the basics as early as four-five years of age.
Starting with hand sewing, button sewing, cutting threads, threading needle, and turning loops inside out is where you can start from.
How to know when your child is ready for a sewing machine?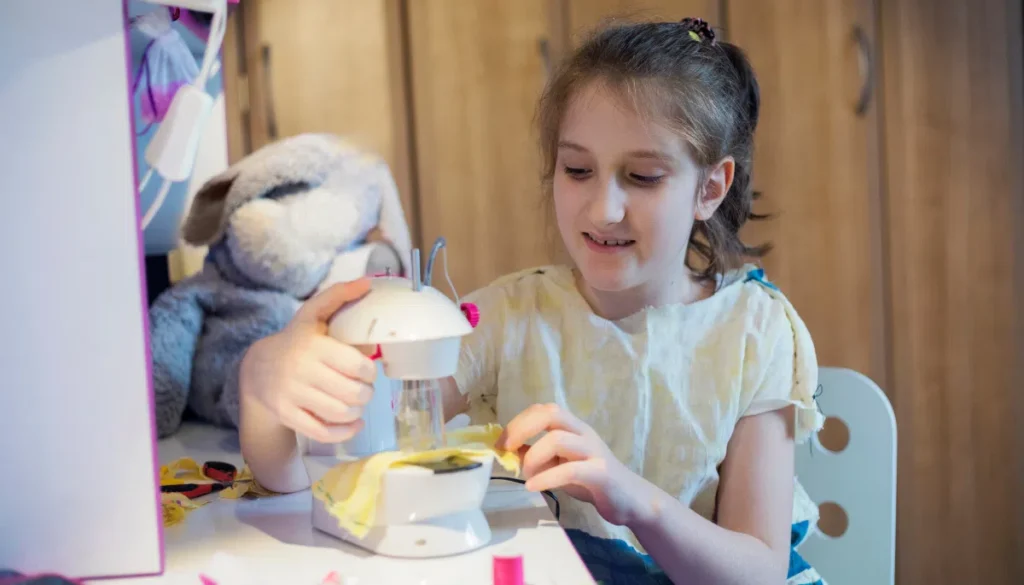 Now comes the part where you decide how eager your child is to learn sewing at an advance level. And by advance I mean, learning to sew with a sewing machine rather than by hand. If you have been noticing your child working on easy sewing projects for kids, and has been responsibly using the tools provided with, then probably they are ready to use a sewing machine!
Oh…wait! Not that fast……
Make sure your child is at least six years or older than that to responsibly handle a sewing machine. However, if you feel they are not ready yet, do not rush because you wouldn't want your kids to end up harming themselves with a sewing machine.
What skills does your kid need to operate a Sewing Machine?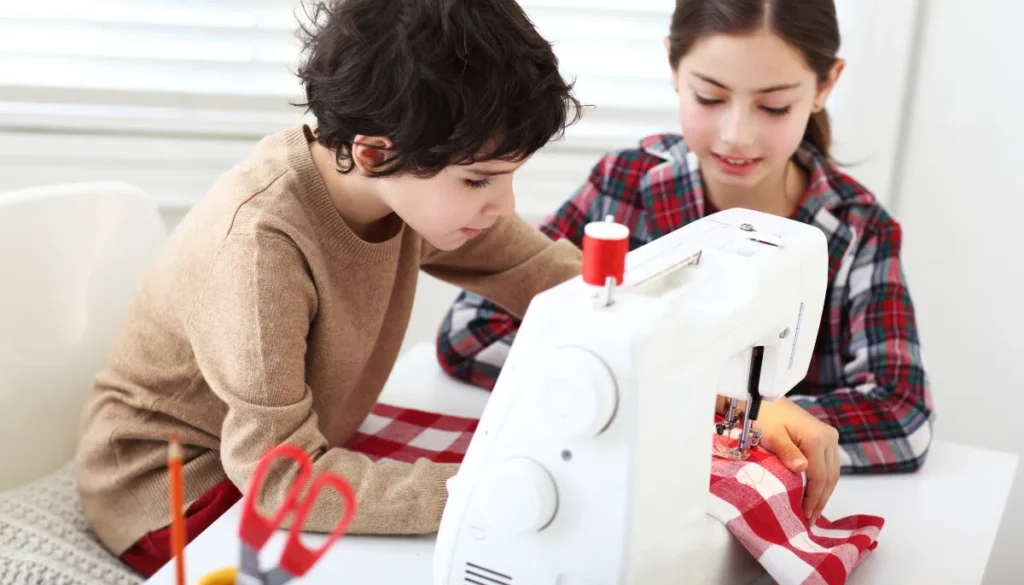 Before you introduce your kids to a sewing machine, it is necessary that they know the basics of sewing. Here I have listed the skills your child needs to learn before operating a sewing machine:
Needle Threading
Your child should be able to thread a needle on their own as this is the very first step to learn for sewing.
Handling Thread Spool
They should be familiar with handling a thread spool, and know how to wind it. If they are too young, they are most likely to play with it and you can end up in a web of threads within the room and all over the place. 😏
Learning to hand sew
After knowing how to handle thread and needle, now comes the best part and that is hand sewing! Make sure your kids know how to sew with hand so that they know how we connect fabric to form a design.
Making your child to start sewing with hand sewing projects is one of the best practices to prepare them for the real deal. This will even determine how creative they can be while sewing fabric and making a project out of it.
Using Scissors
Before you start allowing your kids to use a sewing machine, they should know how to use scissors for cutting thread and cloth for small tasks.
Can make a hand sewn thread knots
Once your kids are familiar with hand sewing, it is best to teach them how to make a thread knot to secure the thread. This practice will allow them to adapt the habit of securing the last stitch to avoid any lose sewing.
Hem Fabric with Hand
They should know how to hem fabric edges apart from simple hand sewing.
Sewing on button
Once you are confident that your child can perform all the above listed skills, you can consider your child ready to introduce to a sewing machine!
How to practice Safe Sewing with Kids?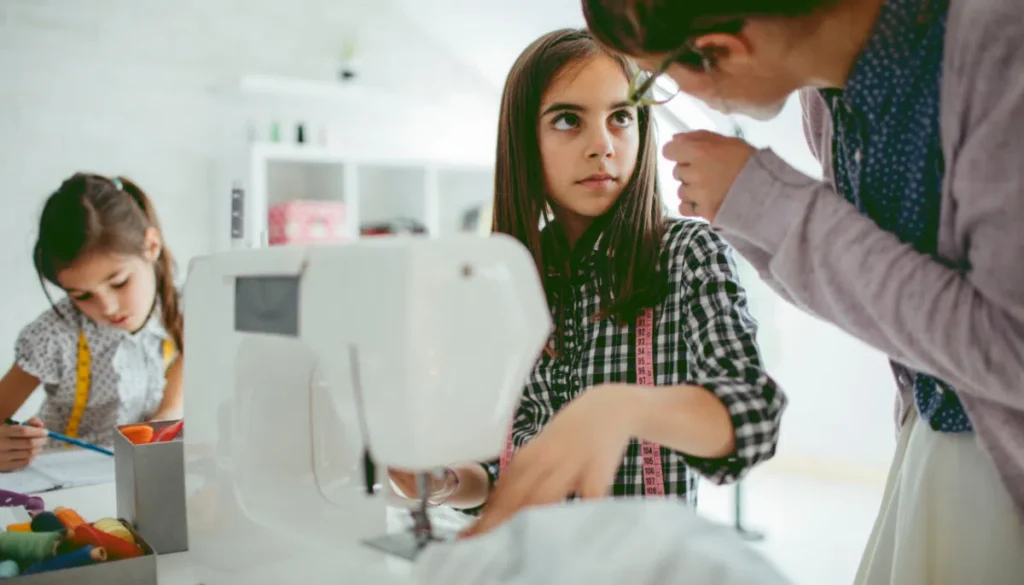 Now that your child has been introduced to a sewing machine, it is crucial that you keep a close eye on your child until they are pretty familiar with it. Because when they start using anything for the first time, they are curious to explore it and try touching here and there to check how it operates without knowing the consequences of it.
Here are some precautionary measures to take while teaching your child to use sewing machine:
Safety Tools
Sewing machines can be dangerous and at some point, even being an expert at sewing we encounter mishaps. And being a parent allowing your child to sew on a sewing machine can make you feel scared keeping in mind the safety of your child. So here are some safety tools you can make your child use while using a sewing machine:
Wear safety glasses to avoid any mishaps such as needle breaking
Use a finger cap while handling needle
A needle threader can be used for safe needle threading
While handling fabric for sewing, instead of pins you can provide your child clips to arrange the fabric
To avoid needle jabs during hand sewing, you can teach your child to fix the needle on a pin cushion to thread it
Safety sewing rule setting with your child
Just like having house rules as a parent for kids, you need to set up safety sewing rules for your child's safety while using a sewing machine.
Since your child is new to the sewing machine, you need to let them know which parts are hazardous and should not be touched by your child. Such as:
Bobbin area
Pressor Foot
Sewing Machine Needle Clamp
Power plug
Feed Dog
To ensure your child feels safe and not restricted from touching those parts, you can add red tape indication "No touch" areas to make it look fun rule following.
Things to consider before buying a sewing machine for your kids
When you are thinking of buying a sewing machine for kids, there are certain points to keep in mind before you decide which one to buy. Below are some of my personal findings that I believe have always helped me recommend the most useful option for your kids.
Never Buy a Children Sewing Machine
I would never recommend you to buy a children sewing machine. As my personal experience with them has not been good so far. Because those are really delicate and perform more like a toy than a sewing machine.
These are good "just as a toy".
Buying a genuine sewing machine will allow you to use it for adults as well. So invest in a regular sewing machine that can be used later on.
Push Button Sewing Machine
Buying a pedal sewing machine can bring risks of getting injured. Hence it is best to buy a sewing machine that has a push button function rather than a foot pedal. Moreover, you can also consider the options where the speed is adjustable. Because feature will allow your kids to adjust with the speed and increase it as soon as they get their hands over sewing more projects.
Should be light weight
Allowing your child to use a sewing machine means they will be performing numerous actions on it during the usage. That being said, make sure the sewing machine you buy for them is light weighted, as this will allow them to move it around with ease.
Minimalist Approached
I know you and your child must be really excited for buy a sewing machine with multiple functions. However, you need to calm down!
Because the more the functions are going to be there, the harder it will be for your child to learn sewing. And we don't want them to feel discouraged with overwhelming features.
I highly recommend buying a sewing machine that has five to seven stich designs (ONLY) rather than a bunch of stich designs. So that your child doesn't feel bored, and these option will allow him/her to experience an adventure trying different stitch designs.
Conclusion
Hey, sewing is a craft and it takes time, patience, and some investment to learn. Go slow on your kids, and try to make their learning experience as fun as possible so that they develop this life-long hobby with good memories.
It will take some time for them to become an expert, here is where you need to show patience and affection to keep them motivated.