Not everyone is fortunate enough to have the space in their homes or workplaces to accommodate a full-size sewing machine. For seamstresses, The newly built tiny apartments and lack of furniture space have made owning and storing a conventional sewing machine even more challenging. It's at this point that the mini and handheld sewing machine comes to the rescue and gets the job done.
These sewing machines are extremely useful to stylists and fashion designers. Only when the dresses require short fittings or minor modifications. These pros can achieve the desired results without removing the entire dress from the model's body thanks to the handheld machines.
In this article, you will learn everything from what is a handheld stitching machine? How to use a handheld sewing machine? and the handheld sewing machine reviews.
Overview
8. Sunbeam Cordless Sewing Machine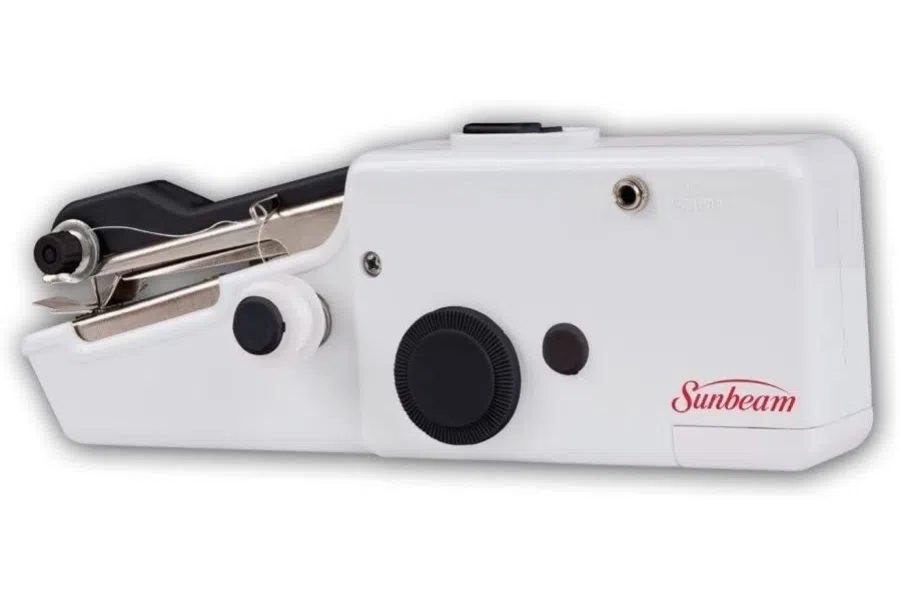 | | |
| --- | --- |
| Stitches per minute | N/A |
| Features | Includes 1 extra needle and 3 extra bobbins, can sew Denim, Cotton, Silk, Nylon, and Polyester |
| Dimensions | 9 x 7.2 x 2 inches |
| Weight | 11.3 ounces |
| Ideal for | Mending small items |
Sunbeam handheld sewing machine, Another famous brand/model, comes with all the features a portable sewing machine requires. It's lighter, portable, and comes in two color combinations: red and white and black and white. One of Sunbeam's best products, this cordless, tiny sewing machine is ideal for basic tasks.
The Sunbeam machine, one of the most affordable machines on our list, makes it most suitable for beginners and frequent travelers. The Sunbeam handheld sewing machine is strong and ideal for making quick repairs.
It's perfect for short fixes like trouser hems, curtains, and drapes, as well as untimely holes and tears, and arts and crafts projects that require simple sewing and stitching. This machine, like all other machines, should only be used for small sewing chores and light fabrics.
Pros
Ease of use
Cordless
Compact and portable
Ideal for beginners and children
Cons
Batteries/Adaptors not included
Not good for professionals
7. Amazing Creations Portable Sewing Machine
Budget Pick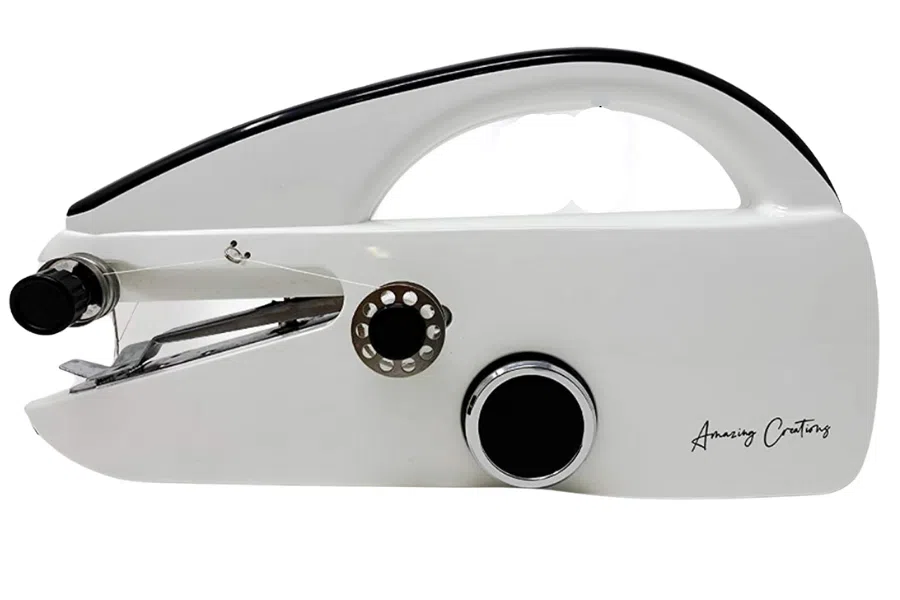 | | |
| --- | --- |
| Stitches per minute | N/A |
| Features | Includes USB Cable, Bobbins, Threader, Spindle and Replacement Needle – Travel-Friendly and Easy to Use – Durable ABS Construction |
| Dimensions | 9.13 x 4.8 x 2.48 inches |
| Weight | 13.1 ounces |
| Ideal for | Mending small items |
Aside from its dashing looks and lovely design, the Amazing Creations Sewing Machine is a high-quality machine that will provide you with a pleasant sewing experience if your primary goal is to complete small sewing tasks.
Although it is a reasonably strong hand-held model, there are some tasks that it cannot complete, such as denim sewing or patching. It does, however, have an extremely sharp needle that allows it to function on the great majority of textiles.
The machine runs on four AA batteries and is powered by a USB wire. It can sew a variety of fabrics that are less than 1.8 mm thick. What stands out the most? It comes with a case that holds a variety of accessories and thread spools. The fact that the speed may be adjusted at two levels is also a plus.
Pros
Adjustable speed
Elegant handle design for better sewing experience
Cons
Difficult to thread it
A bit heavier
6. Brightlylit Mini Sewing Machine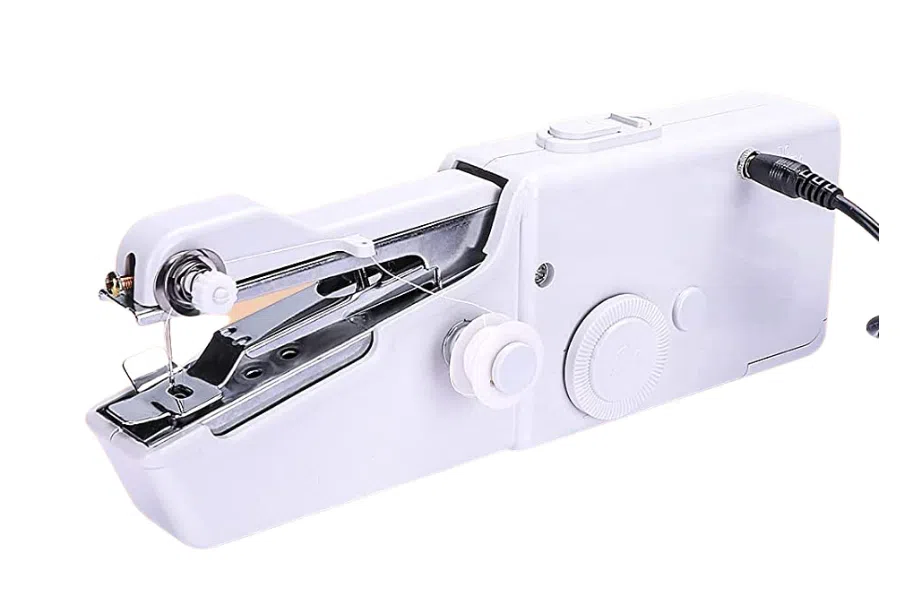 | | |
| --- | --- |
| Stitches per minute | N/A |
| Features | Portable Hand Sewing Machine, Wooden Sewing Box with 153 Pcs Sewing Kit Supplies |
| Dimensions | 9.8 x 6.3 x 4.4 inches |
| Weight | 2.66 pounds |
| Ideal for | Beginners |
A hand operated portable sewing machine is a time-saving tool for single people. There's no need for a desk sewing machine, and you may sew clothes without paying someone else in a short time. Brightlylit introduces their handy stitch hand-held sewing machine, which promises to make things easier without breaking the bank.
This handy stitch portable sewing machine is small enough to fit in your palm. You can sew the clothes without even taking them off, no matter where you are.
Just like other mini sewing machines, this one also provides the same value. The only difference is the fact that it produces a lot less noise when stitching. And it rarely even skips stitches.
This hand operated machine from Brightlylit comes with a ton of accessories. The accessories that it includes are needles, safety pins, thread cutter, scissors, a pin-cushion, power adapter, measuring tape, and a lot more. It also provides a wooden box to store all these accessories.
Pros
Less noisy
A lot of accessories
It comes in 3 color variants
Cons
Not good for bigger sewing projects
5. Singer 01663 Stitch Sew Quick Handheld Sewing Machine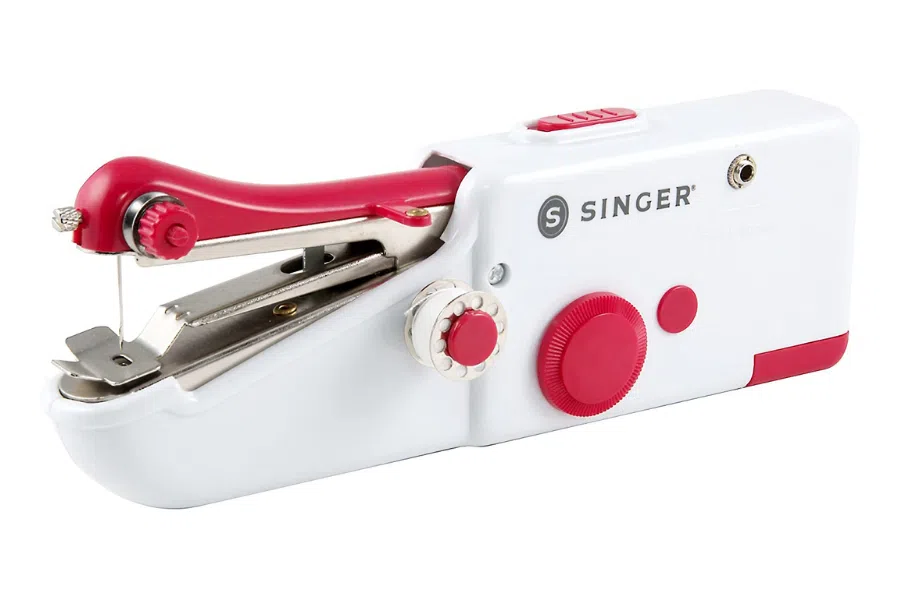 | | |
| --- | --- |
| Stitches per minute | |
| Features | Cordless, Portable Mending Machine |
| Dimensions | 9 x 2.25 x 7.5 inches |
| Weight | 0.02 Pounds |
| Ideal for | |
The Singer 01664 is one of the industry's more heavy duty hand operated sewing machines. It is a 2-thread repairing machine that is incredibly portable and is known for its superb build quality. It's a good choice for quick repairs, and it's also a breeze to work with while doing a straight stitch. It's also a good handheld sewing machine for upholstery.
The sewing machine has an automatic threading mechanism that makes it a productive machine, as well as 2-way speed control and no need for a cord. The 01664 comes with a number of extras that make it more attractive to sewists.
With dual-speed control, you can make quick work of your repairs after you've gotten used to the feel of this sewing machine. Thread, bobbins, thread spindle, and needle are included, as well as everything else you'll need to tackle the small, tedious process of repairing clothes.
If we were being picky, we'd complain about the lack of provided batteries, but because it uses standard AA batteries, it's not a problem.
Pros
Sturdy build
Easy to control
Dual speeds
Automatic winding system
Cons
Lacks consistency
Doesn't handle heavy fabrics
4. Stywvoe Hand-held Portable Sewing Machine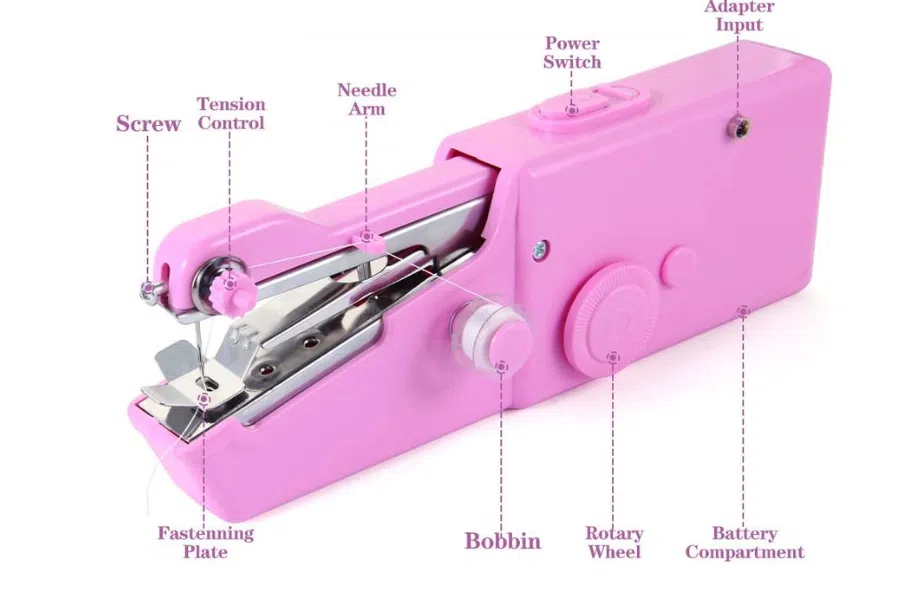 | | |
| --- | --- |
| Stitches per minute | |
| Features | |
| Dimensions | |
| Weight | |
| Ideal for | |
For quick stitching chores, many prefer an easy-to-use handy stitch sewing machine. Nonetheless, as a portable sewing machine from Stywvoe, This machine can sew on wool, silk, leather, handwork, and even denim with excellent results. But make sure the clothes aren't thicker than 1.8 mm for optimal results.
You may use them without taking off your clothes, much like conventional handheld machines.
To keep things simple, This handheld electric sewing machine has four-thread set points. A button and an adjustable mounting plate make it easy to assemble and disassemble.
Although the machine is inexpensive, the materials used to make it appear to be quite sturdy. This portable machine is powered by two different sources. You can use either 4 AA batteries or a 6V power cord.
The handheld electric sewing machine is a wonderful offer to consider if you don't want to spend a lot of money to sew small and relatively quick projects and want the convenience of using the machine at home or on the move.
Pros
Great for fabrics less than 1.8mm thick
It comes with a ton of accessories
No maintenance required
Cons
Not for sewing thicker fabrics
3. SiddenGold Hand Sewing Machine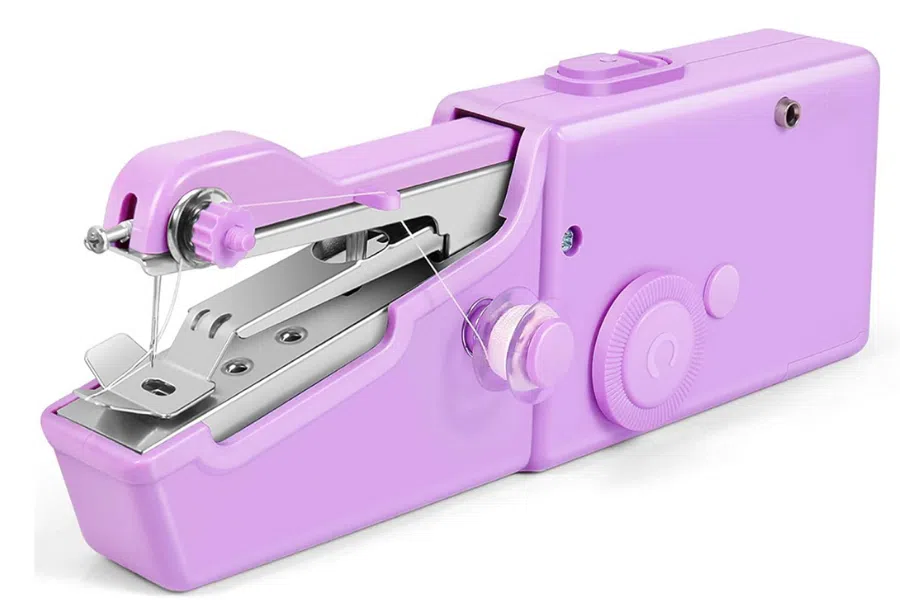 | | |
| --- | --- |
| Stitches per minute | |
| Features | |
| Dimensions | |
| Weight | |
| Ideal for | |
Have you ever found yourself in a situation where your favorite piece of clothing is ripped, and you wish you could find a sewing machine nearby while traveling? It had happened to me multiple times, and OH MY GOD, It's frustrating and annoying!!!
It happens quite a lot to children. Using the best handheld sewing machine, like this one, you can overcome such annoyances.
Simply follow the five simple hand-held machine instructions to get started, then press the button to begin sewing right away.
When compared to traditional hand operated machines of the same type, This mini handheld machine makes significantly less noise when in use. There's no need to remove your clothes to repair the torn area.
It's best for non-elastic dense fabrics, and it also works well on wool, cotton, denim, linen, canvas, and a variety of other thin fabrics.
Pros
Sews a variety of fabrics
Easy to operate
Pleasant purple color
Cons
Not supported with a power cord
2. Singer 01774 Stitch Quick Handheld Sewing Machine
Staff Pick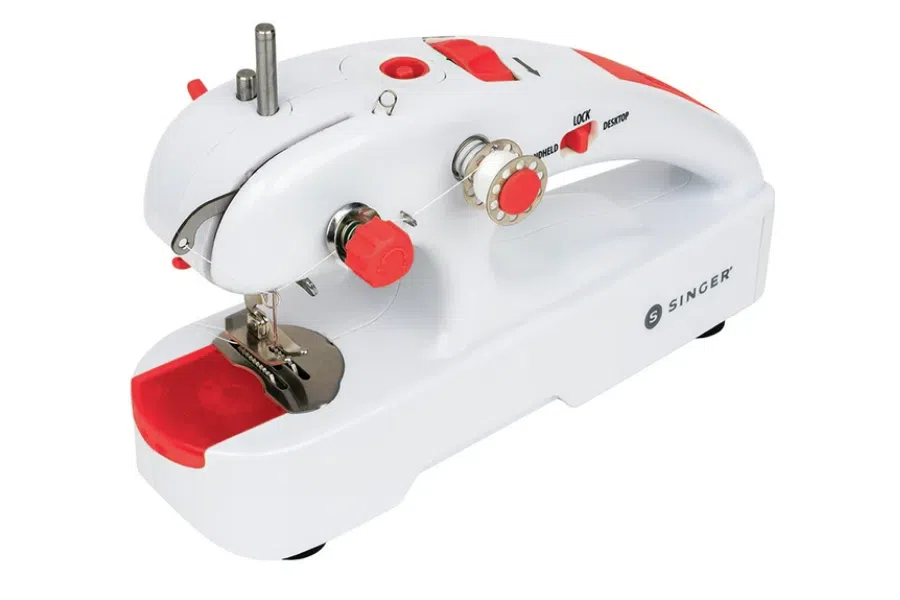 | | |
| --- | --- |
| Stitches per minute | |
| Features | |
| Dimensions | |
| Weight | |
| Ideal for | |
The Singer 01774 is one of the more heavy duty handheld sewing machines in the market. The Singer Stitch Quick is a mini handheld sewing machine that can be used on the go or on a tabletop. It's cordless and battery-powered, with a sleek, ergonomic design that gives you balance and control while stitching or mending on the go.
The Singer handheld sewing machine is a two-thread mending machine that's lightweight and portable. When working with straight stitches, it doesn't require a cord and is very easy to maneuver.
The handheld electric sewing machine is an excellent choice for someone who requires the machine for immediate maintenance. There are two ways to manage speed. It also includes an automatic winding function, which allows consumers more efficiency.
Use the easy on/off switch for handheld stitching or set it to constant sewing mode for tabletop use. Threaded bobbins, needles, needle threader, and spindle are among the sewing necessities included, all of which can be stored in the built-in storage compartment.
Pros
Handheld control with an ergonomic handle and an on/off switch
Built-in storage for accessories
Great value
Cons
Unlike others, this one doesn't fit in your palm
1. Tchrules Handheld Sewing Machine
Best Pick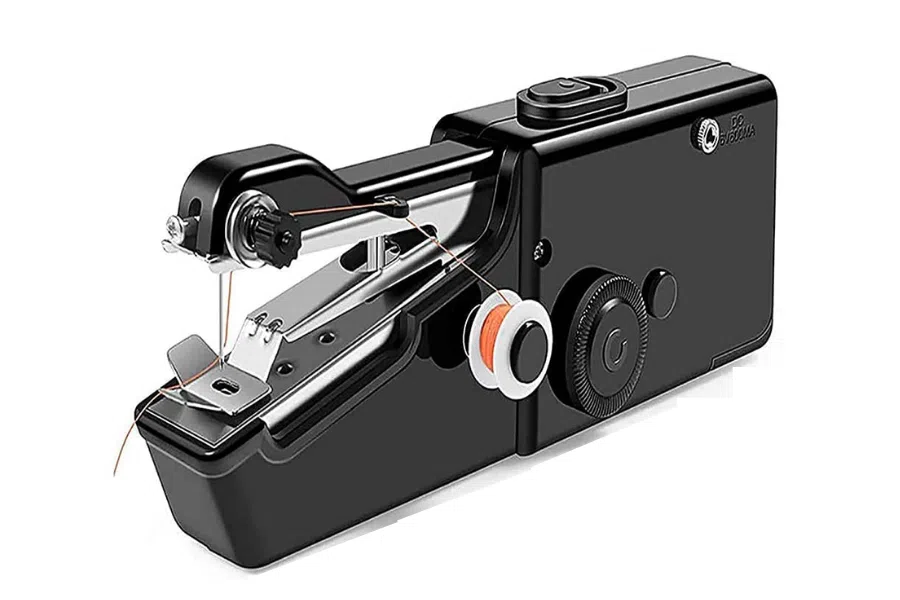 | | |
| --- | --- |
| Stitches per minute | |
| Features | |
| Dimensions | |
| Weight | |
| Ideal for | |
A popular product with more to offer than its shiny black color. It is one of the best handheld sewing machines for the money because the extras are quite useful.
Not only do you get a portable, easy-to-use sewing machine, but you also get everything you need to get started on those minor repairs. Needles, an extension spindle, bobbins, thread, safety pins, scissors, and a measuring tape are among the items included.
It will be difficult to beat this handheld portable sewing machine, and it is strong enough to sew through hanging curtains. It's also handy because you don't have to take them down to repair them.
That is why this product is so popular with moms and teenagers learning to sew; it is simple to use and can be used with a variety of materials. You may modify the needle's length to handle thicker materials, allowing you to use it to repair denim, linen, and a variety of other materials.
Pros
Lightweight and a portable sewing machine
Easy to set up
Sews a variety of fabrics
Easy to operate
Cons
It uses 4 AA batteries which aren't included
Summary of Hand Operated Sewing Machines
| Award | Design | Sewing | Retailer |
| --- | --- | --- | --- |
| Powerful Sewing | | | Check Price |
| Elegant Design | Budget Pick | | Check Price |
| Noiseless | | | Check Price |
| Sturdy Sewing | | | Check Price |
| Affordable range | | | Check Price |
| Can sew variety of fabrics | | | Check Price |
| Best control while sewing | Staff Pick | | Check Price |
| Best over all | Best Pick | | Check Price |
If you want to know more about Handheld Sewing Machines, then this article "How does a Handheld Sewing Machine Work? A Complete Guide" can be a great read for you.
Our Verdict
Amazon handheld sewing machines are the most reliable machines that's why above is the list of the best Amazon sewing machines. To get a better understanding of this modern technical marvel, we've highlighted and contrasted some of the features and functionalities. Handheld stitching machines, which combine portability, ease of use, and affordable prices, are a must-have item in every sewer's arsenal.
If we were to recommend one, it would be hard to decide because each one of the handheld machines are best in their own way. Moreover, choosing the right one also comes with the usage you are expecting from it.
Frequently Asked Questions
Are handheld sewing machines worth it?
If we talk about small projects or tasks like mending, or sewing small items like handkerchief, or hemming, then these are ideal machines so far. They are perfect for travelling around with a cordless mini sewing machine.
Can you make clothes with a handheld sewing machine?
These mini sewing machines are ideal for repairing and mending around the house or travelling with one for any accidents caused with clothes. Although these can sew smaller projects with lightweight fabric, but these are not recommended for big projects or tough fabric types.
What can a mini sewing machine do?
It is possible to mend hems, tears, and buttons with mini sewing machines. It is easy to do some repairs while the outfit is still on the wearer.