An embroidery machine is an excellent tool for customizing clothes and accessories. Even the most basic embroidery machine can sew a monogram or a name in place. Investing in an embroidery machines can save you a lot of money if you're someone who likes to customize things. Possessing one of the best Brother Embroidery machines allows you to personalize your apparel and accessories even further.
In addition, embroidery machines can create a home-based embroidery business. Brother is an embroidery expert. You can create the best embroidery designs with some Brother machines using multiple needles! Brother strives to employ cutting-edge technology to create modern embroidery machines that can sew at speeds of over 1500 stitches per minute.
9. Brother LB7000 Embroidery Machine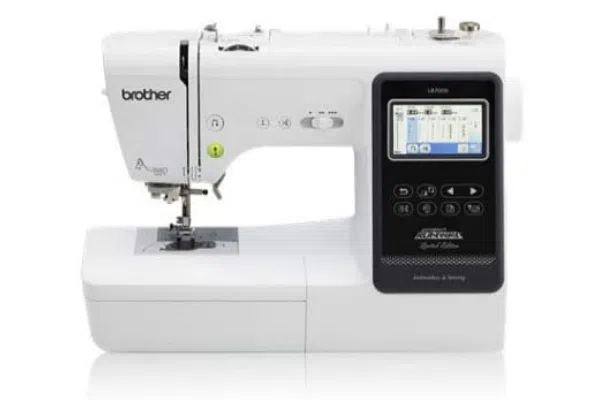 With the LB7000 sewing and embroidery machine, you can bring your runway thoughts to reality. The LB7000 lets you make gorgeous clothes and adorn them with Embroidery. It helps you in producing one-of-a-kind creations for yourself or others. This device has a big color touch LCD screen that allows you to easily see and change your embroidery patterns.
The possibilities are infinite, with 103 built-in sewing stitches and 80 built-in embroidery patterns. Stitching features include needle up/down and variable speed settings, as well as a drop feed for free-motion sewing creativity.
The larger needle-to-arm workspace of 6.4″ w x 4.1″ provides extra area for folding quilts. It also entertains heavier fabrics to the right of the needle for easy stitching. In addition to that, seven quick-change sewing feet are included, with a spring action zigzag. The list does not end here, it also includes buttonhole, overcasting, monogramming, zipper, blind stitch, and button sewing feet.
The spring action zigzag foot has a longer foot and, when paired with the longer 7-point feed dogs, allows for smoother fabric feeding.
Pros
An extensive color touch LCD screen
103 built-in sewing stitches
80 built-in embroidery patterns
8. Brother Innov-is NQ3600D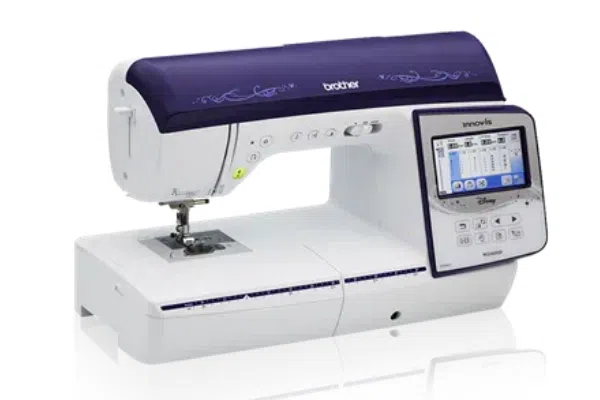 The Innov-s NQ3600D has cutting-edge technologies. Such as an automated thread trimming mechanism that allows you to snip every jump stitch simply by rotating the frame. The wide surface, Automatic Height Adjuster, and Pivot function make sewing and quilting tasks a breeze.
In addition, with 233 built-in embroidery designs, including 35 featuring Disney characters you can expand your creative skills. Every embroidery machine comes with a set of embroidery designs. Therefore, NQ3600D Disney can import your embroidery design directly from your Flash Drive.
Moreover, the Brother Innov-is NQ3600D has new features, such as an automated thread trimming mechanism that allows you to snip every jump stitch by simply rotating the frame.
Pros
USB Port feature
Free arm
Lightweight and Portable
Back to the Beginning Key
The resume function
Cons
It cannot be connected to the computer.
7. Brother PE525 Embroidery Machine
Budget Pick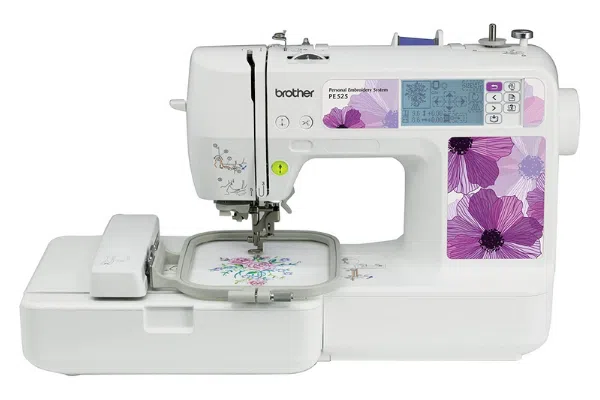 The Brother PE525 Embroidery Machine is an affordable stitching machine with various features for a more enjoyable embroidery experience. It allows you to create personalized designs and makes embroidery work more enjoyable.
Using the PE525, it is simple to manufacture presents from everyday items at home. For example, you may use embossing to customize your possessions or your baby's clothes. The machine is appropriate for beginners because it comes with everything a newbie needs to complete their task. It may appeal to certain intermediate users, but it is not intended for advanced users.
Pros
Easy to import designs from the PC
Light and portable
Ease of use
Price
Good performance
Warranty
Cons
Hoop size
Only for Embroidery
6. Brother PE770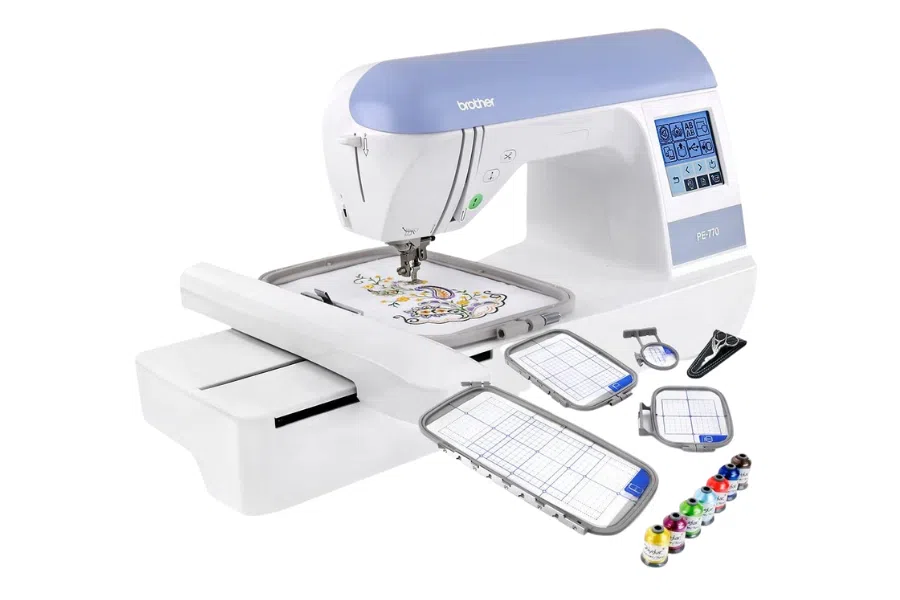 Embroidery machines are great for little embroidery projects that you can accomplish at home. If you want a separate embroidery machine that is not combined with a sewing machine, the Brother PE770 Embroidery Machine is a good choice.
The Brother PE770 Embroidery Machine is capable of far more than just a few essential functions. Its thread cutter adds a unique touch to your embroidered project. It can also stitch nicely and takes less time to complete. If you want a stylish all-in-one machine at a reasonable price, the Brother PE770 Embroidery Machine is a must-have.
Apparently, this machine has an extremely long lifespan. Therefore, it is an ideal pick and well worth purchasing. It has numerous features that make Embroidery work comfortable and straightforward for beginning users, resulting in a bit of embroidery machine.
Pros
A large amount of design choice
Straightforward and easy to use
Suitable for beginners
Cons
The thread can fray quickly while embroidering.
5. Brother PE550D Embroidery Machine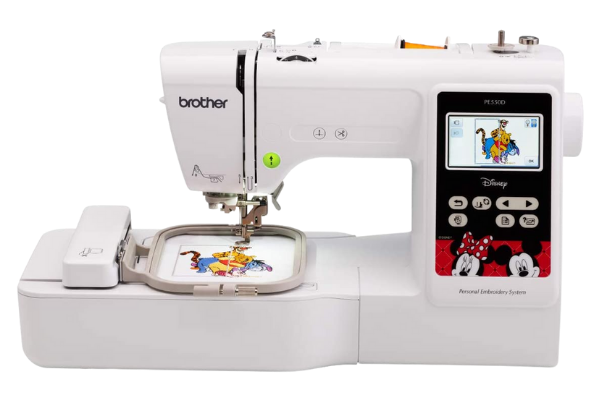 Embroidery machines with a particular theme, such as the Brother PE550D Embroidery Machine, can be even more entertaining.
This Brother Disney embroidery machine with a Disney-inspired product allows designers to include adorable pictures onto clothes and accessories. In addition, the Brother Disney embroidery machine is the best embroidery machine that is affordable and simple to use.
It has some quality features to help you make magnificent features. Such as a 4″ x 4″ embroidery field with a grid sheet and an in-built alignment tool that aligns the position of the needle. Therefore, the needle aligns with your design so that it can be laced precisely on your fabric. It is well-known for its low cost, long life, portability, convenience, and ease of use.
This machine includes an automated needle threader that makes threading the machine simple. It also offers numerous helpful embroidery capabilities. Such as embroidery patterns and embroidered alphabet fonts in various sizes.
Pros
The quality of the Disney designs
Ease of using the screen
The different accessories in the box
The ability to upload additional designs
Cons
Small embroidery hoop
Glitches and error messages
The learning curve due to the manual
4. Brother SE1900 Sewing and Embroidery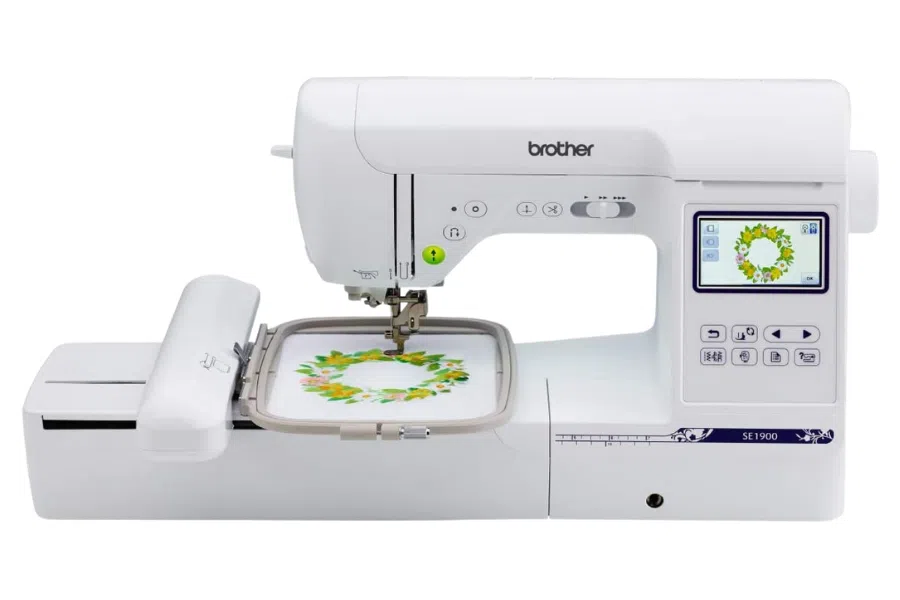 Embroidery machines are great tools for decorating sewing items with designs and embellishments. For example, you can customize bags, put adorable patterns on shirts, add names to clothes, and much much more! The Brother SE1900 is the best embroidery machine if you're searching for a combo that can do it all.
It provides the most bang for your money in its class and is one of the most accessible machines to learn and use. On the other hand, if you're searching for a dependable, flexible, and long-lasting option than this is the one. Having feature-rich combination sewing machine, this brother's computerized sewing machine is the best!
It is a more advanced version of the Brother SE1800 combination sewing machine. So, rather than wasting money on an outdated model, acquire this new Brother computerized sewing machine. The design editing and preview function is quite helpful and may save you a lot of time. The highly responsive LCD color touchscreen display makes it simple to update your design.
Pros
More built-in stitches
Large LCD touchscreen
USB Port
Large embroidery hoop
Brother computerized sewing machine
Cons
Little expensive for some people
3. Brother PE535 Embroidery Machine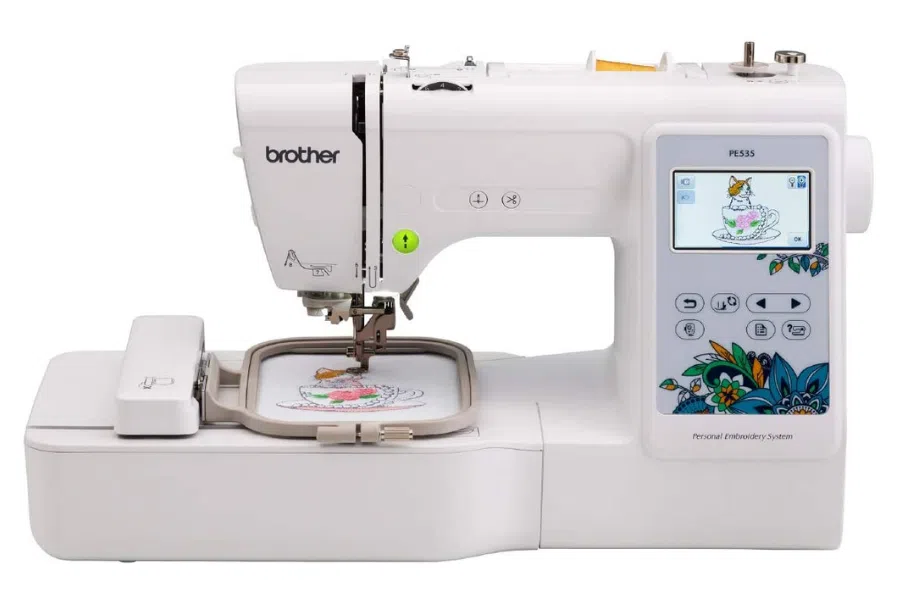 The Brother PE535 is a Brother computerized sewing machine that can produce high-quality patterns. In addition, the machine can customize your garments and accessories by monogramming them.
Brother PE535 embroidery machine is suitable for both beginners and pros. This machine provides terrific value because of its numerous unique embroidery functions. Because it makes stitching enjoyable and straightforward for beginners and pros.
The PE535 machine has excellent features such as a 4″ by 4″ embroidery area. In addition it includes ten frame patterns, 80 built-in designs, nine distinct font types, writing, and monogramming. This is the best embroidery machine with built-in memory feature that allows you to input designs into the machine via the USB connector.
Pros
Perfect for beginners
Very compact and portable machine
It is durable
Large, easy to use, LCD touchscreen display.
The machine has a built-in memory.
Cons
It appears almost too easy for advanced embroiders
It is an embroidery-only machine
The embroidery area is limited
2. Brother PE800 Embroidery Machine
Staff Pick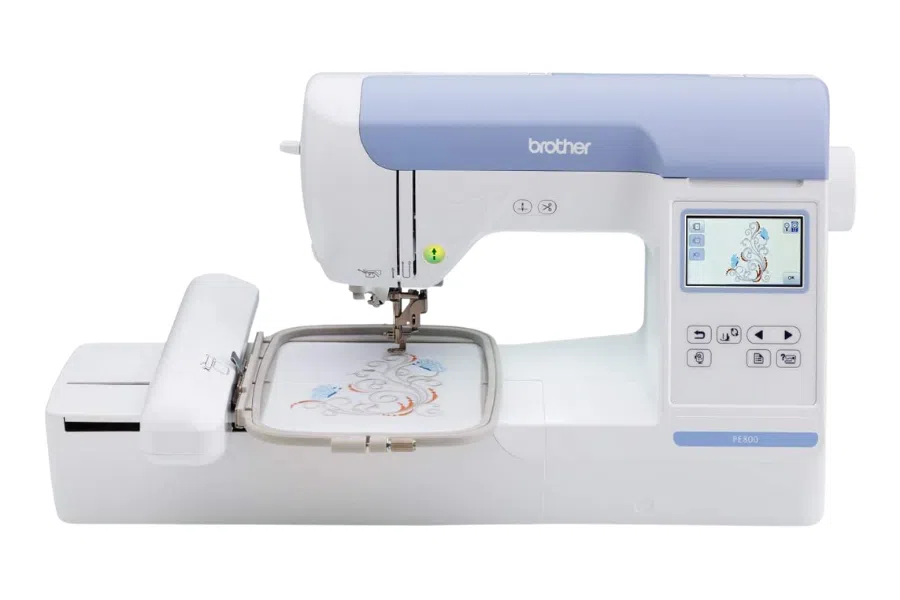 If you're searching for the best embroidery machine with a variety of capabilities, look no further. The Brother PE800 embroidery machine is an excellent choice for an embroidery machine that is simple to set up and use.
In addition, it offers many functions that an embroiderer would require through their sewing journey. Brother PE800 is a specialized embroidery machine that cannot be used for ordinary sewing tasks. Unlike Brother SE600 embroidery machine, Brother PE800 is more specialized for embroidery.
The Brother PE800 is the best embroidery machine for people who will just perform Embroidery with their machine. The best embroidery machine will be the finest at what it is designed to do—Embroidery! It is because something designed to fulfill a single function always accomplishes something designed to manage multiple tasks.
Pros
Large Color LCD Touchscreen
You can edit, preview embroidery designs
138 built-in designs
Easy, versatile, suitable for home embroiderers
Cons
It's an embroidery-only machine.
1. Brother SE600 Sewing and Embroidery Machine
Best Pick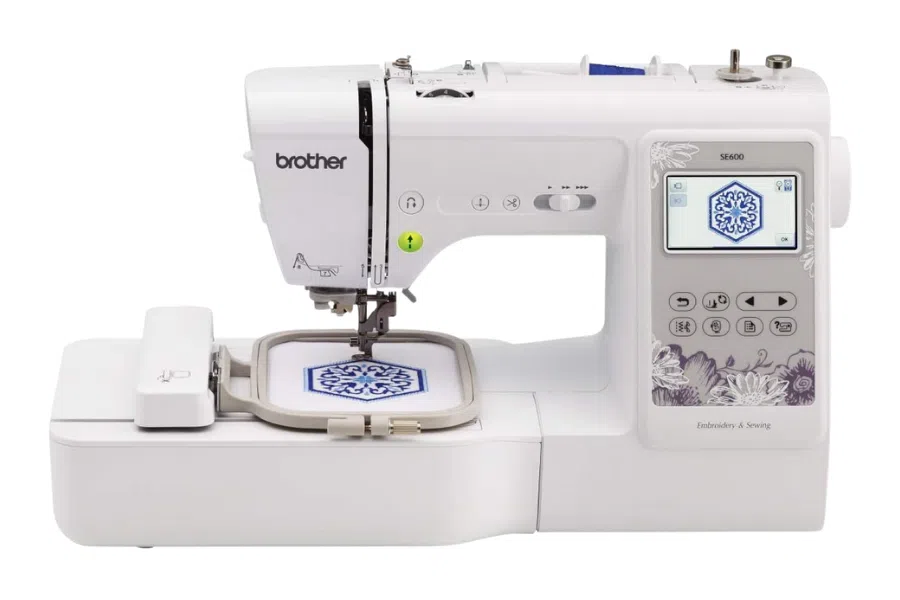 The Brother SE600 machine makes it easy to embroider and sew. In full colour, you can look at your embroidered designs on the large, 3.2″ Sew Smart colour LCD touch screen. You can also make changes to the design before you start sewing.
In this machine, you can change individual thread colours and put text in an arc. You can also move patterns on the touch screen with the swipe of your finger. In the new embroidery design editing tools, there are a lot of new things that you can do. You can choose from 80 new, creative embroidery patterns that have been added to the machine, or you can import your own through the USB port.
The Brother SE600 embroidery machine is a great choice for people who don't want to spend money on two different ones. It can do simple sewing and embroidery projects. With 103 built-in stitches and six embroidered lettering fonts, you can easily add extra flair to your goods.
Pros
Sewing as well as Embroidery
USB port to import designs
3.7 inch Colored LCD touchscreen
Portable and easy to store
Recommendations for Top Embroidery Machines – Brother
Things to know before buying a Brother Embroidery Machine
Embroidery machines are capable of much more than just creating patterns and logos. As a result, think about what you want to produce with the machine before you get started. Also, think about how you'll put the machine to use. This will heavily influence your machine's output volume and kind.
Some machines may be designed with large-scale manufacturing and continuous operation in mind. For example, consider buying an embroidery machine that also sews if you want something multipurpose for your first purchase. Even if you already own a sewing machine, the additional functions may be helpful.
Consider the brand
Most name-brand machines, such as Brother, will be of high quality in general. I must say that life with Brothers has become much more manageable. There are many best embroidery machines available. However, there will be one that is the best suit for you. To obtain a sense of general consumer satisfaction, start by looking at the manufacturer's blogs, websites, and forums.
Look through a couple of the comments to see if one particular issue appears to be a trend — it might be precisely what you're searching for or avoiding, so it could be a deal-breaker. Choosing the ideal brand might also help you stick to a budget. Some are more expensive than others, even if the machine is on the lower end of the brand's price range.
Consider the Embroidery Designs
Some machines have embroidery designs pre-programmed in memory, while others can be connected to a computer. First, examine how many designs are already stored in the machine's memory. Next, look for an embroidery machine that can link to a computer – or one that can load data from a thumb (USB) drive – to get the most stitches and designs. To transmit designs, modern machines may connect to Wifi, while others will require a USB cord. However, you should avoid buying a gadget that has to be linked to a computer to function.
Hoop & Embroidery Design Size
You can usually tell by looking at the space between the needle and the body, which is the diameter of the hoop you may use. You'll need a machine that can accommodate a larger hoop if you want to embroider huge designs.
Warranty & Service
Check to see if the machine comes with a warranty and/or services if something goes wrong. Check to see whether your local retailer offers a repair center with professionals that can fix problems without sending your machine away.